During the pandemic situation, where the business gets economic disruption, people are finding ways to earn through small businesses...

WordPress is a popular CMS platform and powers 40% of all websites on the internet. More than 500 websites...

Your bounce rate is an indicator of whether visitors tend to stay on your site once they enter. This...

There are no two opinions that both WordPress and HubSpot are the best CMS, but widely different platforms that...

WordPress is a Content Management System that helps you create a website from scratch without the need for specialized...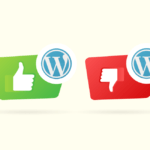 When it comes to outsourcing web development, choosing a reliable and reputable company is of utmost importance. Choosing the...

Undeniably, WordPress is the most powerful content management system (CMS) tool currently. Most of the people are using it...

If you want to change the WordPress template on a live website but don't know the proper method to do...

Your website is worthless if it is unable to attract your audiences. Despite that, if your audiences don't get...