The technological intervention has certainly opened a gateway to growth for organizations. It has increased their productivity and enabled...
Online banking is one of the best financial innovations of the 20th century. Despite the huge possibilities it brings,...
Phishing is a cybercrime in which a victim is duped into divulging private information, including banking information, credit card...
As our society and the world moves further and further into the digital age, we find ourselves immersing every...
In today's digital-first economy, two vital elements drive progress: Application Programming Interfaces (APIs) and mobile applications. The two are...
Cybersecurity is vital because it helps to protect all kinds of data from damage and theft. It helps in...
People who live in western countries have been using IoT devices for years now. Smart thermostats, smart lightbulbs, cameras...
Running a business safe from any prying eyes is not easy. As many people know that data is the...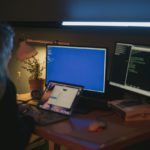 How can your content marketing campaigns become a casualty of weak cybersecurity? With digitalization permeating the economy on every...