In today's scenario, every business wants to create an app like MoneyLion. Money lending apps help several people manage...
There are a wide variety of front End Technologies development tools and technologies available. It's only natural that we...
A Single Page Application (SPA) is a web application that loads all its content on a single page. This...
Are you someone considering the development of a website like eBay? But confused about the cost of development? It...
Hiring dedicated Python developers can be quite a difficult task, especially when you do not have the experience required...
When it comes to developing eLearning courses, there are so many options available. But which one should you choose?...
Website development involves using programming languages to create a web page or pages. There are various programming languages available...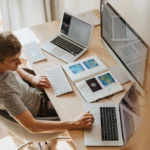 News apps are becoming a hot trend. Staying up-to-date with the latest events is the need of the hour....
We live in a very competitive environment. Every organization is competing with its peers to attain the highest level...