User-friendly apps are very popular these days. Advanced mobile technology has hastened this pace and it has made it...
Why are entrepreneurs so keen to start their own grocery delivery app? A number of businesses are entering the...
Drones are everywhere, and in the upcoming years, they will disrupt the ongoing patterns of many industries. The best...
Education is the foundation of the personal and professional growth of an individual, and that's why education app development...
Do you want to hire dedicated developers for your project but cannot understand what questions you should ask? Don't...
Colombia is quickly becoming a world leader in software development, providing highly-skilled tech professionals and innovative software solutions to...
As the web continues to evolve, it's essential to ensure that your website keeps up with the latest trends...
In today's highly competitive and digitally connected business world, companies, including the financial services sector, adapt to evolving technologies...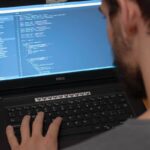 We are in the year 2023 and smartphones have been around sometimes. When Steve Jobs, first launched iPhones no...