Recently, blockchain technology development services have been one of the most cutting-edge trends. Even a few years ago, not...
There are more than 2 million mobile apps in the Apple App Store and Android Play, with thousands of...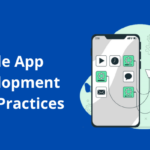 News apps are becoming a hot trend. Staying up-to-date with the latest events is the need of the hour....
We live in a very competitive environment. Every organization is competing with its peers to attain the highest level...
Today, there are over 7 billion people who have mobile devices. And these people spend as much as 4.2...
The smartphone is becoming an essential tool for digital media success. It fundamentally changes company structures, operating models, and...
In the race of developing the best application in the trending market, Android holds the maximum market share. Its...
Whether you already have a restaurant or planning to start one, having a food delivery app is a must...
Having a mobile presence has become essential for a company's existence due to the shift in human behavior throughout...