Your app will not meet user expectations unless it includes trending and modern app designs. That's why it's crucial...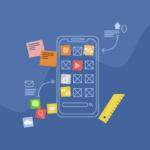 Since technology is booming, business owners are paying attention to take their business to advanced levels. Most of the...
Applications are ruling the world in the 21st century. The shift to digitalization has revolutionized the traditional workflow. The...
Here we have researched Mobile App Testing Checklist to ensure quality of Developers, you can follow this checklist to...
The hype for NodeJS is not unknown to anyone. There are plenty of reasons why developers as well as...
Do you know that an average user spends 80% of the phone-time by simply juggling between multiple applications? For...
Flutter has gained a lot of attention from big corporations, along with software developers. This robust framework concedes building...
With the coming of smartphones, the importance of mobile application development is increasing day by day as well as...