Users will soon be able to record audio notes on Instagram, which is owned by Meta.
On his broadcast channel on Friday, Instagram CEO Adam Mosseri said, "We haven't started testing anything publicly yet, but we're working on the ability to create audio notes to share with your friends."
Send Notes on Instagram
In December of last year, Meta launched 'Notes' on Instagram, a feature that allowed users to express their ideas and keep up with their friends.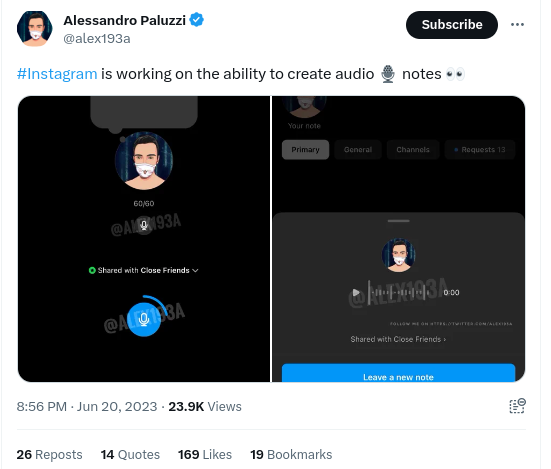 When Meta first released Notes, it stated that this function allowed users to write brief messages of up to 60 characters using only text and emojis. This feature might be useful for many youngsters, business persons, and many other people.
The 30-second song clips can now be added to Instagram Notes, according to a June announcement by Meta founder and CEO Mark Zuckerberg. Last week, Mosseri said that the website was developing a brand-new group mention function. That would let users mention many people in an article with only one mention.
The ability to tag several persons in a single mention will help stories look cleaner and less cluttered. Which will improve followers' viewing experiences. A feature that better shields users from unsolicited DM requests was made available by the platform earlier this month.
Due to this feature, there are two new limitations placed on users. Who wish to send DM requests to users who do not follow them. First, rather than sending someone who doesn't follow them an endless number of DM requests. Users will only be allowed to send them one message.
Suggested:
Instagram Introduces the "Add Yours" Sticker and the "Carousel Music" Collaborations.
This week, Instagram's Threads will be available on web browsers.