Businesses and professionals aim for better agility and efficiency. Artificial intelligence (AI) plays a growing vital role. AI tools are adopted more for productivity and streamlining operations. They cover AI-driven content writing, sentiment analysis, image/video creation, and predictive analytics, altering our work methods. This article delves into top AI tools to enhance productivity across various aspects.
Top 10 AI Tools to Boost Your Productivity
This article delves into various AI tools, a diverse array that might seem overwhelming. Ranking them poses a challenge due to their distinct purposes and functionalities. Yet, we've aimed to offer a comprehensive list encompassing nearly all areas where AI lends a hand. Every tool mentioned here holds merit in refining workflows and boosting overall productivity. So, dive into these quality AI solutions to find the perfect match for your requirements.
Jasper stands out as an all-purpose AI tool, serving users across multiple tasks like content generation and AI-driven image creation. It secures the top spot for its redefined approach to AI writing, surpassing other tools in this arena. Its recent update in May 2023, offering unlimited words for every plan, solidifies its position as one of the most valuable tools on the list.
Key Features:
It's considered one of the finest platforms for marketing and sales content generation.
Integrates with Surfer SEO for creating AI-informed content.
The brand memory feature allows for storing vital product/service details for precise content creation.
Offers Jasper Chat, a robust alternative to ChatGPT for chatbot functionality.
Enables image and illustration creation through Jasper Art.
Provides unlimited word generation and advanced brand voice customization.
WriteSonic is an all-in-one AI content creation tool. It offers various products like AI writing aid, AI-generated art, and ChatGPT-style chat assistance. Similar to Jasper but with distinct features, it's a top choice for creators wanting diverse AI applications.
Key Features
It is among the top AI writing tools available.
Photosonic for creating AI-generated art.
ChatSonic is a GPT-4 powered AI chatbot with live internet data access.
Simple, user-friendly content creation interface.
Descript is a text-based video editor and one of the most versatile AI tools. It simplifies video editing by letting you edit text instead of cutting and splicing clips manually. Just upload a video, and Descript instantly transcribes it. Edit the text to adjust wording or remove filler words, directly altering your original video or audio. It's practically magic or the next best thing.
Key Features:
Edit videos through text-based editing within a document.
Automatically transcribe video and audio content.
Podcasters can edit audio, even with multiple tracks.
AI voices and voice cloning are available.
Surfer SEO, an AI-powered SEO tool, aids in analyzing and enhancing content for higher search rankings and more organic traffic. Start by researching SERPs and outlining content briefs. After creating content, Surfer compares it with top-ranking articles, using natural language processing (NLP) to offer suggestions for outperforming the competition.
Key Features:
Refine blog posts with live content analysis and optimization using the Surfer editor.
Conduct keyword research using real SERP data and keyword volume.
Utilize Grow Flow, which continuously examines your website for content decay and identifies immediate opportunities for improvement.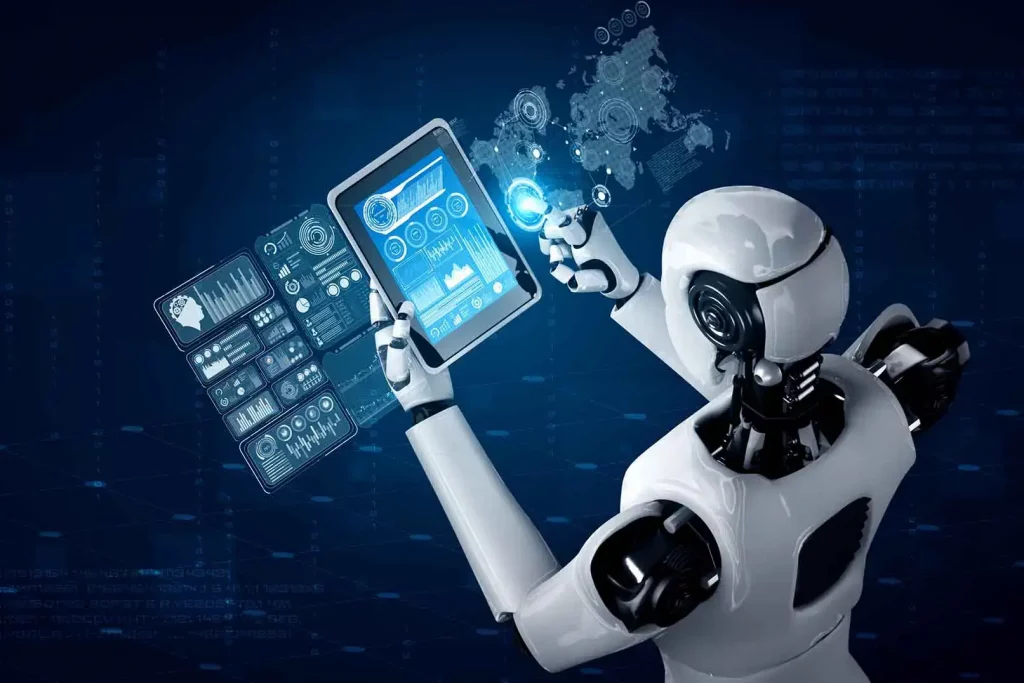 ChatGPT, a groundbreaking AI Chat assistant, empowers numerous tools listed here. It's tailored to assist with text-based tasks through a user-friendly chat interface. Ask a question or assign a text-based task, and it utilizes its extensively trained LLM to execute it. It's versatile writing code and editing blogs are all in its skill set.
Key Features:
An AI for conversations that covers any topic and handles complex tasks.
Select from various models depending on your requirements, including multiple GPT 3.5 versions and GPT 4.
The GPT 4 API links to numerous services, bringing the prowess of the Large Language Model to your workflows and tasks.
Midjourney, an AI text-to-image generator, lets users craft distinctive visuals for social media, websites, and marketing materials. Begin using Midjourney on your Discord server by setting up an account.
Key Features:
Turn text into AI-generated images.
Unleash endless possibilities with prompts, yielding four images per prompt.
Obtain high-resolution outputs.
Pictory AI, an AI-driven video generator, crafts visually striking branded videos from lengthy written content. Input a URL with your published content, and it integrates it into its AI models. It selects top content, crafts voiceovers, and adds rich media, creating a video fit for publishing.
Key Features:
Craft short videos from longer ones.
Generate videos using stock footage, background music, and AI-generated voiceovers.
An impressive editor for turning blogs into videos.
Automatic caption generation is available.
Grammarly, an AI writing assistant, enhances writing by fixing grammar, spelling, punctuation, and style errors. It polishes content for marketing, business communication, and more. Grammarly ensures error-free text for your key audiences.
Key Features:
Instant grammar and spelling checker.
Offers style and tone suggestions.
Detects plagiarism.
GrammarlyGO generates content in your writing style.
Lovo AI, an AI text-to-speech tool, turns written text into lifelike audio in different voices and languages. Just input your text, and Lovo converts it into AI-generated audio using TTS technology.
Key Features:
Access over 400 natural-sounding voices at various price levels.
Supports over 100 languages.
Customize speech settings and finely control voice nuances.
Quillbot, an AI-powered tool, rephrases and restructures text while preserving the original meaning. Great for crafting unique, plagiarism-free content when used ethically.
Key Features:
Refine text by adjusting words and sentence structure with advanced paraphrasing.
Various rewriting modes for a precise output.
Options to maintain the original meaning and context.
Includes a plagiarism detection add-on.
Conclusion
For extensive content writing, Jasper and WriteSonic stand out. They both offer AI art and image creation. Packed with features, they're solid choices.
For SEO whether for one site or multiple client websites check out Surfer SEO, Scalenut, and Alli AI. They come highly recommended.
Video creators should consider Descript for text-based editing and Synthesia for crafting AI avatar videos. The selection of AI tools entirely depends upon your requirements.
If you have any favorite or go-to tool you want to share with everyone, please share it with us in the comment section.
Recommended:
Best Tools for Linux Remote Desktop Servers.
7 Best SEO Tools To Increase Your Website's Ranking On Search Engines.