You're not alone if you're having trouble with Plex media files not showing errors. Many Plex users have faced the same problem. The good news is that solutions are available to help you get your media files back and keep your system running smoothly.
This article aims to guide you in troubleshooting your Plex media server, ensuring its proper functionality. Furthermore, we'll delve into the prevalent causes of this issue, offering detailed step-by-step instructions for your assistance.
Why isn't Plex displaying my media files?
Plex media files are not showing for various reasons, including:
1. The media files could be in an unsupported file format.
2. Your media might be situated in an unsupported folder or directory.
3. It's possible that your media files are corrupted, especially if they won't open or play.
4. A slow or unreliable internet connection can hinder Plex from detecting your media files.
5. Further, your media might need to have the correct naming or tagging.
How to fix Plex Media Files not showing errors?
There are several reasons why Plex might fail to display your media files on your device. Fortunately, there are practical solutions to resolve this problem. However, if you're experiencing the issue of Plex not showing your media files, you can follow the methods outlined below to address the problem.
Fix 1: Check if the file name is correct
To address the issue of Plex failing to display your media, the first step is to ensure the correctness of your file's name and structure. Start by checking the file names. Plex follows specific rules for naming files, whether they pertain to TV show episodes or movie titles. Ensuring that your files are accurately organized within the folders designated by Plex is of utmost importance.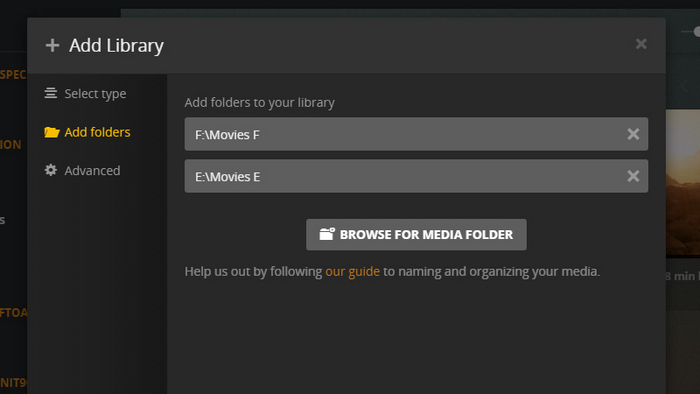 Fix 2: Reboot your Plex Media Server
The following action involves attempting a device reboot if your file names are accurate and correctly formatted. Occasionally, technical glitches and errors within your device can give rise to the issue you're currently facing. Rebooting your device can effectively resolve minor bugs, potentially rectifying the problem of Plex failing to display your media files.
To reboot, hold the power button for a few seconds until the device powers down. Subsequently, press the power button again to power it back up. Alternatively, you can unplug the device and then reconnect it.
Fix 3: Try Another Server
Plex might encounter server issues that prevent it from locating your media files within your libraries. To address this problem, consider changing your server by using a VPN on your device. You can easily download a VPN from your device's app store or other platforms. However, if there's a Plex server problem, you must be patient and wait until the server is operational again.
Fix 4: Set Folder Permission Again
If Plex fails to display your media files, the root cause might be incorrect folder permissions. Resetting these permissions could be the key to resolving this issue. Before you begin, be sure to back up your data. Follow these steps to reset folder permissions:
Step 1: Press the "Windows" key and "R" on your keyboard to open the Run prompt.
Step 2: Type "Control Panel" and press Enter.
Step 3: Further, access the shared folder and edit your media folder in the Control Panel.
Step 4: Next, navigate to the "Permissions" tab and turn off all permissions for the user "plex."
Step 5: Click "OK" and close the editing window.
Step 6: Reopen the editing window and assign either "R/O" or "R/W" permissions for the user "plex."
Step: Finally, click "OK" and close the editing window on your device.
Fix 5: Check Device Updates
If you're still grappling with Plex failing to exhibit your media files, updating your device to the most current software iteration is prudent. Ensuring your device remains current guarantees access to the latest enhancements, rectifications of glitches, and fortifications against security vulnerabilities. Additionally, this action can rectify any latent impediments preventing Plex from presenting your multimedia content.
Fix 6: Take help from the Support Team
If you need help getting Plex to display your media files, please get in touch with the Plex support team. They help you troubleshoot the problem and determine the best action to resolve it. However, the Plex support team is available around the clock and can be reached through the official website, email, or chat.
They can proffer expert counsel and bolster to ensure the seamless functionality of your media files within the realm of Plex. However, in cases where the difficulty assumes a more intricate complexion, they extend supplementary aid or navigate you toward the pertinent reservoirs of assistance. Moreover, if you grapple with challenges in compelling Plex to present your media files with the desired finesse.
Conclusion
This guide has been of help in addressing the problem of Plex not displaying your media files on your device. If you encounter this issue, you can resolve it by following the previously mentioned methods. If you've attempted these solutions and the problem persists, don't hesitate to contact Plex's customer support team for additional assistance.
Suggested:
How to Fix Plex Remote Access Not Working?
Emby vs Plex: Which is the best media server for you?