Mobile App Maintenance Service and how to look for a perfect one. Can you imagine a day without using...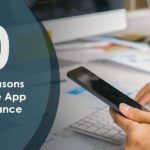 Snapchat is a popular social media platform and provides different services to its users. At present many people are...
"Did you know that Tinder makes nearly $1500 per minute from users trying to connect with others?" And it...
Applications have stepped into almost all industries. New features are being introduced every now and then. The app industry...
Ok, the holiday season is just around the corner. Are you ready for the holiday sales? Are you prepared?...
Every day or the other, technology gives us very innovative solutions that help us in eroding daily hurdles thereby...
Mobile app development has become a booming industry during the last couple of years. At present, business mobile application...
With simple-to-learn and use features, the best photo editing software gives you complete control over the look of your...
Today there is a lot of buzz in the app development world and especially the android one. These mobile...