It's pretty difficult to imagine your iPhone without a microphone. The sole purpose of any phone is to talk to people, that obviously die when microphone stop working. You will not be able to call anyone neither facetime your friend. The microphone is one of the most essential features of your phone when it stops to work; it can cause a lot of inconveniences. Don't worry about this issue as we bring you troubleshooting solution with which you can fix your iPhone yourself and continue communicating without any interruption. Microphone Not Working on iPhone can be a problem for any one.
Before we start with the solutions, you first need to check the problem behind the issue on your iPhone. Read below to know how to check for the challenge.
What causes issues iPhone microphone to fail or not work as intended?
There can be two reasons behind your iPhone's microphone not functioning. First, it could be because of the system glitches or second would be hardware damage. If a glitch is causing the problem, you can resolve a microphone problem through the troubleshooting solutions mentioned in this article. 
But if physical or liquid damage is caused to your iPhone, then these solutions will not help you out. If this is the scenario, you have to take your iPhone to the Apple store.
The following are a few examples of symptoms of a faulty microphone.
You will not hear the voice of a person when you are on call, and they will not hear you too.

You'll not be able to wake Siri through the wake word' Hey Siri.'

You will hear an unclear audio sound or no sound at all when you record song audio.
One of the significant issue causing microphone problems in iPhone is cellular connection errors. There might be rogue apps and damaged microphone components that can be causing the issue.
You have to check your iPhone microphones to see the problem is with cellular connection or faulty application or if the problem is with the microphone. There are two microphones on your iPhone one lies in the tip front, which is a receiver. The other microphone is the bottom of your iPhone, which is the primary microphone.
Suggested:
Chossing an iPhone monitoering app.
You can check the microphone with the following steps:
Step1: Head to Voice Memos.
Step2: Click on the record icon to initiate an audio recording.
Step3: Speak anything in microphone.
Step4: After you complete recording your audio, press the play icon to listen to what you have recorded. 
If you hear the sound, it means your microphones are alright. But if you hear sound fainting and Siri is unable to detect your voice, it means something is wrong with your microphone. Check the microphone on the upper back corner near the iSight camera. Make sure the microphone is not covered with dust particles, too much dirt can clog your microphone.
If sounds break during a phone call while you use the speaker mode, you need to check if the receiving microphone is not clogged with dirt. 
If the test you did got successful and your iPhone's microphone works you have to go through software problems. When physical microphone works but still the struggle of hearing audio continues its all because of a software glitch or a bug in your system. So we will now check out what exactly troubles iPhone's microphone if the microphone stops to function after you updated your iPhone with the latest update. Then probably a bug has been introduced in your system with the new update. Identifying the bug is a challenging part. 
The problem could be related with updating of file or how the update was programmed. If that's the scenario, you cannot do anything only Apple programmers have the capability to debug. Users can only wait for the launch of a bug-free update. But waiting is not the only thing you can do you can also implement few troubleshooting tricks and check if it eliminates the bug or not.
Suggested:
7 Benefits Of Using A Portable Cell Phone Charger For Your IPhone
Troubleshooting solutions to fix microphone problem in your iPhone
1. Restart your iPhone
In some cases, the problem can be related to a certain application on your iPhone and works fine for other aspects. If this is the case on your phone, you can remove this minor app bug by restarting your iPhone. Also, have some patience and try restarting your device two to three times if it doesn't work for the first time.
Here is how you can restart your iPhone
Step1: Long press the Power button till the Power slider button appears on your screen. 
Step2: Toggle the power slider and power off your iPhone.
Step3: After waiting for at least 30 seconds again press the Power button and turn on your device.
Restarting your device can fix minor bugs that may have affected your iPhone's microphone.
2. Update iOS to the latest version
Microphone problem can be because of your previous update if that's the case Apple might have released an update to resolve this bug. If the issue is widespread, Apple brings the fix version of update real quick. So in order to resolve to update your iPhone with the latest version of the update available in your device.
Here is how you can download the latest update on your iPhone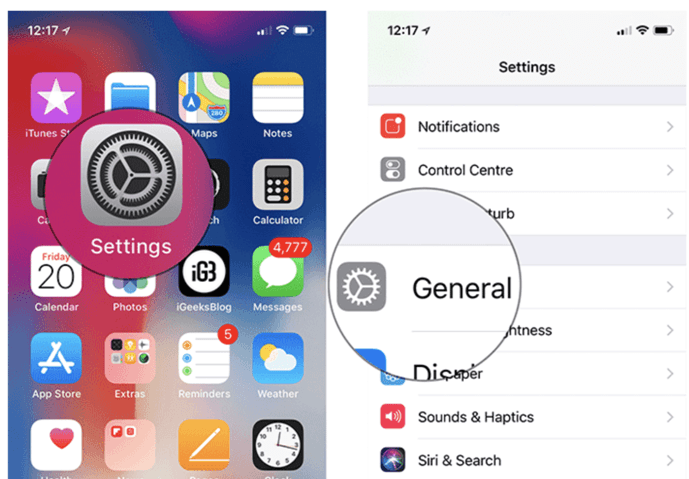 Step1: First check if a new update is released by iPhone. Head to setting and go to General. 
Step2: Tap on the software update, here is where you see an available update. You will see a notification for a new iOS version and if it's available click on it to initiate the update.
Step3: Before you start with the backup, make sure you have backed-up all the content and set to be on the safer side.
Step4: Once you are done with the backup, go back to the menu and click on the Download and Install button to install the latest iOS on your iPhone.
While your iPhone is installing, make sure you are connected to strong wi-fi. Also, plug in your iPhone with a power source, so you don't run out of battery during the update.
3. Reset all settings on your iPhone
If you still haven't fixed your microphone, try resetting all setting on your iPhone. Resetting your iPhone can come in handy if the latest iOS update has overridden your setting causing microphone not to work. This method will restore all your setting to default without any change of file and data. Even if it's not like factory reset and you are not going to lose any data, it's better to have a backup to be a safer side. 
Here is how you can reset all the settings on your iPhone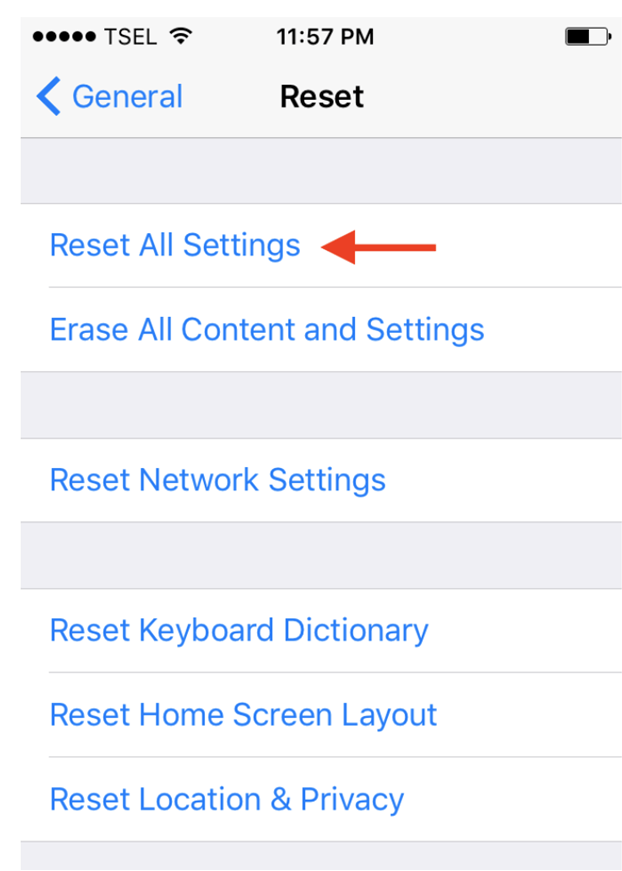 Step1: Head to Setting app and select General.
Step2: Go to Reset menu and choose Reset All Settings.
Step3: A pop up will appear on your screen, type in your passcode, and confirm by tapping on Reset all setting again.
After Reset gets completed, your iPhone will restart. Wait for a while till booting is done and then check if your microphones are fixed, if not don't worry and try the next step.
4. Factory reset or DFU mode restore
If none of the solutions worked for you, then it's time for performing a factory reset. Factory Reset helps your device start as a new device clearing all kinds of files and data on your iPhone. All your pictures, account information, applications, setting everything will be wiped off. This method is capable of fixing the microphone problem if it's caused due to a software glitch.
Step1: Head to setting and click on General.
Step2: Scroll down to Reset option and choose to erase all content and setting.
Step3: Tap Settings, then General. Scroll down until you see Reset.
Step4: Type in your Apple ID and password in the dialog box.
Step5: Wait for a while; the reset process can take a minute or two. Reset time depends on your iPhone's content. Once done, your iPhone will start new with all default settings.
You can also try the DFU mode restore that is one of the highest types of iOS restore. It's something you can do if factory Reset Doesn't work for you. This method deeply restores the system and is carried by Apple technicians to fix iPhone that is caught with complex software errors.
Note that both of these methods are capable of bringing the ultimate solution, but there's a chance that problem still persists and its because of damage in a hardware component. You should proceed with these options only if you're sure that your iPhone has not experienced any physical or liquid damage. You can lose important information, and if the DFU mode restore is interrupted for hardware damage, you might end up having dysfunctional iPhone.
Suggested:
Is It Possible To Keep An Eye On Someone Using IPhone Spy Apps?
5. Other Suggestions
Apart from all the above troubleshooting solution there some few tips and tricks for you to try that might help you bring your iPhone sound back.
Unplug your iPhone from accessories that are connected with your iPhone's headset jack.

If there's a problem with your iPhone's microphone when you are recording video, check if you have not blocked microphone or iSight mic with your fingers.
There may be a chance that screen protectors or any protecting case you used for your iPhone are blocking your microphone. So, in that case, remove those cases, especially if it's a third party manufactured as it might not fit your iPhone properly.
Check if dust particles have accumulated in your microphone. You can remove dirt from the microphone with the help of a toothpick. With light handy, gently push dirt outwards. Take extra care and be as gentle as you can; otherwise, you can damage it even more.
That's it folks this was all about fixing the iPhone's microphone, try these methods and check what works for you, If you are not able to solve the problem from any of the above methods, it's time you go to the Apple customer care and get your device repaired.