I am not a designer, but I defend myself very well. The logo of TrickyEnough was designed in a couple of hours, and it went very well. I want something simple and unique, and you see what I came out with. Here I recommend an excellent web application that will allow you to create a quality logo, without much knowledge.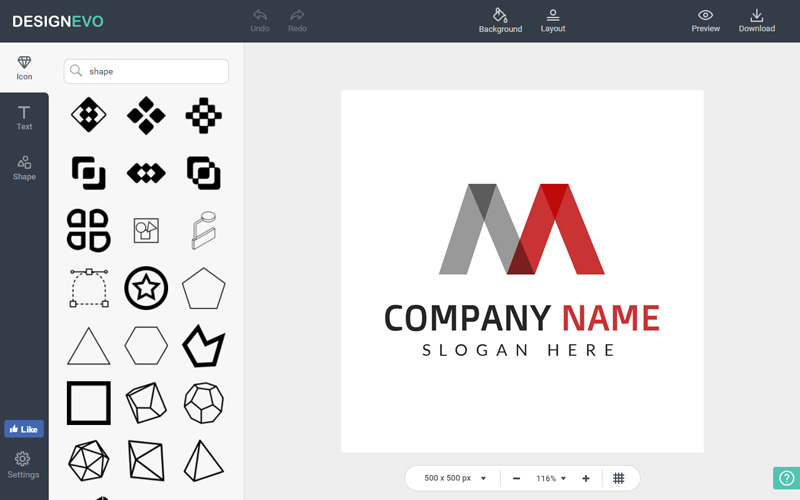 That's DesignEvo, a new logo design tool that helps to create professional logos for free. It has millions of icons, and hundreds of fonts, and is fully customizable and free to use. It completely supports all modern browsers like Safari, Chrome, Firefox, IE, etc.
If you are interested in creating a logo without any program, and with a very dignified quality. I recommend you to try DesignEvo. You can see people using several different programs on the computer to create a logo, and actually, with a web tool, you can achieve a very similar result, even without any previous design experience. 
I just met DesignEvo, and I've found it useful. It helps me create a unique logo design that represents my concept and idea. Here are some of the features that I like:
You can create a logo in minutes
The interface is simple and user-friendly. Creating an amazing logo design is just a few clicks away. In under 2 minutes, you can get your own logo without difficulty.
No registration needed
What I like most is that there is no need for registration and download to use DesignEvo. Directly enter their site and click [make a logo for free], you can start your logo design journey instantly.
Search through over 1 million icons
There are a wide variety of online icons, which can be easily searched through and customized with different colors, sizes, and effects. DesignEvo provides a powerful and smart image search engine that gives you the freedom to type anything you can name and retrieve with a group of related icons to choose from.
A variety of text fonts are available
DesignEvo offers many text fonts and word art for your selection. You can choose the desired font for your logo text (company name or slogan) and customize the size, color, style, alignment, and effect to get perfect typography.
You can work with layers, colors, backgrounds, and different canvas sizes
To customize a logo, you can manage layers of each element – send it forward or move it backward. DesignEvo's alignment system is also quite intelligent. By dragging and moving, you will align your selected element perfectly.
You can also set different logo sizes and change the background colors to meet your own needs, in just a few mouse clicks.
It's free
DesignEvo is 100% free and easy to use, which is good for someone who doesn't have a budget for hiring a professional and has no graphic design skills.
Practical preview & output
Before downloading your final logo, you can preview how it will show when used in different scenarios like the business card, shirt, letter, website, company wall, etc. You have unlimited downloads with high-quality JPG and PNG files.
Final Thoughts:
With DesignEvo, you can create a logo in a very simple way. There are many icons, shapes, symbols, and lines that you can work with. It works quite fast, and each element can be directly modified without many complications. You will be able to use different types of fonts and colors to get the desired logo that matches your brand perfectly.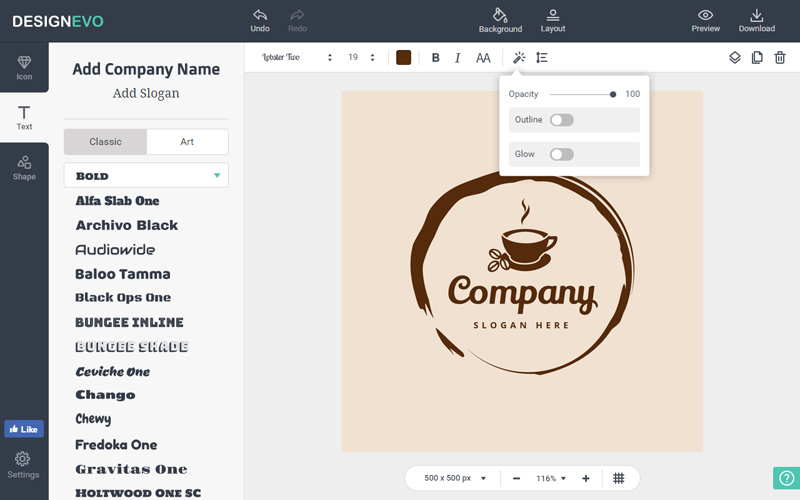 I have no complaints about this application. I like that you do not have to register to use it, and also the fact that once the work is finished, you can download it in very high quality.
Suggested:
Top 3 Key Reasons for Not Designing a Logo in Photoshop.