If you're an iPhone user, then you must be alert and careful before what you click on. There's a new cyber threat found via Kaspersky internet security that targets iPhone devices and takes complete control of the device.
One of the biggest cybersecurity and antivirus software companies 'Kaspersky internet security' recently found a cybersecurity threat called 'Triangulation'. This threat targets old versions of iPhones, such as iOS 15.7, and gains complete access via the iMessage app.
iMessage App at Risk
The iMessage app contains a malicious attachment that automatically installs spyware & takes complete control over the iPhone and its data.
As per the Kaspersky report, they just uncovered a cybersecurity threat. It is extremely complex & targets iPhone devices via the iMessage app by auto-installing spyware and taking complete control of it.
Operation Triangulation
Also, Kaspersky CEO Eugene Kaspersky tweeted about this iOS attack, and it is called Triangulation. He said, "Our investigation of this Triangulation continues, and we expect further details to be shared soon."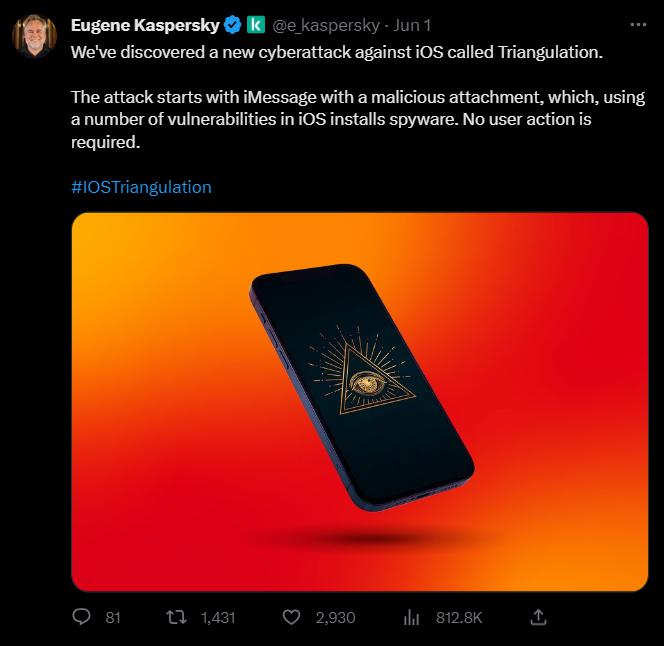 In the Kaspersky report, they said that their team of iPhone users recognized this malware attack. This threat is quietly entered via the iMessage app and gets access to microphones, cameras, photos, messages, geolocation, and other sensitive data.
He also said that this threat had been neutralized and complete vulnerability details had been sent to the Apple company.
Further investigation shows that dozens of iPhone devices were infected with this attack.
The Zero-Click Attack
Getting this threat inside the iPhone device is easier; the user will receive a message on the iMessage app with an attachment. When the user opens the message, a threat will automatically go inside the device and take complete control over the device. Once the hacker gets complete control, the message with the attachment will automatically be selected from the device.
On Friday, Kaspersky also released tools to identify if the device is infected.
One of the clear indications or ideas to check this Triangulation attack on iPhone devices was that it turned off the iOS update and didn't allow users to update their iOS version.
The CEO of Kaspersky noticed that turning off the iMessage app can prevent iOS devices from being attacked. iOS 16 seems safe from this Triangulation threat, and there are low chances but not guaranteed.
Apple iOS 16.3 Updates
Furthermore, Apple released major updates that fixed vulnerabilities with iOS 16.3 and MacOS 13.2 supported iPhone, iPad, and Mac devices.
Suggested:
What Security features must have in Good Antivirus?
How To Remove Malware From Computer?