You might encounter issues with video playback on Plex due to unsupported device drivers or codec packs, which can cause video files to become corrupted when downloading, transferring, or playing. Many Plex users have shared their experiences with the "an error occurred loading items to play" problem. The blog will provide you with solutions to fix the Plex media server.
Fix the Plex media server "Not Opening on PC" error.
If you encounter the message "an error occurred loading items to play" while watching a movie on Plex, you can try the following solutions, as one is likely to fix the issue.
Fix 1: Set the storage path
The most accessible and most effective way to prevent this issue from happening again is to take these steps. Doing so will make you able to fix the Plex media server.
Step 1: By default, Plex stores all its data in a centralized place, the Windows user's AppData directory on the system drive.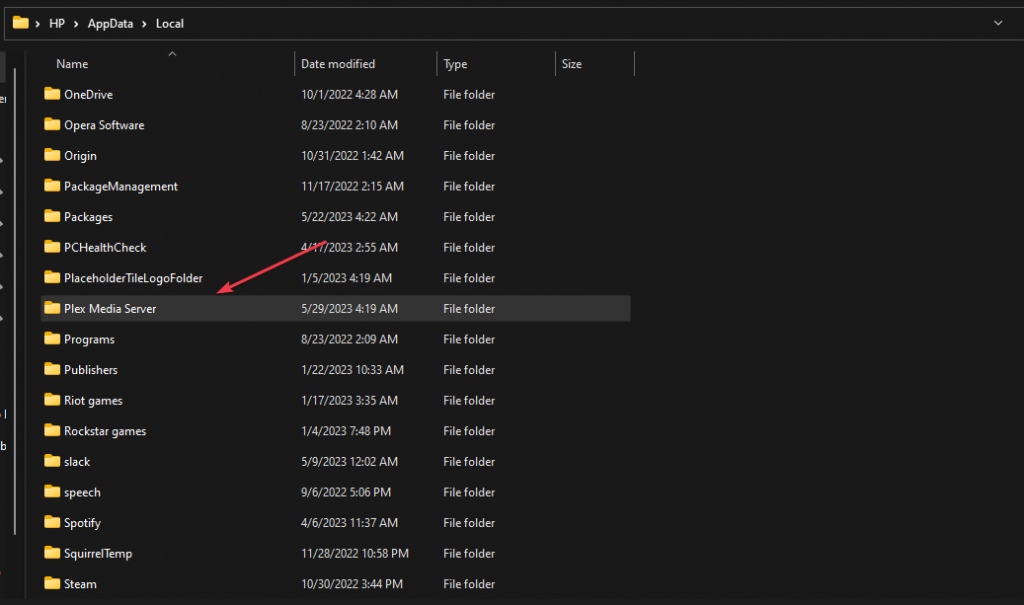 Step 2: If your system drive is a smaller SSD or you're facing capacity constraints, it's advisable to change this location.
Step 3: When you relocate your Plex data to a dedicated drive, it becomes easier to preserve your Plex server data, especially when switching machines or performing a clean Windows reinstall.
Step 4: For larger servers or collections, we recommend using a dedicated internal SSD.
Fix 2: Turn off Firewall Temporarily
To address any issues with Plex, start by checking the Plex Server log file for potential errors. After that, a simple system restart can help refresh your computer. Ensure you're using the latest version of Plex Media Server on your PC to ensure optimal performance.
Additionally, a working internet connection is crucial for Plex to communicate with other devices for file sharing. Verify that you are connected online. If you're still encountering problems, investigate whether firewalls block external connections. As a troubleshooting step, you can temporarily turn off all firewalls and then restart Plex Media Server, which often resolves the issue of Plex not opening on your PC.
Fix 3: Reset your Plex Media Server
Here are some steps you can take to address Plex-related issues:
Step 1: Begin by unplugging the power cord from the back of your Plex media server and then plugging it back in.
Step 2: Next, check the status of your network connection. Navigate to the "Settings" menu and select "Network" on your Plex Media Server.
Step 3:Â If the issue persists, consider rebooting your modem, router, and any other devices that might be causing interference with Plex Media Server's internet signal. However, a fresh start for your network components can often clear up connectivity issues.
Step 4: Ensure no obstructions are near the antenna ports at the back of your wifi or computer. Sometimes, physical barriers can disrupt the wireless signal, affecting Plex's performance.
Step 5: Finally, keep all your equipment up to date. This includes updating the firmware for all devices that streamed content through Plex Media Server, such as routers. Firmware updates can resolve compatibility issues and enhance overall functionality.
Method 4: Restart and Configure
Here are the reconfiguration steps for your Plex Server in a more organized format:
Step 1: Close Plex by exiting, ending, or closing the application.
Step 2: Open the Control Panel on your computer and stop all services related to Plex.
Step 3: Copy the entire Plex folder and paste it to a new location. Ensure the new location is not within the folder already added to the Plex library.
Step 4: Be patient during the transfer, as the time required depends on your library's size.
Step 5: Open the Windows registry editor (regedit.exe).
Step 6:Â Here, navigate to the Plex Media Server branch. Now, create a new string.
Step 7: Edit the string and add the path of the new location. You must ensure it doesn't include "plex media server" as the last part.
Step 8: Always use folders when specifying the location. Avoid pointing Plex to a "naked" drive character, like just 'D:\,' as it can lead to complications.
Step 9: After making these changes, close the registry editor.
Step 10: Restart your computer.
Step 11: Your Plex Server should now reconfigure itself without issues and become available shortly.
Fix 5: Update your Plex Application
Follow the below-stated steps to update your Plex application:
Step 1: Click on the Start button, and in the search box, type "Microsoft Store."
Step 2: Click on the Libary option available on the left pane
Step 3: After that, click on "Get updates" on the right side to update the Plex app.
Step 4: If there's an update available, click it and wait till it's updated.
Step 5: Once the update has finished, reopen the Plex app and see if the problem has been resolved.
An outdated Plex app can lead to it needing to be fixed. Fortunately, this can be resolved by installing the latest updates, which you can find in the Microsoft Store.
Conclusion
And that's it!
We've provided all possible methods to fix the Plex media server not opening on your PC. Moreover, If you discover any other effective methods, please share them with us!
Recommended:
Kodi vs Plex: Which is Best For You? Detailed Comparison 2023.
Emby vs Plex: Which is the best media server for you?