Are you using any WordPress plugin to check the broken links on your website or blog? If not then for sure you are harming your Website. Because the Broken link checker WordPress plugin is one of the essential WordPress plugins which you must be using for your WordPress Website. I have been using this fantastic plugin for a long time, and this has helped me to get a good reputation for my Website.
What are broken links?
Broken links are the links that are dead or you can say that the links are removed. These broken links can give an error on your website like:
Timeout
Error 404
Server not found
Connection failed
403 forbidden
503 service unavailable
Unknown Error
Or there may be many other errors or reasons for the broken links which I am not able to mention in this post. You can check the below screenshot of the Broken links pointed out by the Broken link checker WordPress Plugin.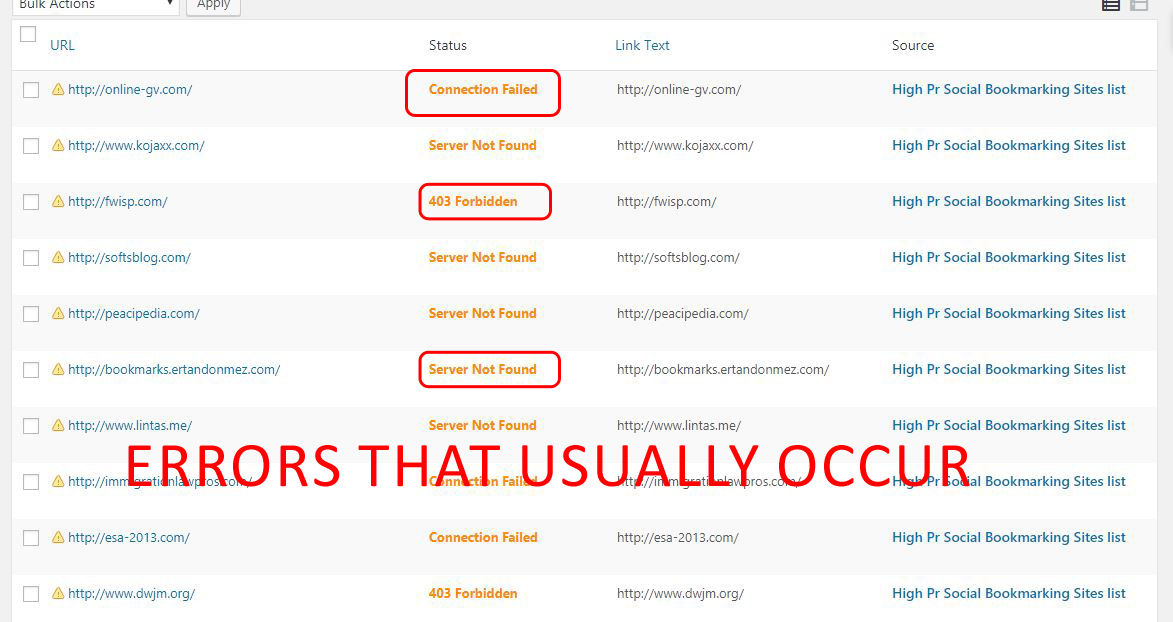 How can broken links harm your website?
As we all know that Google these days is at its peak and there are thousands of websites that are built daily, and it is becoming a lot more difficult to rank on Google's first page. And lots of broken links in your website can be dangerous and could decrease your ranking on Google SERPs. Out of many factors to rank on Google, removing broken links is a small factor but an essential one. So, I would recommend all the bloggers and webmasters to keep an eye on the broken links. And sometimes when redirecting of the links is not done perfectly which end up with a broken link.
I am telling you this because a large number of links if found broken on your website by Google, then Google might hit you with a penalty, and also it will not be considered as a good user experience. A visitor of your Website might not return in the future because of the broken links and missing information on the website or blog.
What is this broken link checker WordPress plugin?
This Broken link checker WordPress plugin is a free WordPress plugin that helps to find the broken links on our WordPress Website or Blog. It makes it a lot easier to find broken links using this amazing plugin. Without using this plugin, it becomes a tedious task that will take days or months to find the broken links on a huge WordPress blog or Website. So, this plugin helps us to scan and find all the broken links in a matter of 72 hours or even less than 6 hours in some cases; then it is the perfect plugin with the best solution.
How can you use the broken link checker WordPress plugin?
Step on is to install the Link Checker Plugin. 
Step two is to do the setting of the broken link checker WordPress plugin. You can see the image below for the general setting in the Plugin. Although, I will recommend you to use the default setting given by this plugin. 
Once the above setting is done. You will get access to the broken links using the Tools option on the left side of the WordPress Dashboard. 
After clicking on the broken links, you will be redirected to a new page. Where you will be able to check your link, whether broken, redirects, warnings or dismissed. You can see the below image for the same. 
 The last thing that I want to share with you is that. The broken link checker WordPress plugin can help you take bulk actions. I mean, you can recheck all your links with one click, and you can do the same for Editing the Url, Redirecting the Url or some more actions which you can see in the below image, or you can experience that using the plugin. 
Finally, What I want to say.
It has been a year that I am using this WordPress Plugin, and it has saved my hours or days for finding the broken link and then fixing them. So, I recommend you to use this plugin for sure and think that it is one of the essential WordPress plugins.