Do you know that the pictures you click contain a lot of information apart from the image itself? This information is called Metadata or Exif data and has information like exposure settings, shutter speed, file's name, size, format type, creator, creator's address, and even your geographical location, the list is quite long.
Earlier when cameras were not digital, the photographer had to carry a pen and a notebook to note down all the settings and other details so that they can, later on, attach it with every image. If they went on a long journey and then developed the photos after a month or so, then it became a very frustrating task to match each and every photo with their notebook details. Now, since cameras went digital, all these details are now recorded automatically.
Though users can control what information they want to relay through their photos, a lot of people clicking photographs are unaware of it. This information can be relayed through a separate file or within the image too. It is known as EXIF data. In this article, I am going to share with you details on how you can also access this information and can even edit it according to your need.
Suggested:
Apps that Make Your Photographs Look Better.
Why Exif Data important?
Why should one pay attention to what is being written in EXIF Data? EXIF Data or Exchangeable Image File Format can be quite crucial. If you give too much information in it then you may even give your location and other personal details to the hacker. I am sure that you won't want that. So how would you know what all Metadata you are writing in your photos? For this purpose, you would need a good EXIF Data detector. Though there are many apps and programs that can do the job most of them are not effective in reading all of it and only a handful of them are capable of editing this EXIF Data. So I would recommend you to check out Photos EXIF Editor.
Photos Exif Editor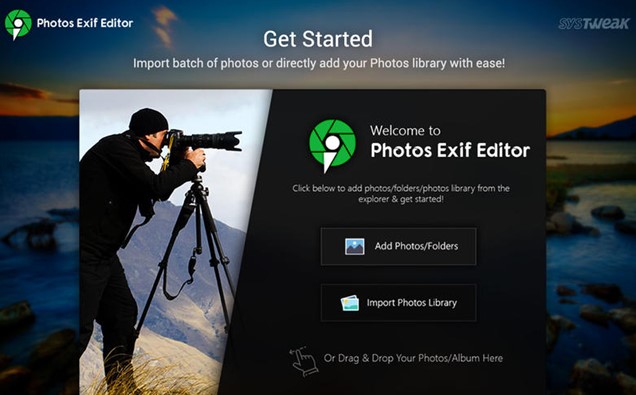 One of the best and most used EXIF Data editors in the market is Photos EXIF Editor. It is a one-stop solution for anyone who is looking to detect EXIF Data, edit it, etc. It is a powerful tool embedded with incredible features. Some of them are:
Features:
It can change and even completely remove EXIF, IPTC, and XMP metadata for you.
Can work on almost all the image formats, even in the RAW format.
Can edit metadata even of a batch of photos, so you won't have to manually do it for all of them.
Can even create a backup of original metadata in case you want to restore it.
Various metadata presets for a smoother workflow.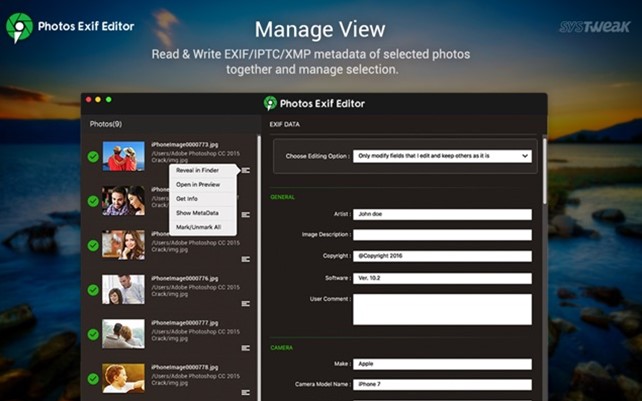 You may be wondering how can I remove GPS from photos or how can I get rid of location from the EXIF Data. Don't worry, with Photos EXIF Editor, you can edit, change and even completely remove the location data from your images. It can be quite risky to just advertise your coordinates in every photo you upload on the internet. For more details on how you can remove the GPS tag read here.
One of the best things about Photos EXIF Editor I like is the presets combined with batch photos. If I have a bunch of photos and I want to edit them all and change the geo-location, time, and creator's name to my pen name or a pseudonym to just mark my creation. Then I can make a custom preset, type in all the details, save them, and just use the batch processing to take care of all of them at once. This way I can keep myself anonymous while also putting in my mark.
The application is compatible with Windows Vista, 7, 8, 8.1, and 10 on both 32 and 64-bit versions. So you won't have to worry about the app not working on your system.
EXIF data can be of quite revealing nature but earlier it was used by amateur photographers to learn a lot from professional photographers. If they were wondering about how and on what settings these photos were clicked then by just looking at the notes they were able to figure it out. But since everything went automatic, cameras and even phones were designed to record all the information they can take. So what was once designed to help students and newbies now became a possible threat?
Suggested:
How to do Image Optimization for better SEO?
Why Megapixels Do and Don't Matter For Cameras?
How to make money by Selling photographs Online?
Hope it helps.
Thanks for reading!