Finding free and best grammar tools online is a challenging task. If someone is very busy and has a huge workload, with this you cannot manually check all the grammar mistakes in your professional emails, blogs, and social media captions and it is not possible to check all the grammatical mistakes at one time or at a faster speed. Here are some Free Grammar And Punctuation Checker And corrector that you can use for free.
And if you are starting or planning to start your journey in blogging, grammar and punctuation checker tools are a must.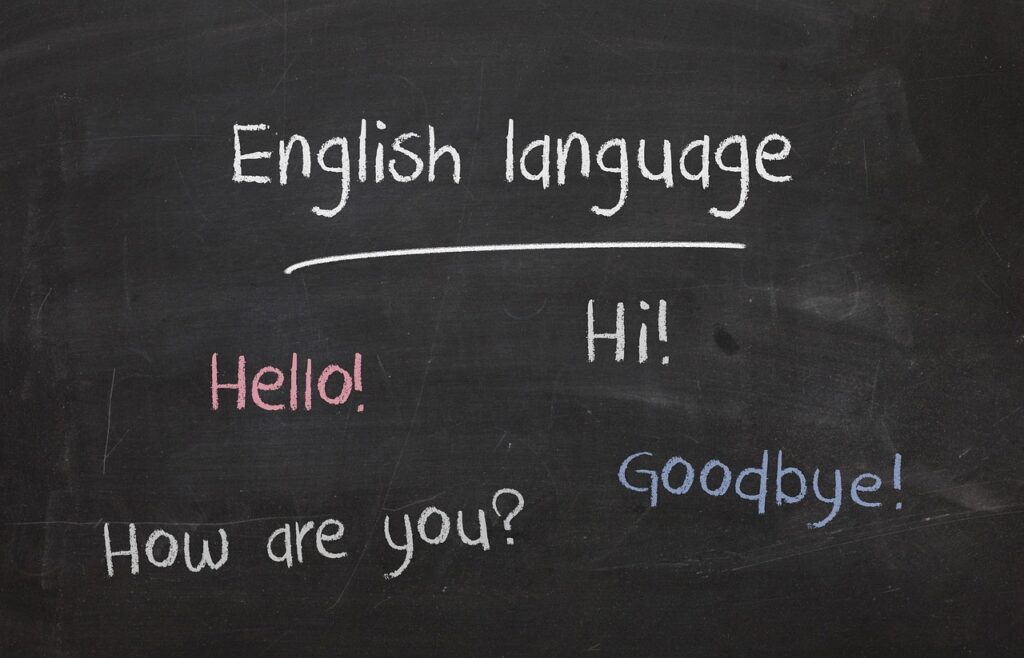 If you want to know the best grammar tools to correct your grammatical errors or grammar mistakes we are giving you a list of the best grammar and punctuation checker and corrector tools from which you can save time and correct your grammar mistakes and punctuation errors easily and faster.
Grammar and Punctuation checkers Tools.
Now we are telling you the list of best grammar tools with all their benefits all of the tools we are telling you are free to use but some of them also have their premium versions if you want to use the advanced option you can buy their premium versions.
Grammarly
Ginger
Writer.com
Scribens
Zoho Writer
Jetpack
LanguageTool
Virtual Writing Tutor
If you want to correct your grammatical mistakes and punctuation errors Grammarly is the best option to check your grammar mistakes and you can use Grammarly for grammar spelling punctuation errors and many other things.
If you want to check 10000 words at the exact time copy all the words and paste the words into Grammarly and it will check all the grammatical errors and punctuation mistakes. Grammarly also shows you some content factors like the clarity of content and delivery of the content and correctness of the words. You can easily correct your mistakes in the Grammarly editor and you also have some settings for text formatting you can also add heading tags and make your headings bold and Italic and you can add other stuff.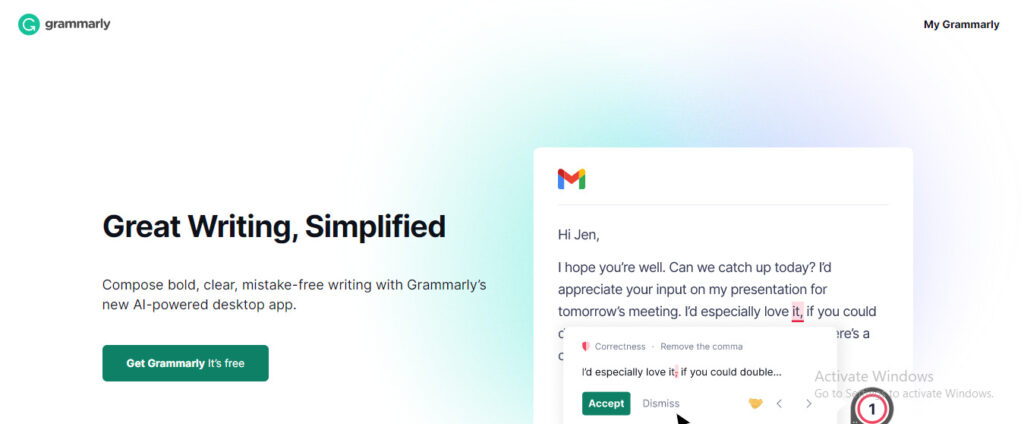 If you want to use Grammarly directly from your browser you can add a Grammarly extension on your Chrome browser for firefox and it will show you all the grammatical errors in red color.
Free Features
Paid Features
1. Ai spelling checker
2. MS word and Google docs friendly
3. Offers you personal dictionary
4. Mobile version also available
1. Better structure analysis
2. Plagiarism checker
3. Different word choice
4. Advanced and different style suggestions
5. Style checker
Grammarly Pricing
Grammarly's monthly subscription costs around $29 per month.
Grammarly's quarterly subscription costs $19 and is paid as one payment of $59.
Grammarly's annual subscription costs $11 per month and is paid as one payment of $ 139.
Pros and Cons of Grammarly
Pros
Accurate online spelling checker
Great writing
Excellent writing assistant
Easy to use and shorten the time of work
Cons
Expensive for beginners
A personal dictionary and guide are not good
The second app on our list to correct your mistakes is Ginger. Ginger is very popular and offers a spell and error checker and also provides a proofreading tool. Grammarly is more focused on grammar and spelling.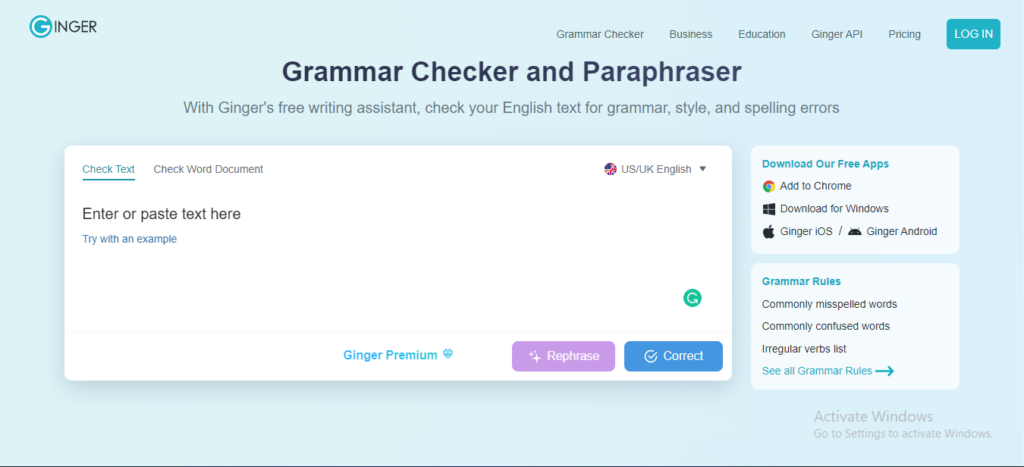 Ginger identifies the word and correction that fits the meaning of the original sentence. This website improves your writing skills and also helps in increasing your productivity. You can also add the Ginger extension on your browser and install the Ginger app on your PC and mobile this website is compatible with MS word, IOS/Android or you can use Ginger directly from the website. It is the best website to check verbs and adverbs' incorrect wordings and checks other common grammar rules in English.
Free Features
Paid Features
1. Best grammar corrector and spelling checker
2. Proofreading is also available
3. Style checker
4. Practice sessions
5. Separate integrations available
1. Unlimited corrections
2. Different word definitions available
3. Different and unlimited synonyms
4. Sentence rephrasing
5. Language translations available
Ginger pricing
Ginger's monthly subscription costs $13 per month.
Ginger's annual subscription costs $7 per month.
Ginger's 2-year subscription costs $6 per month.
Pros and Cons of Ginger
Pros
The free version of Ginger software is very powerful
A personal dictionary is very good
A virtual writing tutor is very helpful for non-English speakers
Cons
Over grammar mistakes slow editing speed
Accuracy is not up to the mark
Ginger is not available for Google docs
Writer.com is the most-rated website and app with a rating of 4.7 on all online downloading platforms. This website comes in the list of the best online grammar and punctuation checkers. The writer's website is the best solution to correct all the mistakes and edit emails, blogs, and using Google docs.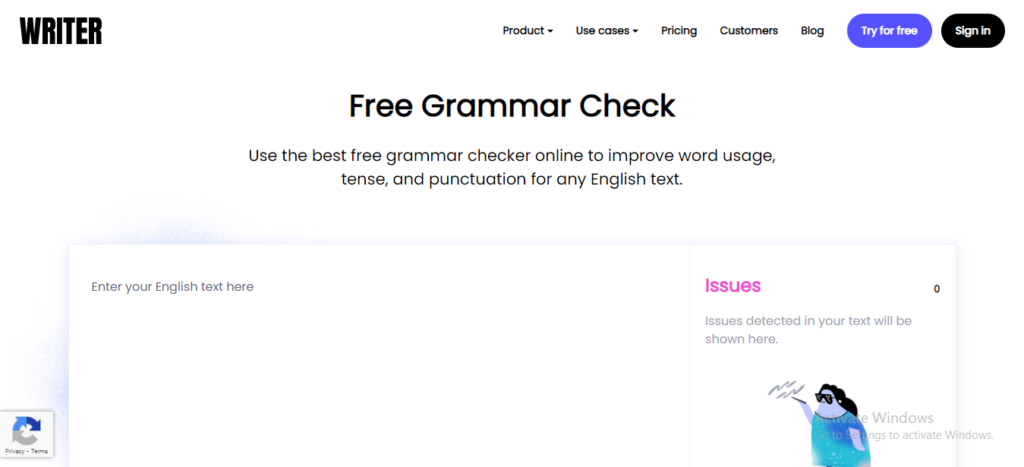 This website is powered by AI techniques for editing and has a wide range of interactions with WordPress, Twitter, Slack, and many other platforms.
Free Features
Paid Features
1. Language checker
2. Grammar and spelling checker
3. Tense and verb analyzer
4. Proofreading available
5. Company-approved messages
1. Content score
2. Content style for different writing styles
3. Security
4. Email support available
5. Privacy shied
Writer.com Pricing
Writer's monthly subscription costs around $18 per month for a team of 1 to 5 people
Writer's annual subscription costs around $162 per year with 3 months free for a team of 1 to 5 people
Pros and Cons of Writer.com
Pros
Premium quality checker
Allows you to build content rules
Cheaper than Grammarly
Cons
Not best for single writers
Takes time to know everything
Scribens comes in the list of best grammar checkers and you can check different types of grammatical errors, spelling, and style mistakes. Scribes claim to be better than MS word. You can also change vocabulary languages. You can decide to manually correct mistakes or automatically correct them. These settings are saved for every time use and you don't have to make changes in the settings again.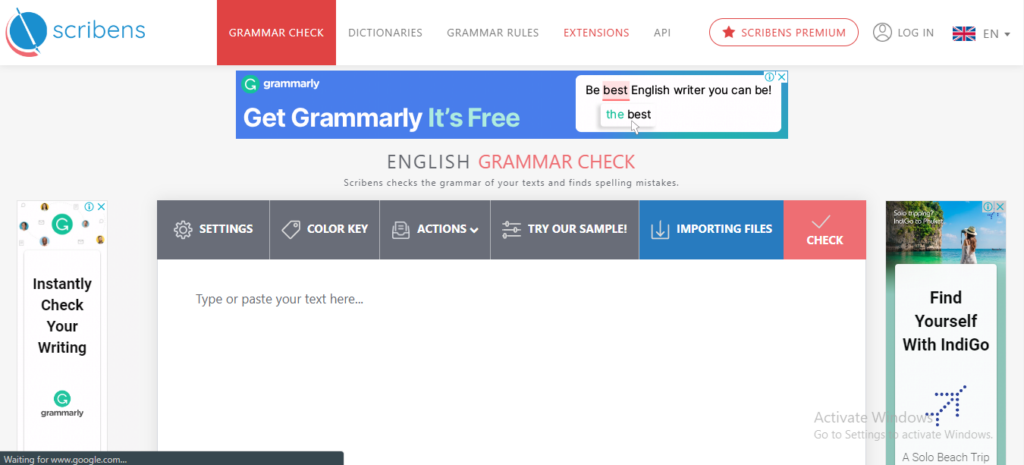 Red color shows grammar errors, Green color shows verb errors, Yellow color shows different suggestions and Blue color shows punctuation errors. At last, this is a great platform for proofreading and editing articles manually. But you cannot use advanced features like plagiarism checker and many more.
Free Features
Paid Features
1. Spelling checker
2. Dictionary is available
3. No word limit
4. User-friendly interface
5. Vocabulary improvement
1. Email checks available
2. Backup of texts is available
3. No advertisement
4. Access to different languages
Scribens Pricing
Scribens monthly subscription costs around $10 per month
Scribens 3 monthly subscription costs around $20 per month
Scribens annual subscription costs around $50 per year
Zoho Writer is the best and very popular online platform for checking spelling errors, grammar mistakes, and style. This website is filled with lots of superb features. Zoho writer is working on machine learning they will give you different suggestions like content suggestions, verb arrangement, and punctuation mistakes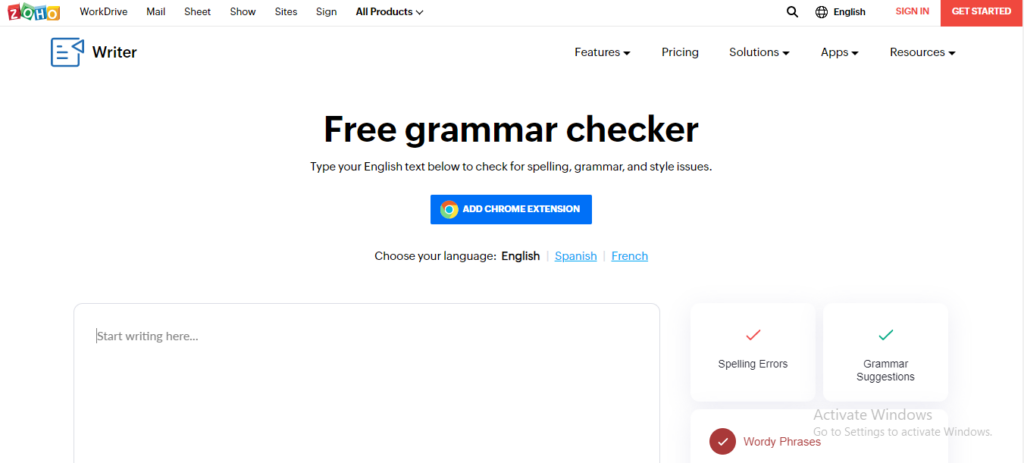 Zoho Writer writing assistant uses adverbs and passive voice. It is perfect for professional work and business documents.
Free Features
1. Checking different wordy phrases
2. Different word choice suggestions
3. AI-powered assistant
4. Readability analysis
5. Writing improvement
6. Spelling checker
Zoho Writer Pricing
Zoho Writer is free to use platform. This website is free you can use all features for free of cost and there is no premium version for Zoho Writer.
If you are a WordPress user then you can use jetpack. Jetpack is the most popular plugin in WordPress. It is popular for security and optimization and other powerful features.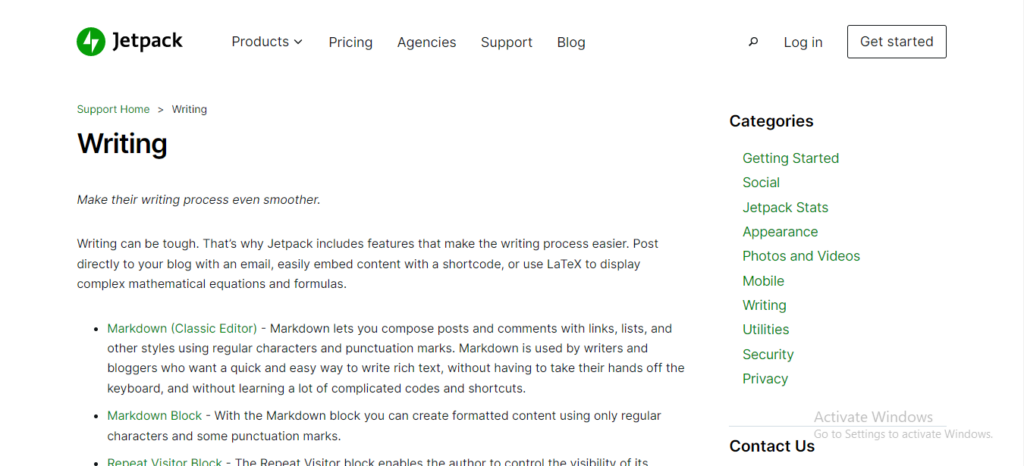 You have to enable the jetpack settings and go to the writing option and enable the spelling checker, style checker, and grammar checker. It will show your errors automatically on the WordPress editor. Red color shows spelling errors, Green color shows grammar mistakes and Blue color shows style options.
Free Features
1. Colors for different errors
2. Available in different languages English, french, german
3. Separate WordPress plugin
4. Regular updates
5. No extra charges
Jetpack pricing
Jetpack plugin is free to use you can use it on WordPress and you have to enable all the options to form settings.
Language Tool is an assistant and can be used as a Grammarly alternative with some extra features. It checks grammar mistakes, styles, and spelling. You can change and edit the content in various languages like English, Spanish, and many more languages. This tool costs $0 for checking 10000 words.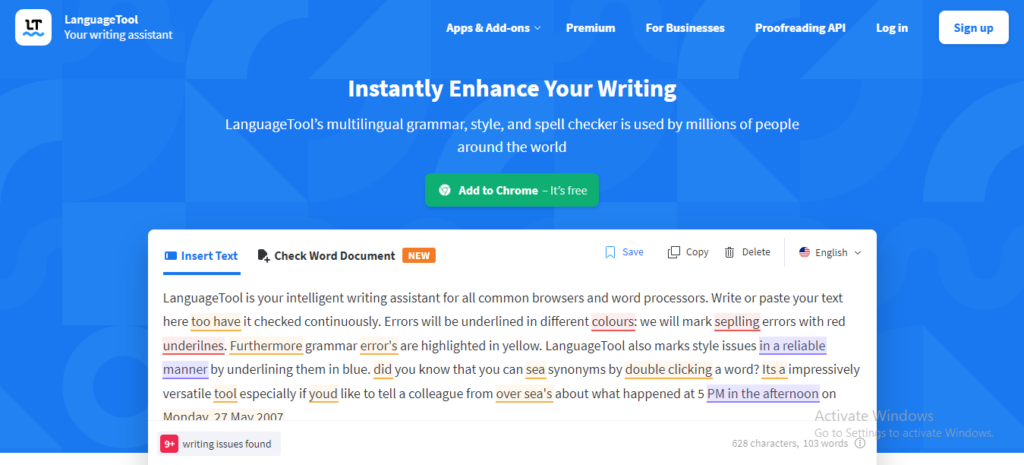 Free Features
Paid Features
1. Simple grammar and punctuation checking
2. No distraction in writing
3. Separate dictionary
4. Fully secured texts
5. Multiple languages support
6. Available in macOS
7. The extension is also available
1. Style corrections are suggested
2. 60000 characters are checked at once
3. Extension available for MS word and Google docs
4. Easy to use
5. Correct word suggestion
6. Incorrect number detection
Language Tool Pricing
Language Tool's monthly subscription costs around $30 per month.
Pros and Cons of Language Tool
Pros
Supports different languages
Also has an API
GDPR also available
The offline version is also available
Cons
Pricey issues
No plagiarism checker is available
Not accurate as other tools
Virtual Writing Tutor is a free and easy-to-use online platform to use. You can do multiple things like creating a letter cover, and checking errors in the essay. You can also practice IELTS from this platform.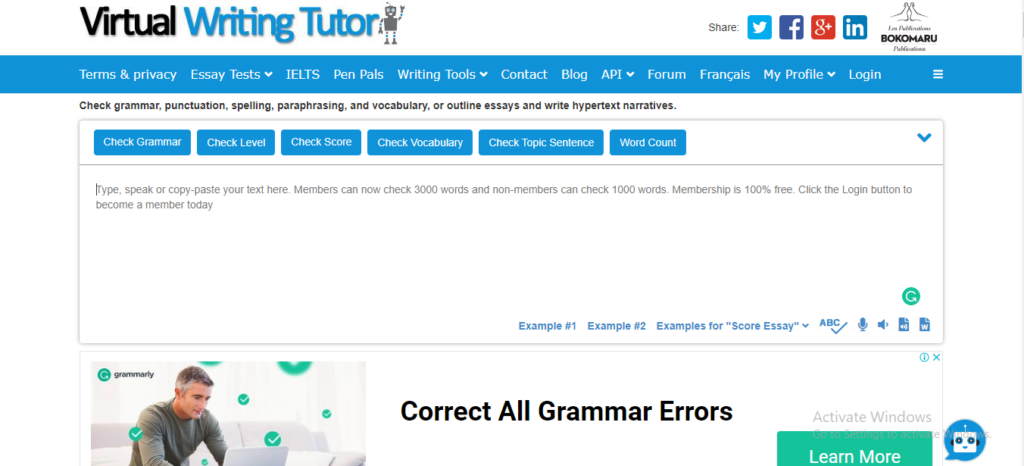 Grammar checking gives a lot of different options and offers different style options. You can use Virtual Writing Tutor for grammar mistakes, punctuation errors, and vocabulary. If you started a blog then this will help you.
Free Features
1. Vocabulary checker is available
2. Errors checker
3. Paraphrase checker
4. Different style options are available
Virtual Writing Tutor Pricing
The virtual Writing Tutor platform is free to use. You can access all the features in the free version and no premium version is available.
Conclusion
So here's the list of best grammar and punctuation checker tools. But if you talk about accuracy then Grammarly is the best option for grammar and spelling checking. Otherwise, all the tools in the list are the best and easy to use.