Are you looking for a one-stop media platform to manage your personal media collection? Look no further than Jellyfin Review.
Jellyfin is a free and open-source media server platform that allows users to stream their favorite movies, TV shows, music, and photos anytime on any device.
It's a great alternative to Plex and Emby media streaming platforms, and it offers various exciting features that you may have yet to find in these platforms.
In this guide, we will do an in-depth Jellyfin Review, its features, pros & cons, and how to install it with a simple step-by-step process.
Let's dive in!
What is Jellyfin?
Jellyfin is a free and open-source media server that allows users to store, manage and stream their favorite collection of movies, TV shows, music, photos, and other media in one place.
With Jellyfin, users can easily stream the media files on different devices like Smart TVs, Computers, Mobile Phones, and other devices.
It's completely free to use this open-source media server. You can easily manage and access your media collection anytime, anywhere, with complete control and no strings attached. There are some other features that Jellyfin offers, like Live TV, DVR, and hardware transcoding.
Jellyfin also allows users to record Live TV automatically to watch anytime later.
The biggest reason for using Jellyfin is the customization option, plugin/extension support, and easy accessibility, making this open-source media server an efficient choice for users.
Top 7 Features of Jellyfin Media Platform
Jellyfin is a free and open-source media server, but it offers various exciting features that you may not find in premium platforms like Plex and Emby. Let's find out!
1. Media Streaming
Jellyfin is mainly known for its media streaming feature that allows users to store and organize their favorite media content and stream remotely to various devices such as smart TV, computers, Mobile Phones, etc. So you can easily enjoy your favorite movies, TV shows, music, photos, and other media content anytime with a seamless streaming experience. It's super easy to access the media content in Jellyfin with a well-organized library and streaming at your fingertips.
2. Cross-Platform Support
Jellyfin comes with cross-platform support so that users can access this media server platform on various platforms such as Windows, MacOS, Linux, or FreeBSD. By supporting various platforms, users can easily access the media library anywhere and ensure a seamless experience. It also supports various streaming devices, such as Smart TV, Xbox, Desktop, Mobile Phones, FireTV, Roku, and many more.
3. Secured
As per Jellyfin review, it ensures that security is the most important priority and that users' content is protected from any unauthorized access. Many encryption protocols are added in this open-source media server and stay up-to-date with the latest security standards. So it ensures that users can safely upload, organize and share their content with privacy. ÂÂ
4. Free and Open-source
The biggest reason for the popularity of Jellyfin, it's free and open-source. Anyone can use Jellyfin for free and take advantage of its exciting features. You can download the Jellyfin, sign-up for free, and enjoy the seamless streaming experience. Jellyfin's operational costs come from generous donors and communities who find this platform best for users. For more details about Jellyfin Review, you can join these communites to see how it works.
5. User-friendly Interface
Jellyfin has a simple, clean, and user-friendly interface that is easily accessible to users. The media library is well-organized, and users can easily find their favorite collection of TV shows, movies, music, and photos. It gives a seamless experience to users and finds specific content within a few clicks. Additionally, it allows users to personalize the appearance and layout per their preferences. Overall, it gives a smoother and hassle-free experience.
6. Media Organization
Content organization in Jellyfin is easier because of its user-friendly interface and built-in auto-organization feature. So users can store the content on this platform, and Jellyfin automatically detects the metadata of each piece of content, such as artwork, description, ratings, etc., and organizes the content. Jellyfin makes the content organization so easy that users can quickly locate and enjoy streaming their favorite content.
7. Parental Control
Jellyfin also offers parental control features that allow users to restrict content based on age ratings or other custom restrictions. This feature is mainly helpful for parents to ensure that their children can only access age-appropriate content. It ensures parents' peace of mind and gives complete control over what children can access.
These are some key features that make Jellyfin stand out from the competition.
Pros and Cons of Jellyfin
Here are some pros and cons of Jellyfin:
Pros:
It's a completely free and open-source platform.
It comes with a user-friendly interface and a well-organized library.
It offers cross-platform support to stream content on various devices.
It includes a multi-customization option.
It has a parental control feature.
It's extensible with plugins and extensions.
It supports DVR and hardware transcoding.
Cons:
It lacks the voice command option.
It requires regular backups, updates, and security measures.
It requires powerful hardware for easy accessibility.
How to Setup Jellyfin?
Instead of keeping your favorite movies, CDs, tv shows, and albums in a hard drive that may not be possible to carry anywhere, you can store them in Jellyfin and stream anytime because it supports all content formats.
Here's the simple step-by-step process to setup Jellyfin:
Step 1. First, keep all your favorite content, including videos, audio, and photos, in one place in folders.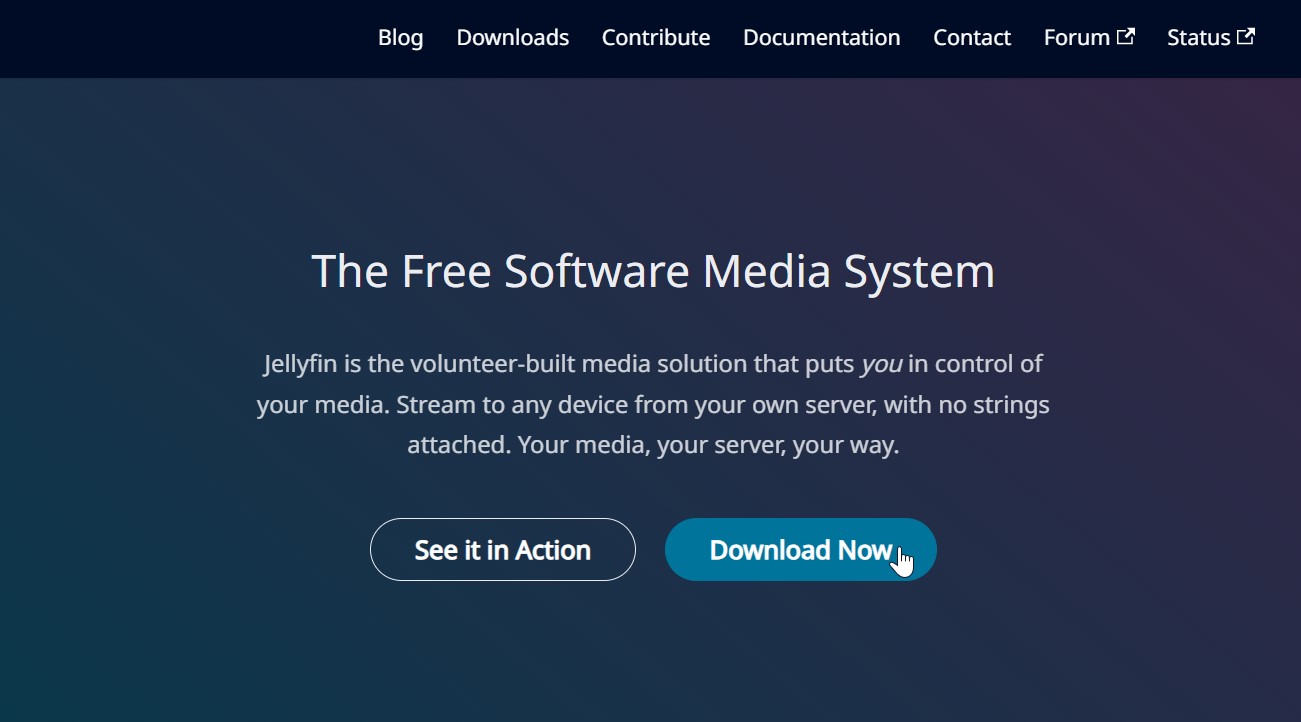 Step 2. Now go to the Jellyfin website and click 'download' at the top bar.
Step 3. Jellyfin is available for Windows, MacOS, Linux, and Docker. So you need to pick the software based on your OS support.
Note: Before you click on download, click on the server option.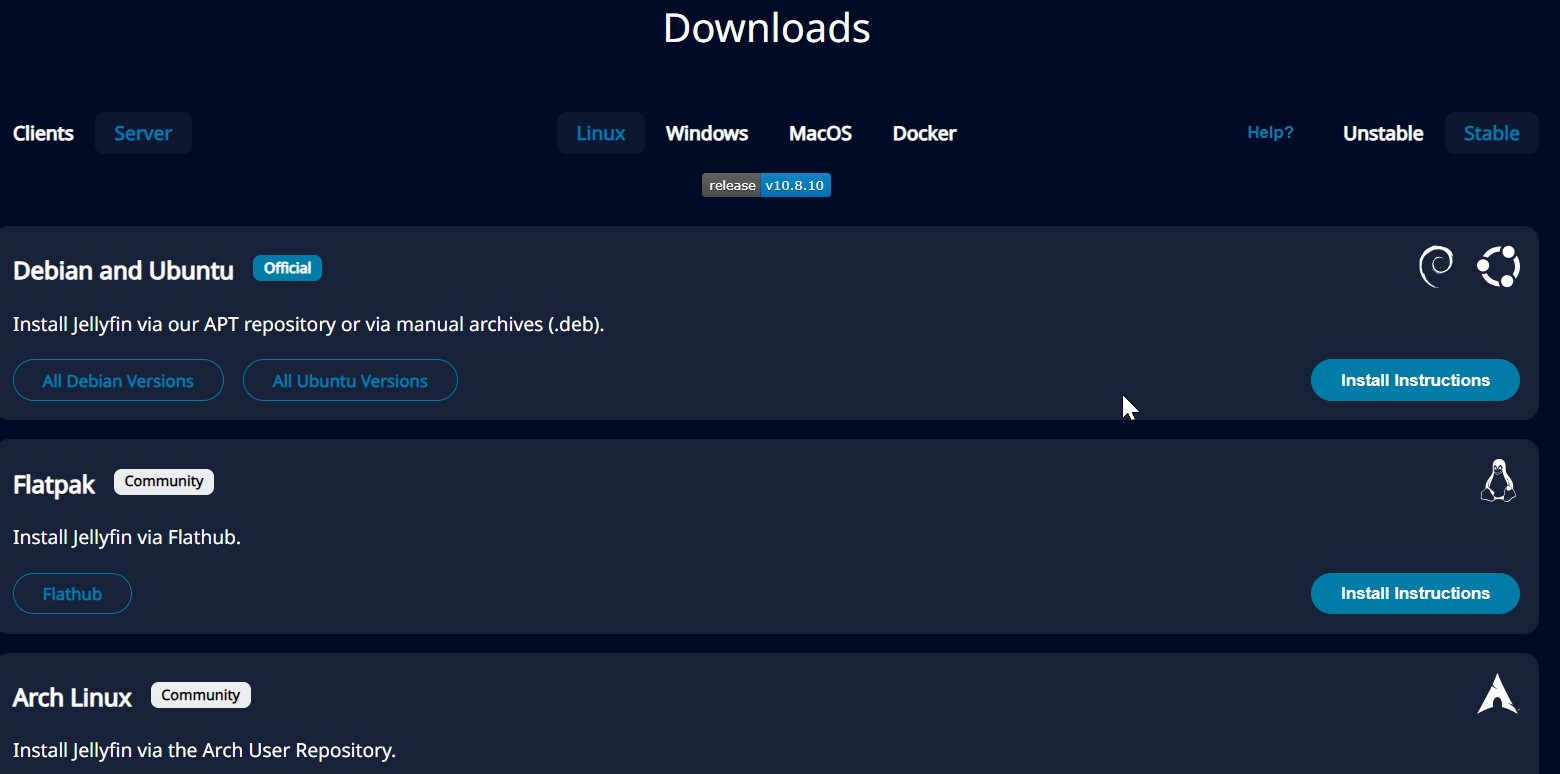 Step 4. When you click on download, you'll see a list of versions and need to download the latest version.
Step 5. Install the jellyfish in your system and open it.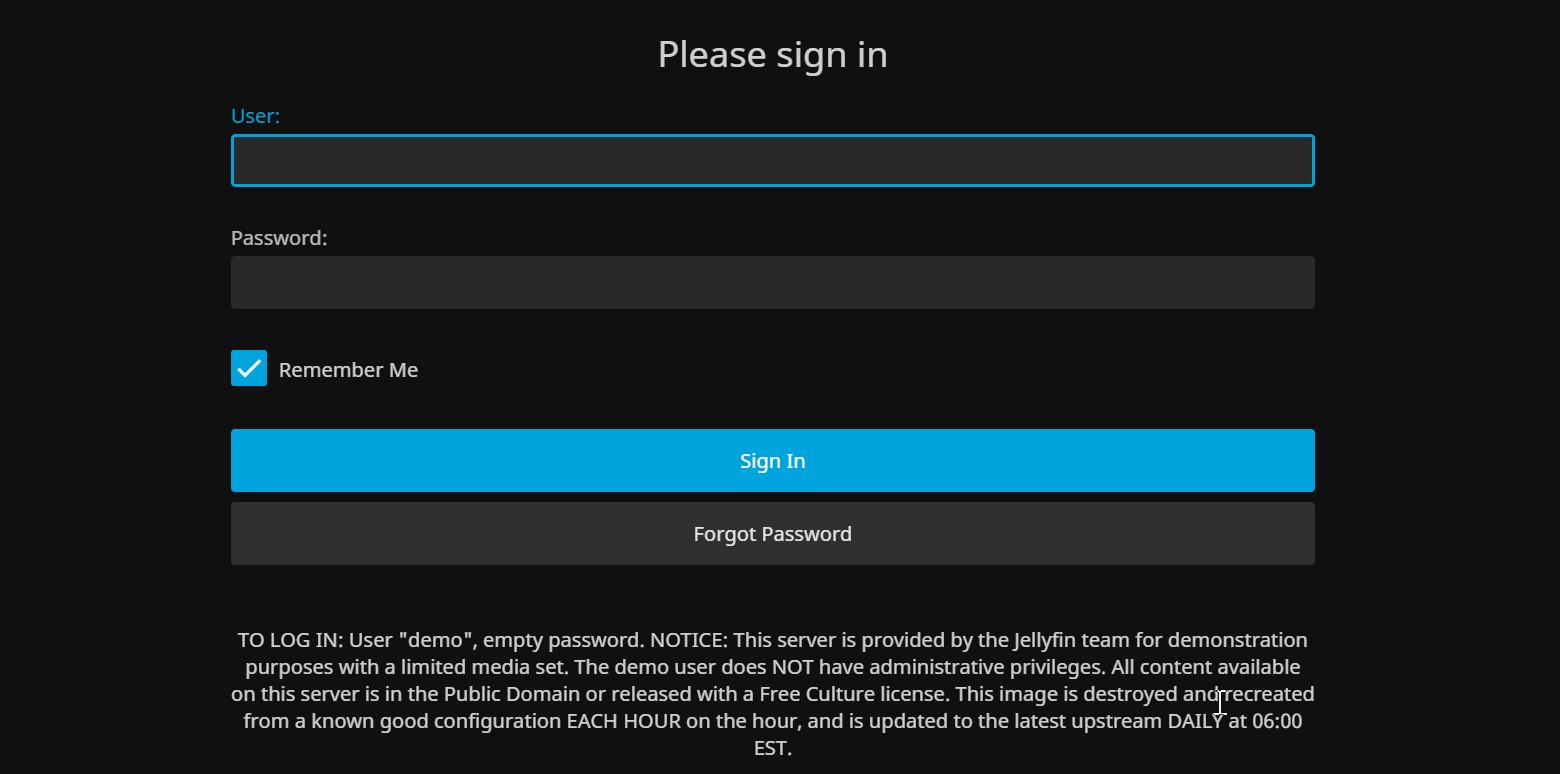 Step 6. Create your account in Jellyfin with a username & password, and you'll be redirected to add a media library.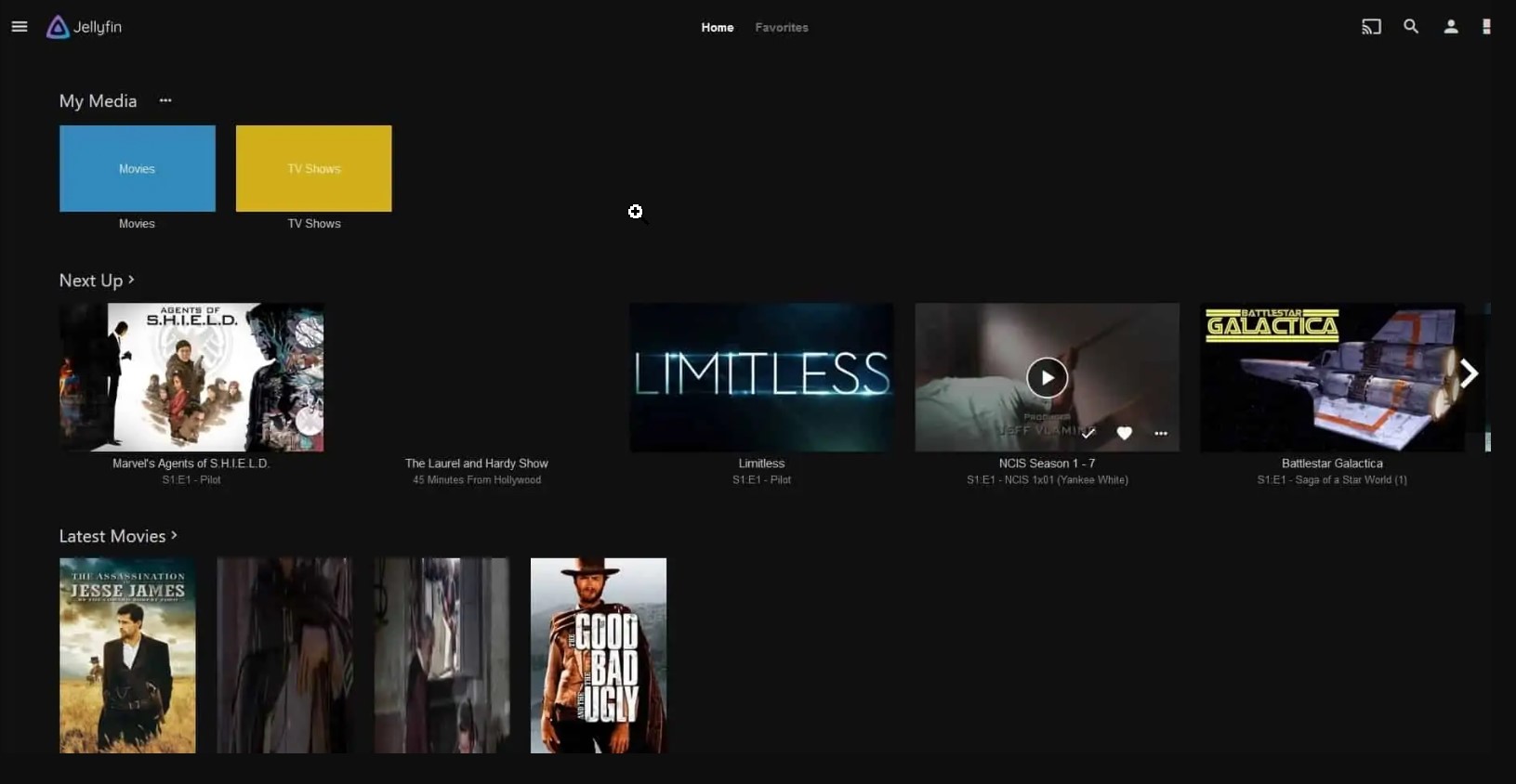 Step 7. Click on the '+' icon, select the content category, and upload your favorite content from your system.
That's it! Your library is well-organized and filled with favorite movies, TV shows, music, and photos that you can easily stream on various devices.
To Wrap Up
Jellyfin is an impressive media server platform with a user-friendly interface and exciting features. It helps users to store, organize and stream their favorite content on various devices and provides a seamless experience. So if you're looking for a free, feature-rich, and user-friendly platform to keep your favorite content in one place, consider Jellyfin. We hope this guide helps you to know detailed Jellyfin Review and how it's better than its competitors.
Suggested:
Kodi vs. Jellyfin – Which One Should You Go For?
Use Roku Hacks To Watch Free Movies and TV Shows.