Although the clothing industry has never seen a fall in human history, there has been a lot of buzz...
There are many forms of cryptocurrency available today, and this can be a great investment piece. If you are...
Animations are a great way to add personality, emotion, and movement to your mobile app. They can also help...
Artificial Intelligence is growing very fastly and enables machines to use, understand, and respond like human beings. Many companies...
Nowadays, people are eager to upgrade their skill sets to survive in this competitive world and for that, they...
Investors have long been drawn to stock markets by the promise of making significant sums of money. However, gaining...
Once Instagram was a platform where users could post photos of their pets and expensive coffees. However, Instagram has...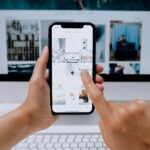 When you think of the tool of the trade for a writer, what do you immediately think of? The...
Core Web Vitals is one of Google's new criteria for evaluating and ranking websites, which was introduced in 2020....