Isn't it second nature for us to check the reviews of a product we intend to order on Amazon...
There are over 2 billion blogs published each year all over the world. It's a cut-throat competition out there...
If you are planning to get into dropshipping, it is important that you choose the right training option for...

When have you dialed the customer support number last time? Do you remember such words like Hello, how are...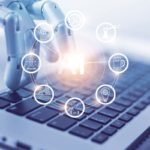 If you are new in the field of business then most probably you are looking for the marketing of...

E-learning is one of the most trustworthy platforms when it comes to learning. Ed-tech's like Vedantu are always dedicated...

The Internet of Things (IoT) is growing rapidly, and in the rush for leveraging their manifold benefits and our...

There has been an escalating demand for websites to ensure that brands have their foothold in the virtual space....

Mobile phones, ever since their advent, have changed our lives completely. Latest, we have smartphones that are capable of...

"Content is King" is an old saying but is still very relevant today and will remain so for a...