Many android apps are floating around the internet that are claiming those can clone any app of your android device and allow you to taste something interesting. Parallel Space Apk is one of these. You will find it on Google Play Store, the rating is good, overall reviews are also satisfactory. But there exist many users who know about this app but don't know how to use it.
To meet this problem, we want to express the step-by-step procedure regarding installing and using this app.
About Parallel Space Apk
We are pretty sure, if you are now reading this article with an android phone, then some extensively popular apps such as Youtube, Facebook, Whatsapp, Imo, and some other popular apps are installed on your phone. And sometimes you think something interesting-
I wish I had an option to use multiple accounts from a single device without frequently logging in and out!
In a single line, parallel space can allow you to do that. This app holds the potential to clone any popular android apps that you frequently use in your daily life. That means you will be allowed to use multiple accounts but can avoid frequently logging-in and out.
The main advantage of this app is, it will not consume extra storage for the cloned versions. This thing acted as one of the key features of this app that helped this app to gain extensive popularity among android users.
Key Features of Parallel Space Apk Premium Version
Besides not consuming the extra storage for the cloned apps, parallel space holds some unique features that you may find handy to use. Let me introduce you to some of these-
Use Multiple Accounts Simultaneously:

This allows you to create multiple accounts for specific apps and use these parallelly from one point.

Built-in Web Browser:

Parallel space included this browser so that you can visit anywhere in the world with the internet.

Incognito Installation:

In the

incognito installation

section, you can install some massively popular apps and games.

RAM Cleaner:

You can clean your ram whenever you need, especially while you will run two accounts simultaneously.

Task Manager:

This feature will allow you to observe the overall memory consumption by Parallel Space and the amount of free storage.

Password Protection:

For providing extra security, this feature was introduced that can prevent access to your cloned apps from unknown persons. 

Customized Space:

Many premium-level themes are available for you in the built-in store integrated with Parallel Apps. These themes will allow you to style your space.
How To Use Parallel Space?
You can install this app on your phone following the traditional process like other android apps need. Using Parallel Space is relatively easy and simple as well.

There are many tasks that Parallel Space can perform for you. But as you are pretty excited about the app cloning feature, I want to express the procedure sequentially.
Installing and Cloning Apps With Parallel Space
Install the Parallel Space app on your phone and open it. If you do the process correctly, then the following window will occur.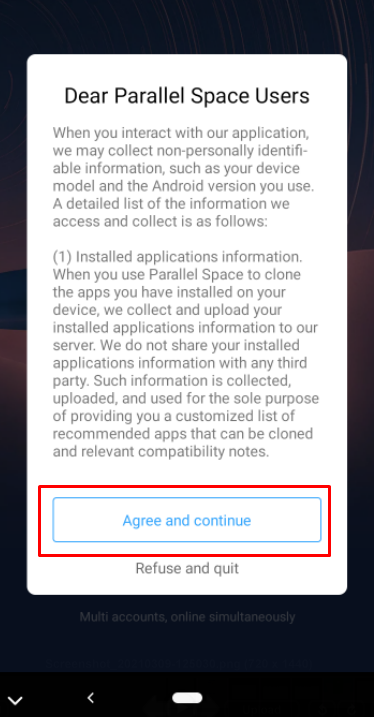 Tap on

Agree and continue

button. That will lead you to the following window. Now tap on the

continue

button.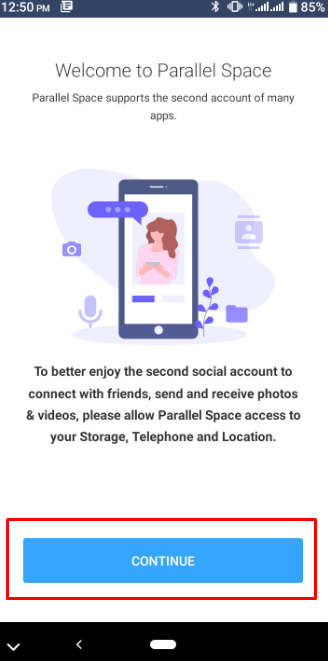 In the following window, the app will ask for three permissions of your phone. Allow all of these by tapping on

allow

button.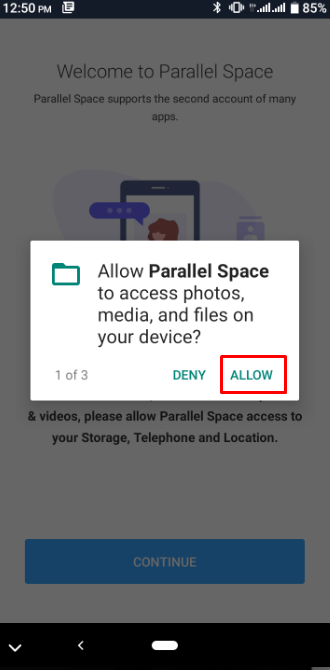 If you have done all the procedures correctly, then the following window should occur on your screen. Now press the

start

button.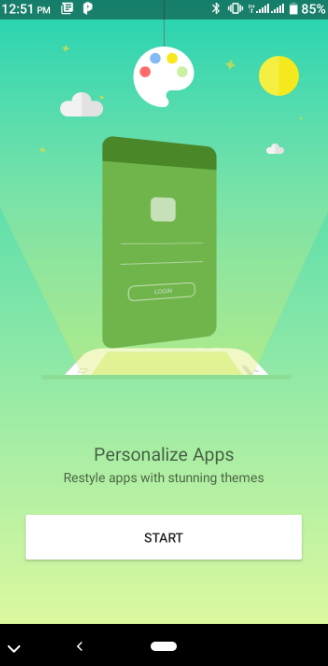 After pressing, the following window will be visible on your screen. In a pop-up window, the app will ask for the required permission. Tap on

accept

to get your app ready to use.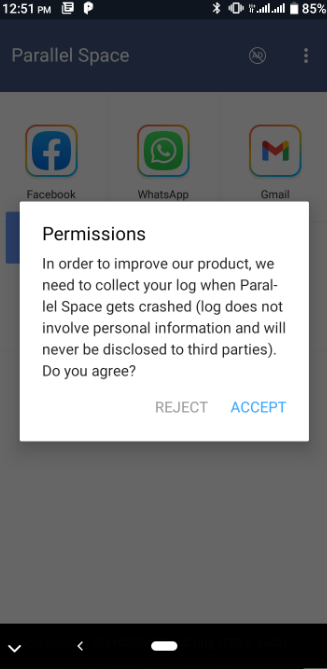 If you see the following window, then the

Parallel Space APK

is entirely ready to use. In my case, the apps that are visible in the image, such as

Instagram, Gmail, WhatsApp, Facebook,

etc, are cloned already. You can use these by using your secondary account.

If you want to clone some other apps, click

+

icon marked in the following image. It will lead you to other apps that can be cloned as per your wish.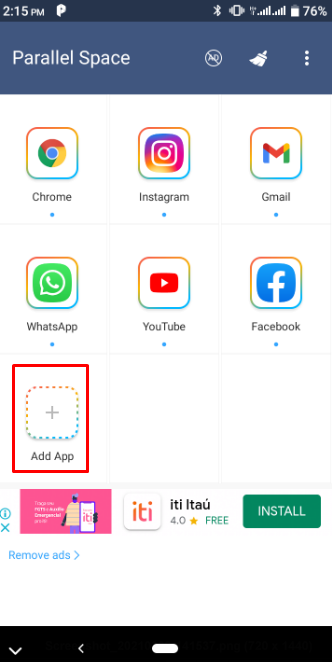 Now you will notice the apps that can be clonable. Select your app that you would like to clone. In my case, I am going to clone

skype.

After selecting, tap on

Add to Parallel Space

button as marked in the image below.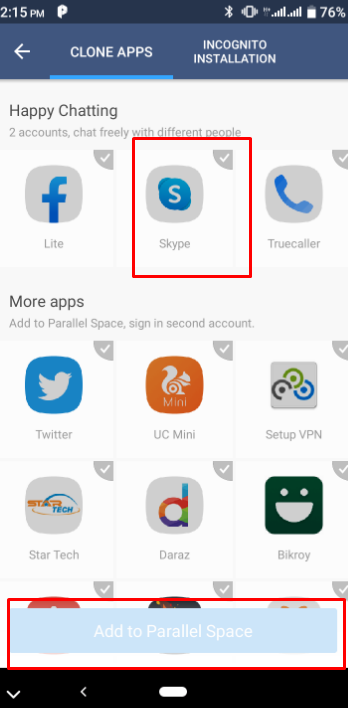 Congrats! You are now good to go. You have successfully cloned your app. In my case,

Skype

has been successfully cloned.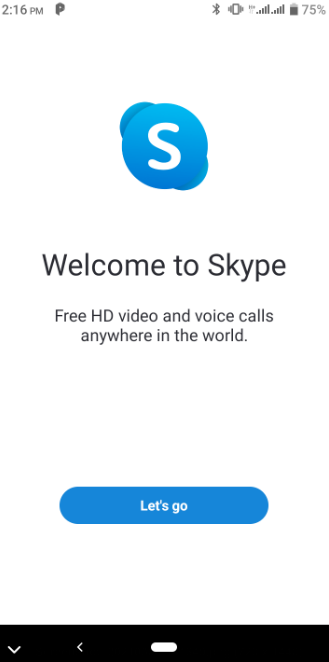 Frequently Asked Questions (FAQ)
I have picked some frequently asked questions regarding Parallel Space Apk. Let me cover some of these questions for you.
Q- Is Parallel Space safe to use?
Many critics are claiming that as Parallel Space is a Chinese app, using parallel space on your phone can create vulnerability from the security aspect.

But we have found no valid and robust evidence that justifies the statement.


And as far as our research goes, no hidden script is included in the app that can harm our privacy or some other sensitive things. So it's entirely secure for use.
Q- How does the Parallel Space APK work?
Parallel Space is mainly a container app that creates a virtual and isolated environment that seamlessly allows other apps to run within the environment.
For example, to run any android app on Windows, we generally use android emulator software. Emulator software mainly creates such an environment where any Android app can perform in the same way.
Here the Parallel Space acts as an emulation within the android ecosystem and allows your apps to perform within the isolated environment independently.
Q- What is Parallel Space Mod apk?
This is a freemium app. That means the app is available with both the

free

and

premium

versions. The premium version holds some premium features that are not free to enjoy. You have to spend some bucks to taste these features.
Some third-party developers modify these premium apps to unlock the premium features to enjoy for free. And releases the modified version for free to the users. The released version is called the Mod version.

In Parallel Space, there is a mod version that will allow you to enjoy all the premium features for free.
Q- What is the Difference Between
Parallel Space
and
Parallel Space Lite apk?
Considering the features and all other key factors, there is no fundamental difference between them. The lite version is for low-end device users. In this case, my recommendation will be, if your device holds below

2GB

of RAM, then you can try the lite version.
Concluding Words
It's an open secret that there are many more apps available on the internet, similar to Parallel Space APK. But not all of these are worthy enough to serve that way. If we start counting some hugely popular app cloning apps, then Parallel Space will take its place within the list with great dominance. I have found this app handy and super useful from almost all aspects. The performance of the lite version is decent as well.

If you are eager to use multiple accounts or play single games in multiple modes, you can consider using one of these.
Suggested:
Android Apps That Pay You Money.
Six Best Android Apps To Learn New Words And Improve Your Vocabulary.