Plex is a live and on-demand streaming service that also functions as a media server and personal storage service, setting it apart from other live streaming providers. The Plex TV entertainment platform offers streaming music, free web series, podcasts, on-demand movies, and live TV. Let us see a detailed Plex Review, in this article.
More than 80 live channels may be accessed through Plex's live TV streaming service, and its free on-demand media library, Mediaverse by Plex, offers access to more than 14,000 films and TV series. Additionally, it offers a media server for users to save their own videos, images, and music. Customers can stream more than 60 million tunes in superb audio quality thanks to the service's relationship with streaming service Tidal.
About the Plex User Interface
Free films and TV series are available to stream with Plex. Plex shows horizontally scrolling categories like Most Popular, Top Movies, Plex Picks of the Week, TV Shows, and Only on Plex for a Limited Time from the Home screen, and then it divides them into genres like drama, comedy, romance, and music, to name a few. On Live TV, there are Featured Channels that also display the remaining time for the show that is now airing.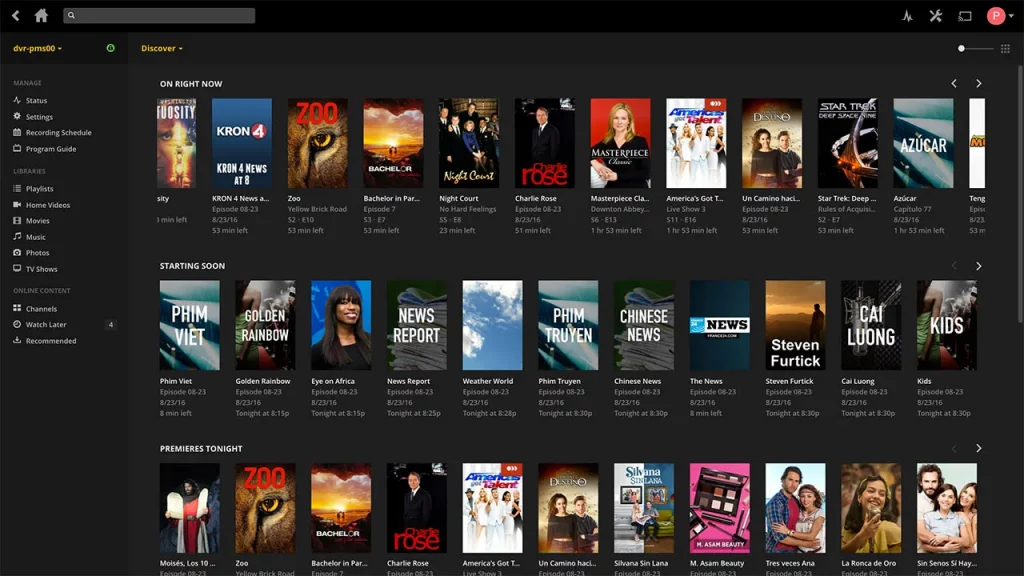 By channel and time slot, Live TV on Plex provides a television schedule of what is now airing. Every TV aficionado can find something to watch on the Retro Crush channel, Cheddar Presents, Newsy, Deal or No Deal, HobbyKidsTV, and Hollywire. Although Plex groups information into a featured category list under News on the home screen, users can access all of the categories via the left-hand menu.
What are the Incredible Features of Plex?
Plex content recording
A cloud-based digital video recorder (DVR) feature is not included with Plex. As an alternative, users must install a Plex DVR device to their account, which can then be controlled from their Plex account. Users' storage options will consequently depend on the amount of space that is available on the DVR device that they add to their Plex account. This can be controlled by selecting Live TV & DVR from the Settings menu.
Continuous streams and profiles
Only one concurrent stream from any account may be used to access the Plex service. A feature that is typically available on free streaming platforms is the ability for users to create many accounts under one account.
Quality of Streaming 
Depending on the user's internet connection, Plex can stream videos at speeds between 192 Kbps and 20 Mbps. 1080p full high-definition imaging (HD) and 4K capability are unlocked by upgrading to Plex Pass for $4.99/mo.
A user's interface
With tabs down the left-hand side, Plex's user interface is simple to use. And divided into sections for Home, Movies & Shows, Web Shows, News, Podcasts, Music, Live TV, and Your Media. The user's most recent movie or television program is displayed first in the homepage's main section. Followed by suggested material, Plex Picks of the Week, newly added content, and further compiled collections.
Parental Control
Parents can use Plex to set up separate user accounts that limit the content that is accessible to their kids. This applies to the movies and TV series that are housed on their Plex Media Server. As well as the content in the on-demand library of Plex.
Wrapping Up
Plex is a fantastic all-around streaming choice that combines free live TV, on-demand entertainment, and a media server. And personal storage with a streaming service and has many positive Plex Review. Along with the Crackle material that raises the caliber of its on-demand collection. Plex's recent decision to make its live TV streaming service free to view makes it an even more alluring choice.
Suggested:
Jellyfin Vs Plex Vs Emby: Which Is Better?
Jellyfin vs Plex: Which is the Best Media Server?
Why Is Jellyfin the Best Alternative to Plex and Emby?