The last decade has seen massive growth in online content consumption, especially when it comes to video content. The number of subscription video broadcasting platforms is growing in number every day owing to the need for unique and fresh video content.
The majority of the market is saturated by millennials in the 18-25 age group who spend an average of 39 minutes daily on such SVoD platforms.
"The number of Subscription Video on Demand (SVOD) users worldwide is expected to skyrocket from around 283 million in 2018 to 411 million in 2022."
With such an immense market, the video-on-demand industry has become quite lucrative and is an amazing business opportunity for corporations and individuals who want to tap this vertical and incorporate it into their business model.
While most small-scale industries opt for Saas solutions due to their low seed investment, software solutions are a better fit for enterprises that are looking for a reliable and long-term solution. VOD software solutions are a heavy investment but they provide complete customizability, security, and scalability while giving an amazing video experience to the end-user.
If you're looking to venture into the world of subscription video-on-demand platforms, here are the 6 best solutions that'll help you launch a highly versatile and scalable video platform.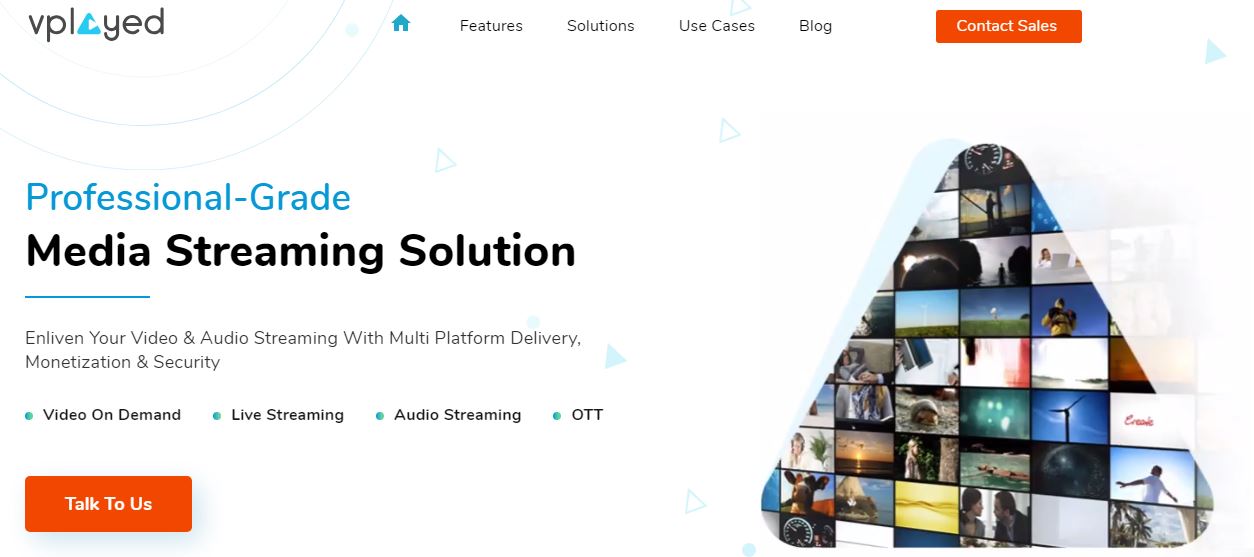 Vplayed's SVoD services are one of the very best in the industry purely because of their USPs, which include post-launch support, design and development team, instant launch potential, and 100% customizability. They don't follow a Saas model, which means there is just a one-time cost after which the complete platform is owned by their client indefinitely.
The ability to customize every aspect of the software also means that you can choose your own monetization model, including SVoD, AVoD, and TVoD. Its efficiency comes from its Content Management System (CMS) which enables analytics and provides irreplaceable data to monitor and enhance the platform growth. When it comes to video-on-demand software, Vplayed makes it to the top of the list.
Rating: 4.8/5

Contus Vplay is an enterprise-level video-on-demand solution that provides a fully customizable video platform to medium and large-scale enterprises. They also provide a number of monetization models including SVoD along with end-to-end AES encryption to ensure tamper-proof security for all your content and transactions.
Vplay adds an extra mile to your subscription video platform by giving you complete transparency and control over the platform once it's delivered, and a support team that'll keep working to make the product better even after the delivery is done.
Rating: 4.1/5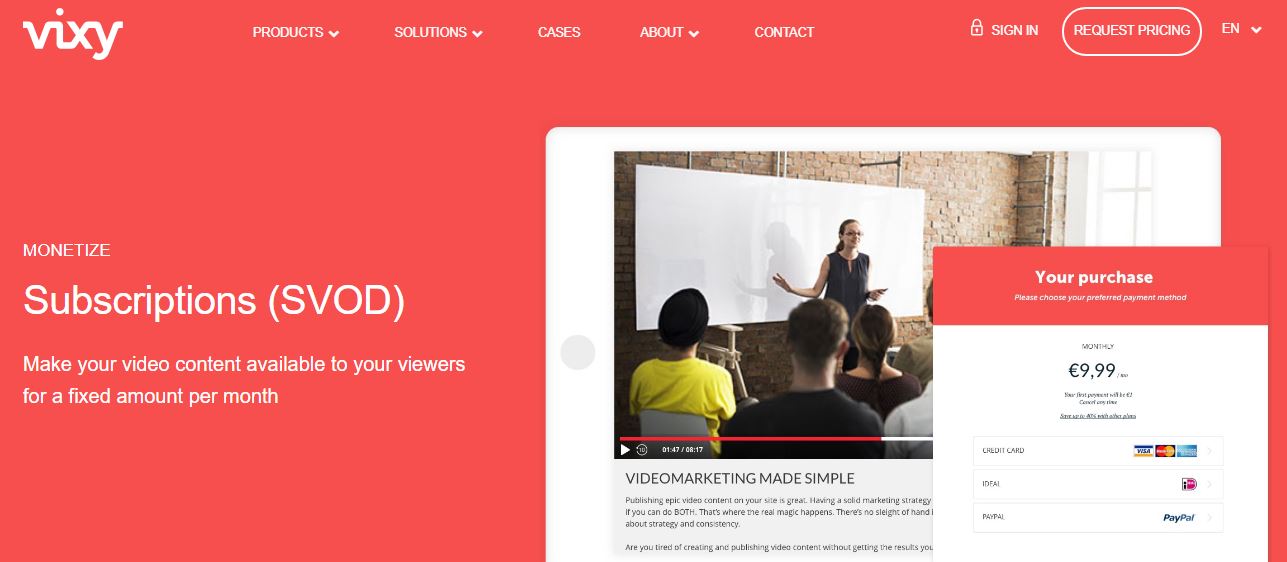 Vixy is a highly interoperable video-on-demand service that enables video publishing, management, and analysis on a large scale. Vixy is ideal not only for large-scale companies but also for mid-scale enterprises and influencers or individuals who have a good amount of followers in their niche.
Vixy's SVoD-enabled video software provides publishers an essential opportunity to monetize their videos on their own terms and leverage the analytics data to ensure the right videos and segments are being targeted.
Rating: 3.8/5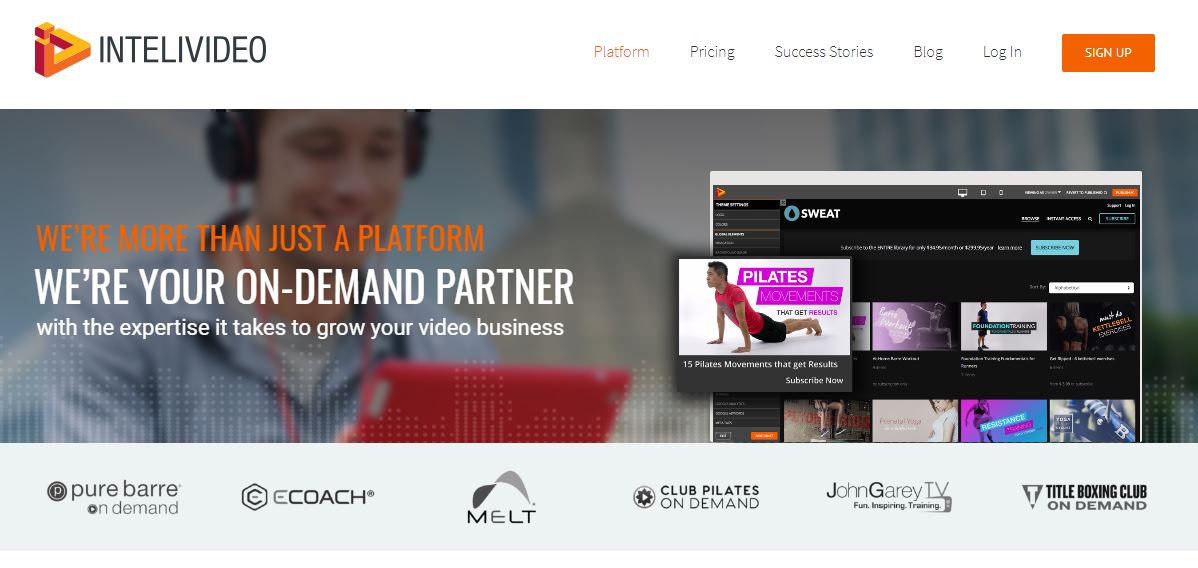 Versatile experience in different sectors and a results-based approach make Intelivideo a great choice for video publishers and creators. They have a result-oriented approach in providing a reliable and scalable video subscription website for their clients.
Their UI designs are simple yet innovative and provide an engaging user experience. Intelivideo deploys videos instantly across multiple channels like Apple TV. Roku, Amazon FireTV, AndroidTV, etc. apart from publishing them on Android and iOS compatible web apps too.
Rating: 3.5/5
Cleeng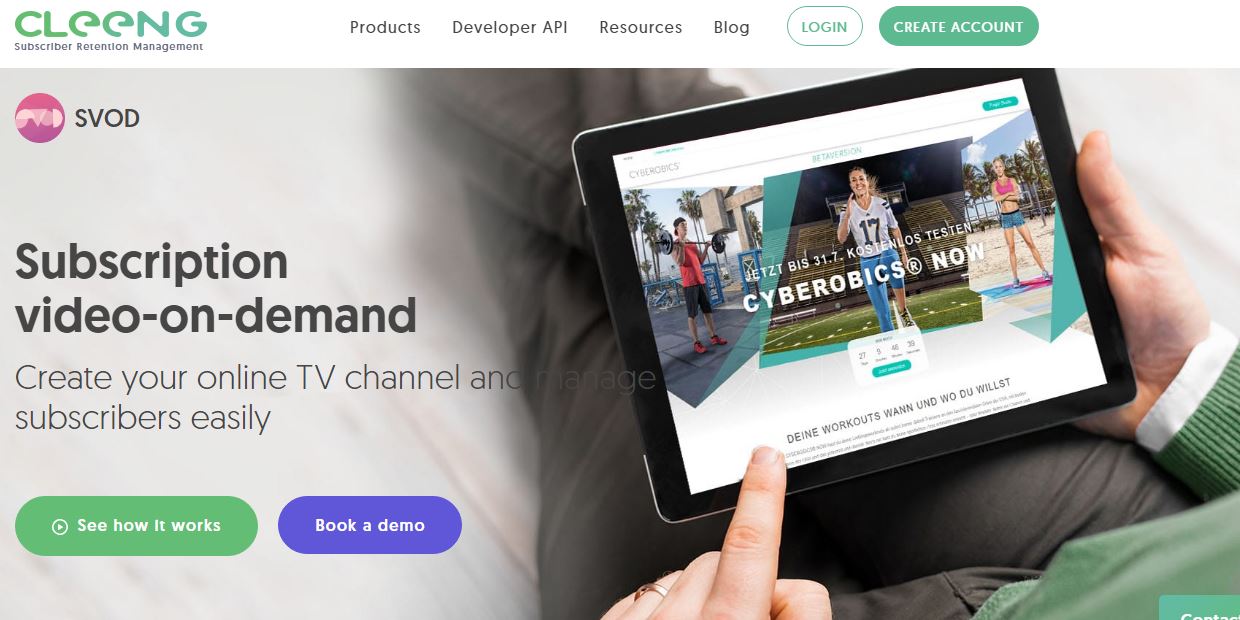 Cleeng is a subscriber retention management platform designed for SVoD and OTT software and web apps. It provides modular APIs, secure payment solutions, analytics, prediction, and optimization via its products i.e. Cleeng Core, ChurnIQ, Hi5, Tattoo, etc. in order to ramp up client growth and return on investment.
It is an ideal management system for subscription video on demand providers who are looking to build a scalable VoD platform that is safe against piracy and theft, has intuitive management features, and can provide analytics data on the go.
Rating: 3.2/5
Zype

Zype gives you multiple monetization options like SVoD, TVoD, and AVoD and allows you to utilize them according to your business plan. Where it lacks in UI/UX, it makes up for in its performance-driven analytics module.
Zype provides its clients with a subscription video-on-demand software that includes a flexible content management system, subscription paywall, anti-piracy security, live streaming, and many more features that enhance the software's scalability and interoperability.
It can also integrate with social platforms with absolute ease and also enables in-app purchasing through Marketplace Connect, which integrates the software with any app marketplace and lets you monitor the buying activity as well.
Rating: 3.0/5
To Conclude
Most VOD platforms in the market provide similar features like analytics, CMS, etc. but only a select few stand out because of their real-world features like client support, result-oriented approach, and a team of geniuses working to give you VoD software with the best user experience and interface that is intuitive and immersive at the same time. It's your call to take your pick from the list above and choose the one that sits well with your business needs.
Suggested:
Why Subscription Billing Is The Best Business Model For SaaS Companies?