An excellent marketing plan demands creativity and hard work. Using outdated marketing strategies without putting any effort to upgrade your plan won't enable you to increase product sales and awareness. Marketing can take so many forms. SaaS marketing is one of those sides of marketing that put a lot of challenges on the table and require high skills from the marketers' side. In comparison to traditional marketing, it differs from SaaS marketing, you are promoting something intangible. Thus, you will need to rely on the marketers and the audience's imagination to trust the brand and actually buy the product and marketing plan for your software company.
What is SaaS and SaaS Marketing?
The meaning of the word SaaS is Software as a Service. SaaS enables users to connect over the Internet and use cloud-based apps.
Software-as-a-service (SaaS) is a system that companies use to offer the functionality of their apps to customers or other companies. These apps remain on their company servers.
What makes this process great is that SaaS can assist organizations and companies to save time and money because it removes the need to install and run the application on their own computers/data centers.
SaaS marketing is a method or a process of promoting this kind of service.
This type of marketing includes all the important aspects of marketing strategies such as researching the market, and purchasing, offering tempting deals such as free trials, etc.
The challenging part about SaaS marketing is that you have to sell something that isn't physically present and that is why the marketers singled out SaaS marketing.
What Differs SaaS Marketing from Other Types Marketing?
In order to use SaaS marketing effectively, you need to know how is SaaS marketing different and which parts of this marketing strategy demand extra attention.
Involves a Fast Sales Cycle
Usually, consumers choose a SaaS purchase because they want that product right away. They check online for the solution to their problem, compare the products and prices, read the reviews coming from friends and family, and then make the final decision really quick.
The only situation when SaaS marketing has a longer sales cycle that can last many months is with enterprise B2B. In any other case, business owners want a quick solution to their needs in the ever-evolving world of technology.
In this type of marketing, you need to be aware of the fast sales cycle meaning that you need to be prepared to make the sales right away. If you market something, the product needs to be ready as soon as the customer demands it.
Relies a Lot on Information
When you are selling Software-as-Service you can't provide the users with a visible or touchable product that will clearly show what you offer. This is what makes SaaS marketing more demanding than other types of marketing.
Taking this into consideration, one of the most significant tasks a marketer can have is to provide as much information as possible which will then lead the consumers to the SaaS product.
All the important elements, benefits, and features need to be comprehensible and directly explained so that the users are aware of what will they get when they purchase the software.
Focuses on Customer Retention
The satisfaction of the clients is the key element of SaaS marketing. Thus, all the marketing messages and campaigns are centered on creating long-term relationships with the customers.
Customer retention helps SaaS marketers to rely on reviews and recommendations when promoting the services of the company. Even though every marketing campaign uses good reviews for promotion, SaaS marketing is highly dependable on them since SaaS companies can't offer a visible product as proof of their services.
Harvard Business Review claims that a 5% increase in customer retention can boost a business's profits by 95%. Selling new services or additions is much easier when the consumer is already familiar with your work and has expressed satisfaction with previous services.
Welcomes Free Trials
Giveaways, free trials, or free plans are considered to be a common strategy for SaaS marketing. Letting your customers try your service for free will make them trust your brand and create a stronger relationship in the long term.
Besides attracting the attention of consumers, you are validating what you are presenting in your ad and also showing them that you are that confident in your service to let them try it out for free.
By trying out your software and incorporating it into their business as a part of the trial, the consumers will get used to your service and develop habits around it that can prevail when deciding whether to become a full-paying member.
Take as an example Zendesk. This is a very popular customer service software that offers customer interactions across phone, chat, email, social media, and any other channel. On their home page, they clearly emphasize the availability of a free trial.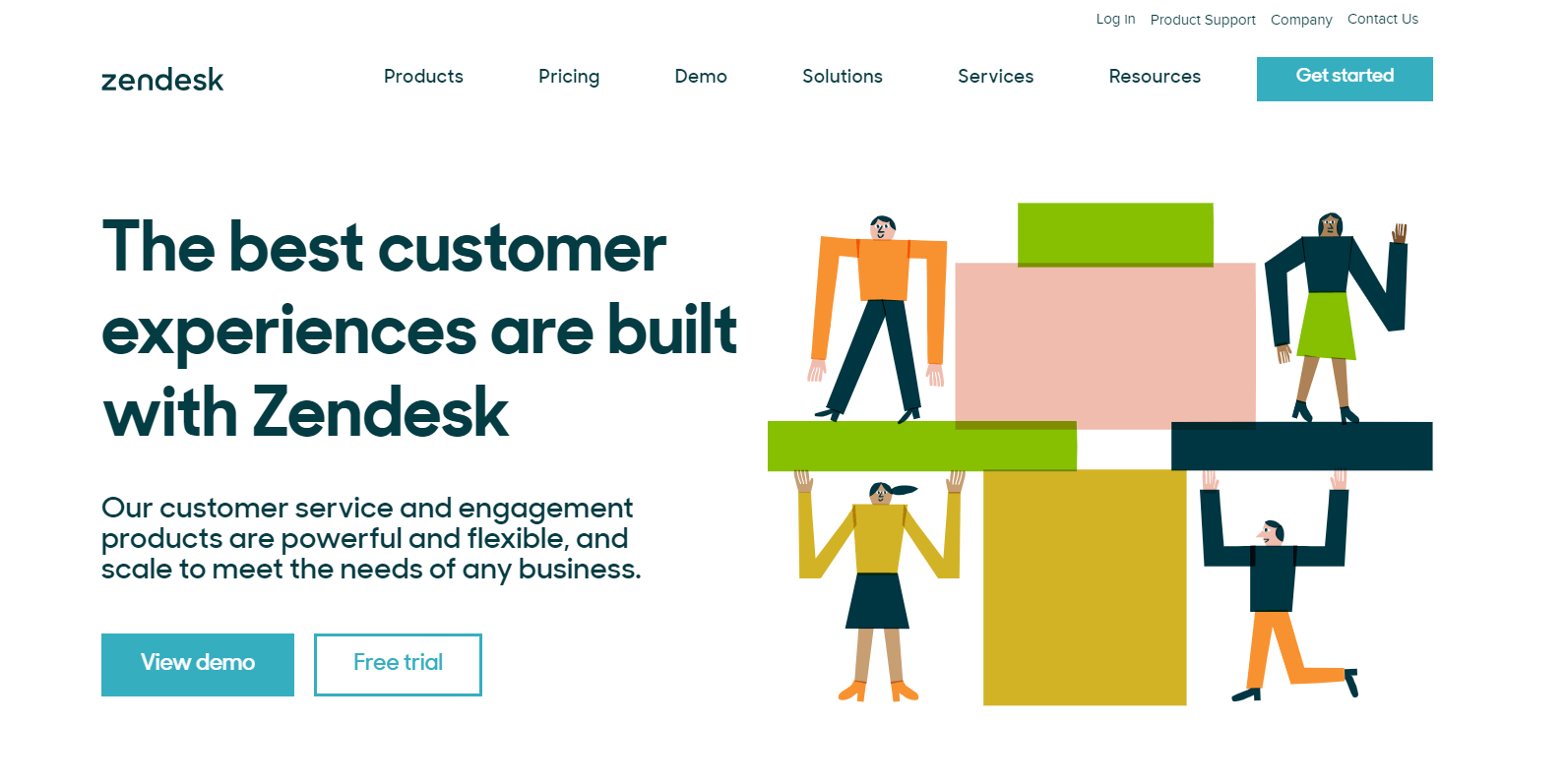 Emphasizes the Content
In SaaS, marketing content is the king. As you are not selling a physical product, you will need content to make your target audience trust your service. It all comes down to presenting your company and your service in the best possible way.
Present your services across multiple platforms and make sure that you include digital marketing as a tool for presenting the content. What you should pay attention to is that the content you publish corresponds to the platform for which it is intended. That is, you shouldn't use the same content for Twitter posts and for publications on your website.
Try to find an expert who will be able to intrigue the consumers and depict your company as a reliable source of services. In SaaS marketing, this is not the part where you should save money on.
If you want to go a step further, you can always localize the website so that you show consideration for different cultures and eventually spread over to foreign markets. You can find some reliable and high-quality localizing services online such as The Word Point.
SaaS marketing highly depends on customer service
As the expression Software-as-Service already implies, high-quality service is an essential part of SaaS marketing. Besides providing top-notch service which will fulfill your customers' needs, you also need to focus on the personal touch.
Consumers will feel much more trustful if they see that they can count on your help when encountering some challenges. Handling software is much more complex than operating a washing machine so you can't just expect that they figure everything out by themselves or to leave them with a manual that should solve all their problems.
The customers should be able to reach you over multiple channels. From live chat, email, social media to forums, you should make it easy for them to get in touch with you.
Conclusion
All the above-mentioned differences and specifics of SaaS marketing will help you to understand the importance of focusing on this type of marketing when advertising your SaaS product.
Even though it seems that SaaS marketing isn't that much alike to any other type of marketing, these simple guidelines will show you what you need to pay extra attention to during the SaaS marketing process which will ultimately pay off in the long run.