You are a freelance writer and your client needs you for a long-term project that requires you to deliver a set amount of SEO-friendly content every day. As you get started, you're passionate about it, but you can't handle the workload daily as it is simply beyond your willpower.
You are probably thinking of outsourcing the work to take some burden off of your head. Then you are afraid to put your name on the outsourced work because what you receive is not as good as yours. It is pretty understandable that the outsource writers you have hired do not meet your requirements.
And this is where paraphrasing tools come in!
The paraphrasing tool is the most effective solution to the problem I have pictured above. Not only that, but it can help writers, students, and content marketers to handle bulk content writing on their own.
What Is a Paraphrasing Tool?
A paraphrasing tool rephrases the already written or spoken words, phrases, or sentences in a new way without changing their original perspective.
And when it comes to writing SEO-friendly content for blog posts and articles, a paraphrasing tool is a gold mine helping not only in improving the content quality but also reducing the risk of plagiarism and grammatical errors.
Before you start searching for the best paraphrasing tool, let us help. Online paraphrasing tools are numerous today, and you might get overwhelmed by the options. But, don't fret. We have enlisted the best 3 paraphrasing tools to help you write SEO-friendly content.
So, let's get started!
3 Best Paraphrasing Tools For SEO-friendly Content
Known to be the smartest paraphrasing tool available today, Paraphrasingtool.ai is one of the best choices to write SEO- friendly content made with AI.
Without changing the actual context, this online paraphraser offers you to rephrase the existing ideas in different ways by using its different modes. It offers the following paraphrasing modes;
Text improver
Near human
Plagiarism remover
Creative
Quill text
Academic
Sentence rephrase
Except for the academic and quill text modes, all other rewriting modes are free to use for an unlimited time. With this feature, it stands apart from other famous paraphrasing tools that allow only a limited number of modes to be used for free.

If you think one of the spun words sounds too clunky or unattractive, you can replace it with one of its appropriate synonyms.
Not only that, you get the title for your articles and can generate a quick overview/summary of your content without troubling the budget.
Besides, this is a multi-lingual paraphrasing tool that helps writers, students, and content marketers alike to write error-free content.
Using it is super easy. Copy and paste content in its input box, select the paraphrasing mode, and you are done! Get the results with high quality, better fluency, and error-free content which surely makes it SEO-friendly.
Why Paraphrasingtool.ai?
AI-based paraphrasing tool
Get the suits of other writing tools
7 different paraphrasing modes out of which 5 are free
No registration/sign up required
Supports multiple languages
Unique paraphrasing features: title and overview writing
This is another best online rephrasing tools for writing SEO-friendly content but slightly different than conventional paraphrasers. It is more likely to be a sentence rephrase than paraphrasers rephrasing content sentence by sentence.

You only need to paste the content in its input and select the sentence you want to rephrase. The tool will rephrase the selected sentence and display 10 rephrased sentences. You can choose one that makes more sense with the context.
This is a fantastic paraphrasing tool that allows you complete free paraphrasing for unlimited words which is pretty amazing right?
Why SentenceRephraser?
AI tool for sentence-level rephrasing
Free-to-use
Offers 10 different suggestions for one sentence
This paraphrasing tool features a clean and intuitive interface for a smooth writing experience. This is specially designed for writers who are hunting for a free paraphrasing tool with an adequate word count. You can paraphrase up to 5000 characters in one spin.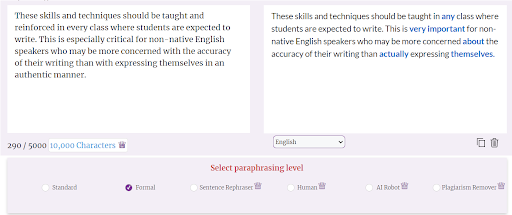 The best thing about the AI article spinner is that it offers different AI paraphrasing modes for fine-tuning your writing in the way you want. These AI modes are;
Standard
Formal
Sentence rephrase
Human
AI robot
Plagiarism remover
Thus, you can set the content tone in various writing styles. Besides rewriting your content, its highly advanced AI algorithms guarantee you get plagiarism-free and grammatical error-free content in a snap making it ideal for creating SEO-friendly articles.
Suggested:
Free Grammar And Punctuation Checker And corrector.