Are you looking for a tool which can help you to create posters online for free?
Are you not a graphic designer?
And you are looking for the tool which can create posters online in a matter of seconds?
Then I am here with you a tool which will help you to not only create posters online but also some other graphics designs easily.
Nowadays, there are many tools that allow you to be creative for all kinds of designs, without having to be a designer or the need of design knowledge.
Now it is the turn of DesignCap, a totally free web application with which you can create awesome posters in just a moment. The results are really professional.
The best thing is that in this site you can find hundreds of predesigned professional templates, so you do not have to start from scratch and you only have to take care of customizing them until they are to your liking.
Of course, it leaves you absolute freedom in the plane of personalization, so that you can create an impressive poster with your own style.
Here are some main features of this fantastic web tool:
* It's completely free to use.
* It can be used directly in the web browser, without the need for downloads or installations.
* It's easy, intuitive, fast and fun.
* Hundreds of professionally designed poster templates for inspiration.
* Gallery with thousands of images, shapes, fonts and many other elements to customize your poster designs.
* It is not necessary to be a designer. Anyone can use this tool without knowledge in design.
How to use this poster web tool to create posters online?
First, access the DesignCap site. You can immediately start creating your own posters by clicking on "Make a Free Poster", even without registration.
Then select any of over 200 available templates and start creating posters without difficulty. No matter the purpose of your posters, DesignCap will meet all kinds of your needs.
You can find the appropriate templates that best suit your purpose, including advertising posters, sale posters, wedding posters, event posters, sports posters, holiday posters and much more. Choose one to get started.
DesignCap has a large resource database that you can search through. In order to take your posters to the next level, you can also choose from a large collection of delicate elements such us clipart images, shapes, fonts and more.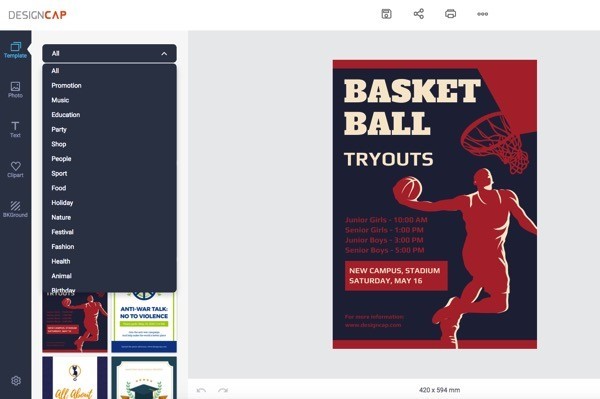 This web utility provides you with all the editing tools you need for customizing your posters the way you want.
Change image color, size, rotation, and effect at will.
Choose a text font and set font color, size, style, alignment, and glow or outline effect.
Manage layers of multiple elements.
Select a background color or pattern for your design.
Undo/redo any process of your editing and much more.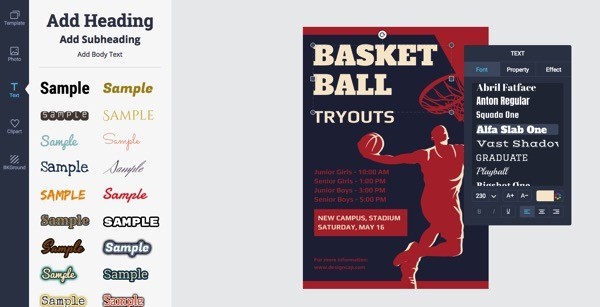 Once you've finished everything, you are given the options to save your poster in high-quality image files (PNG & JPG), share it via Facebook, Twitter, Tumblr, and Pinterest, or print it out for any kinds of use.
What can you create with DesignCap?
– Movie poster for various themes.
– Music poster such as rap poster, jazz poster, and rock poster.
– Sports & fitness poster for the sports tournament, sports equipment store, or fitness center.
– Travel poster for the hotel, resort, travel agency or just sharing your memorable trip.
– Holiday & event poster like Christmas poster, Halloween poster, birthday poster or wedding poster.
– Art & entertainment poster for the art studio, gallery, theatre, etc.
– Motivational poster for the classroom, office or just reminding yourself of the goal
– Fashion & beauty poster for jewelry, makeup or alike.
– Food & drink poster for your restaurant, cafe, bakery, bar or organic market.
– Nature poster.
– Non-profit poster.
– Medical & health poster for a hospital, pharmacy, clinic, and wellness center.
The possibilities are endless; just let go of your creativity! Everyone can create custom posters in minutes that will impress your audience with DesignCap.
Other Tools which you can also try:
Try Design Eve for creating Free logos.
And Edit your photos with Fotojet.