Running a business is challenging. Starting an online business is not less thriving. Trying to do ten things at once, it requires every ounce of your attention, time, energy, and effort. It takes time to have an idea as to some of the key things that can help you swim rather than just sink. Whatever you do, you will have your competitors rubbishing you. And what e-Commerce platform to choose for your business is what can make a huge difference in your success.
The e-Commerce platform market offers countless options with literally thousands of ads and benefits from every possible angle.
How to know which shopping cart is ideal for your business?
How to recognize this is the best suitable solution?
The answer is, it depends. Some seem simple and inexpensive, while others are popular and look appealing to you. However, there are a number of aspects to consider before diving into a 'boundless ocean' of the e-Commerce platform.
Some Points to Look Out
Not sure where to start?
Focus on what matters.
Start asking yourself what size your online store is going to be – small, medium or large one?
Do you want to sell both physical and digital products, or only one or the other?
How large will be your inventory?
As a result, deciding on an e-Commerce platform can make or break your business.
Your budget is another crucial factor that should be taken into consideration. Take time to make a lot of research meaning that it will always give the best result. Same happens when you decide for example whether to buy a 52inch TV or a 42inch TV. It takes time, but even a little practice makes a big difference. Keep at it.
When picking the right e-Commerce platform take care of the security concerns. If you want to deliver the first-rate result, it's important to keep security issue in mind. Choose the one who provides the best security features. Save your website from any kind of harm and loss.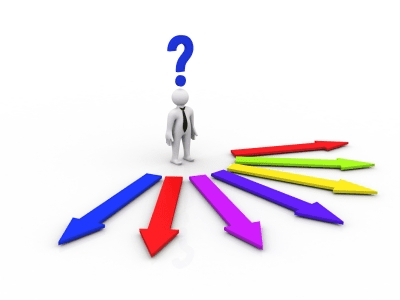 Just to make things clear!
What do you prefer – to have an open-source or self-hosted website?
The answer is as always, it depends. Self-hosting platform is a great choice for you if you feel you're confident in modifying the overall look of your online store on a regular basis your way.
The bottom line is that users have a choice.
TOP E-Commerce Platforms
To simplify your decision and make it more educated, we encourage you to learn more about the list of top e-commerce solutions that best correspond to your particular business needs.
WooCommerce
Let's say, if you are a WordPress blogger, WordPress WooCommerce themes seems like the best solution for you. WooCommerce is a free, open-source e-Commerce plugin used to create an online store running on your own server. Thus, you take control of both your costs and your features. A user is responsible for everything but also can do anything he wants to – add on, remove, or change anything. It offers secure payment gateways like PayPal and Stripe, and shipping method expansions such as UPS, FedEx, and more.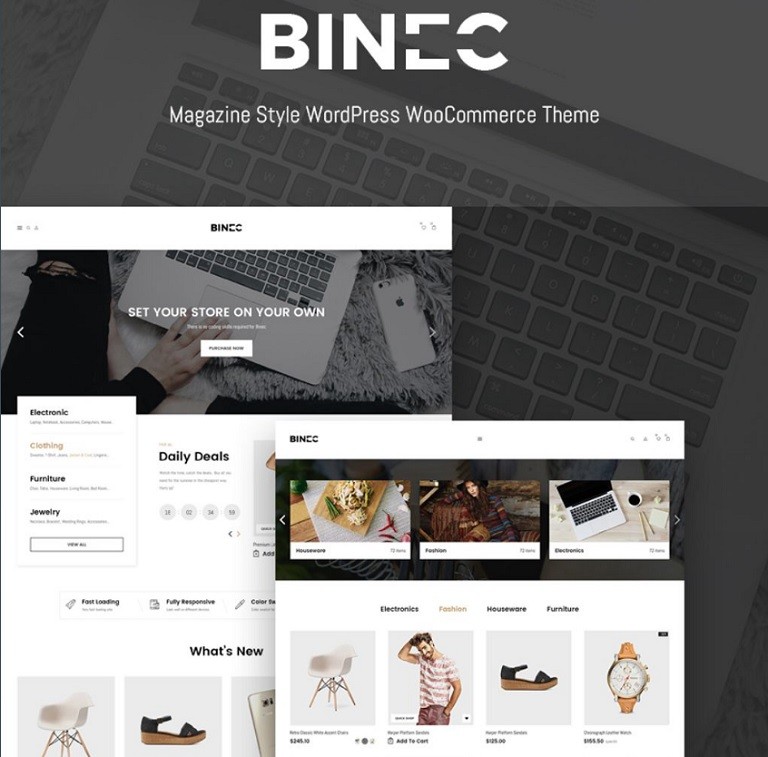 A huge inventory of beautiful WooCommerce themes can help point you in the right direction. With so many custom plugins and add-ons, there is always a room for growth. As your business grows, your e-Commerce site is able to manage growth and allow integration of extra features. It's a great fit for business who want to power their WordPress site and bring it closer to the business goals.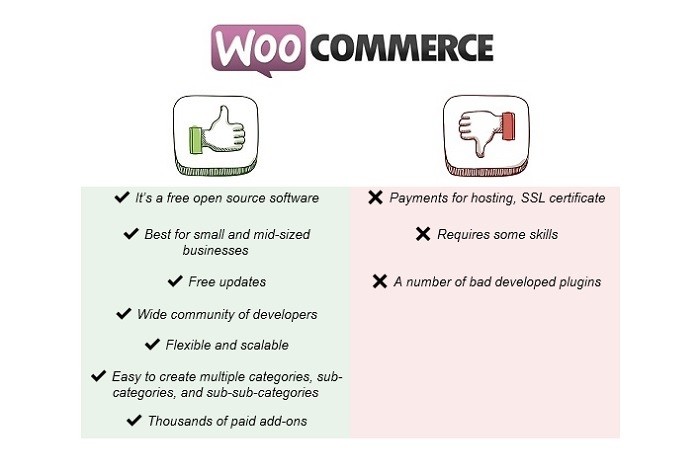 Shopify
For example, if you have a huge fan base of Facebook's followers, Shopify is right up your alley. This is a self-hosted and user-friendly platform makes the installation process as simple as that. With a relatively low customization option, it can be an ideal choice for retailers who wish to hook up their smooth online store without having to sweat for it. No prior coding or programming skills needed to start selling online.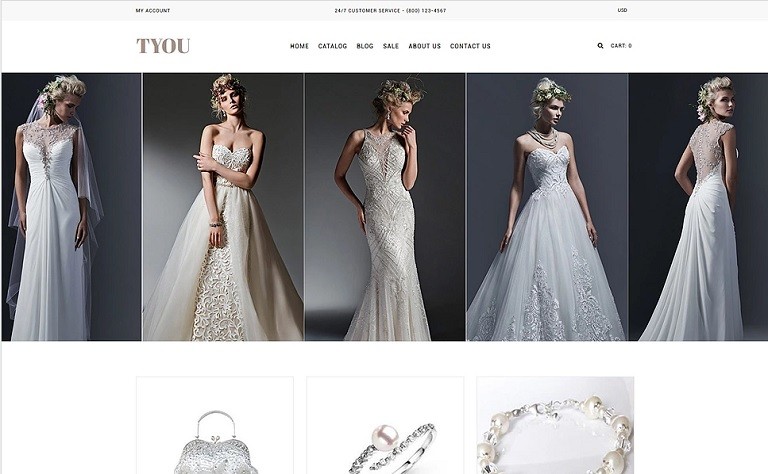 Everyone can find a large inventory of sleek Shopify templates in the digital marketplace. Feel free to enhance visibility, install additional SEO plugins, tweak its layout to give your online store the fuel it needs to scale.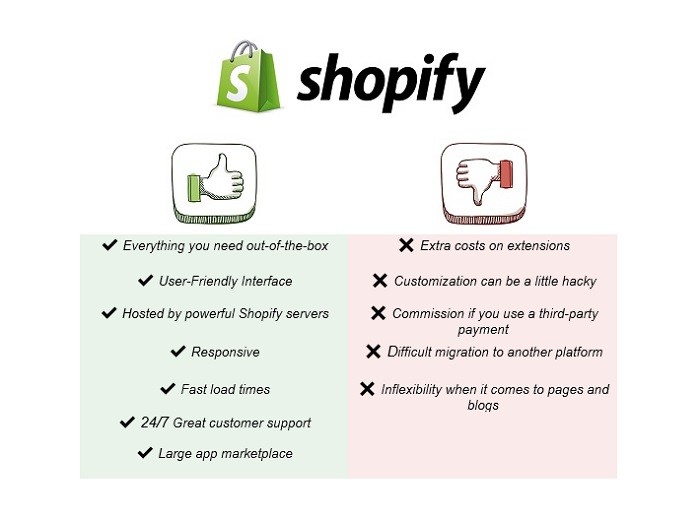 By the way, every Shopify member can get any Shopify template for less than $2 on TM. Take time to learn more about Shopify ads and benefits to make a more educated decision later on. You can also take a look at an SEO guide on Shopify.
PrestaShop
Used by thousands of businesses all over the world, PrestaShop can be a great choice for your online store. It includes tons of useful features, easy site management, SEO optimization, analytics and reporting, and more. What's more, it suits well for low budget companies willing to get their online store off the ground. The management interface is very friendly and there are a lot of nice modules to play with. In general, PrestaShop is one of the most convenient e-Commerce platform solutions. It can offer potential growth to your online store with minimal investment and effortless effective operation.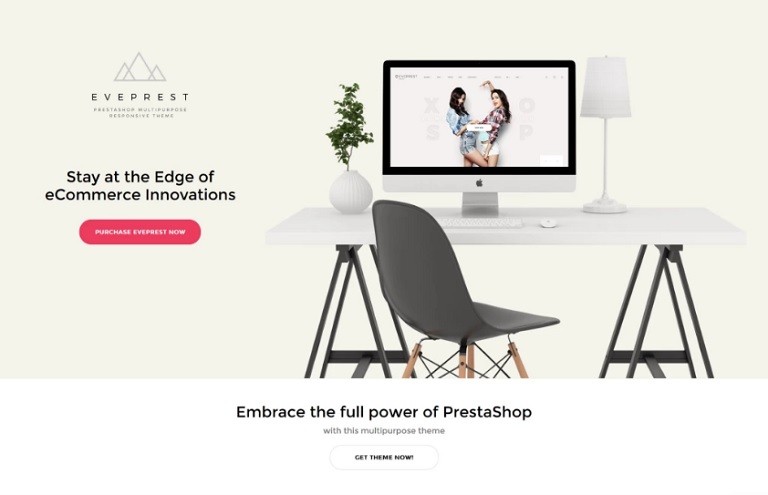 So how to find your ideal PrestaShop template? Take time to learn more about PrestaShop to establish your online business successfully.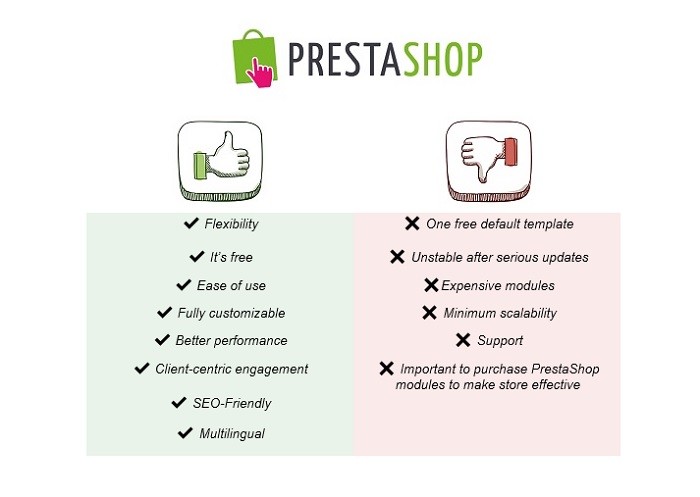 OpenCart
Get ready for a myriad of advantages when choosing the OpenCart platform. Being an open-source platform, OpenCart offers you no limitations in categories, products, development, and many others. With a huge diversity of beautiful OpenCart templates, you can save your time and effort. Make sure thanks to a wide range of unique and modern OpenCart themes, your online store will look authentic, different and makes you – 'you'.
With OpenCart, you can speed up the performance of your online store, make various statistics. Make your online store multilingual and give the customers the opportunity to choose and change the currency according to their location preferences. It's safe to say, OpenCart is easy to use and simple for understanding.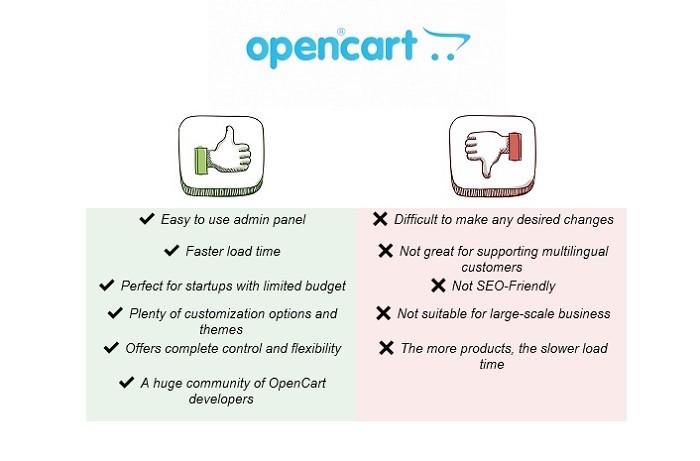 Thanks to very good documentation the user can install, setup and customize the theme with ease. Choosing to go with OpenCart is a great decision to build an online store you wish in no time.
YoKart
If you are looking to set up a multi-vendor marketplace then YoKart is an ultimate choice. It is a self-hosted platform that has been designed with multi vendors selling in mind. The platform is easy to use and has the number of features that must be required in a multivendor marketplace. The platform won the best product of year award in 2016 (given by STPI) due to its lucrative features and minimal pricing. You can customize the platform as per your business needs; however, for any kind of customization work, you have to contact the Yokart team.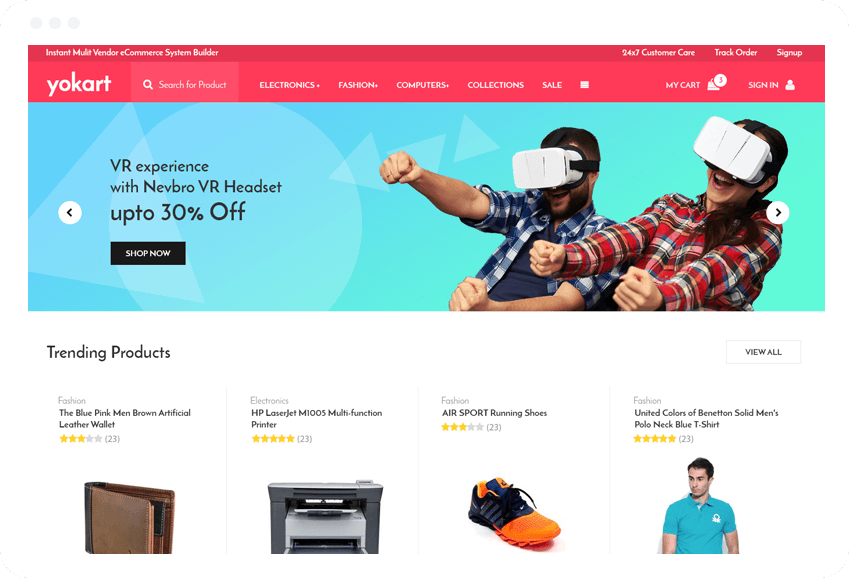 The platform provides the number of payment gateways that include digital wallets, credit card/debit card, PayPal, stripe, etc. In Addition to, YoKart stands high in UI, UX, and Design.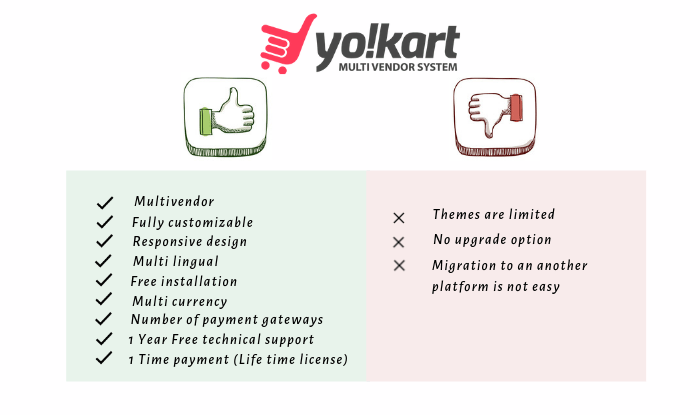 Yo!Rent
Yo!Rent is a highly-scalable, readymade eCommerce rental marketplace solution dedicated to helping entrepreneurs start a rental platform or standalone website with much-needed features like a booking calendar and cost estimator. The best part about this white-label, self-hosted solution is that it supports both renting and selling operations and is developed using agile methodologies to ensure best-in-class functionality to the website owners.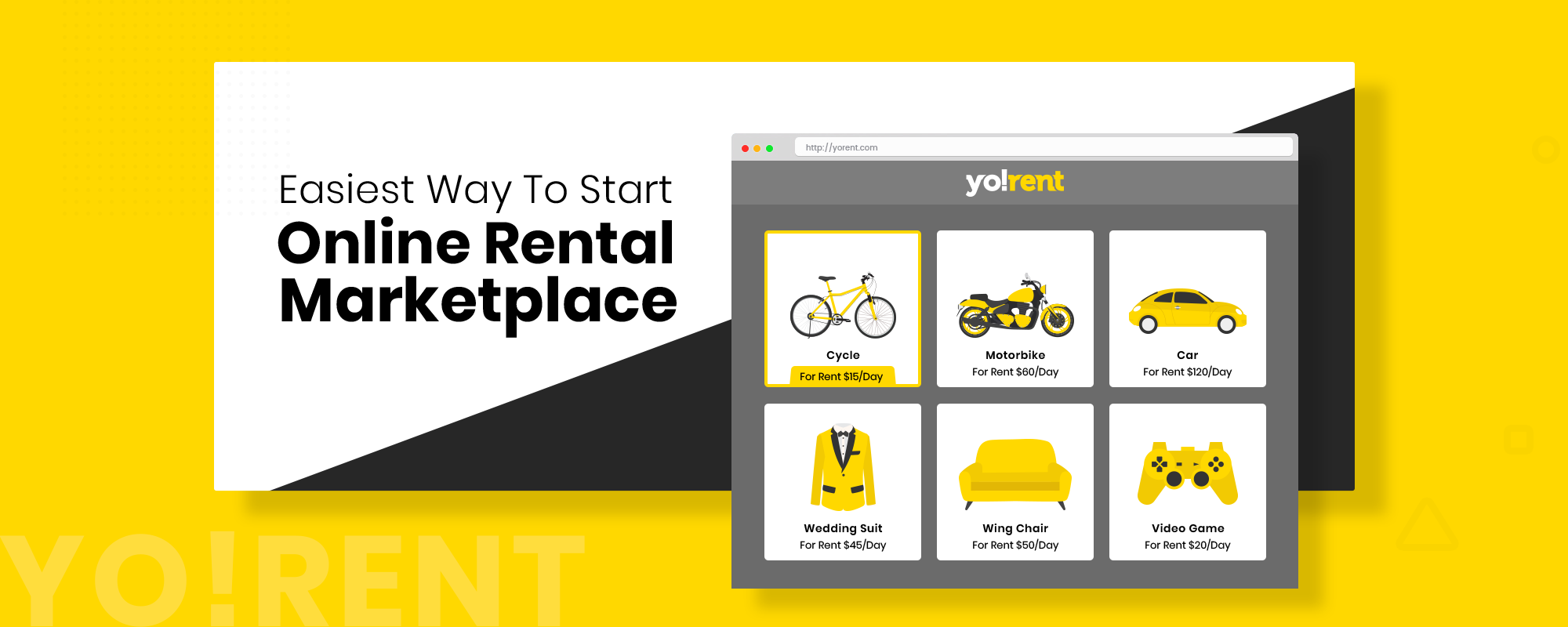 Yo!Rent is available at a one-time payment and is fully customizable. The platform offers cross-functional admin (website owner), renter (vendor), and rentee (end-customer) modules with all the essential features for order, vendor, tax, commission, and website management.
Yo!Rent is ideally suited to meet the rental eCommerce technology needs of diverse range of industries such as construction equipment, fashion, furniture, automobile, and travel and adventure gear.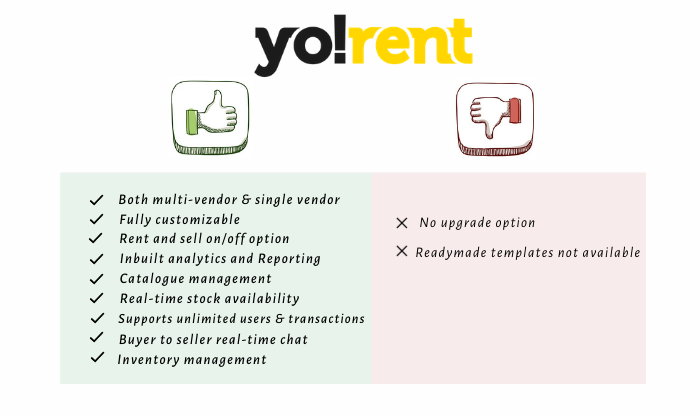 The Bottom Line
It's important to note, that when you're starting out with your online store, you cannot be everything for everyone. With a whole host of things to take into account remember – for you to achieve your goals, visitors must first achieve theirs.
Analyze that special part of your unique brand, select your strengths and set up your successful online store using the e-Commerce platform that fits your delicate business needs best. If you can establish yourself as a professional solution to the needs of the customers, you will win business. While others are thinking of 100 reasons why not to, you are getting further ahead of your competition by being involved.
So, what's holding you back with all the advantages?
The longer you wait, the more competitive your niche gets. If you want to dive into searching for your perfect eCommerce platform, feel free to grab Free eBook for you about "Which eCommerce platform to choose". The ball is in your court.