Any business that wishes to reach new heights needs promotion & branding like human needs oxygen to survive. The promotion and branding can fuel up things and help in the large-scale growth of a business. No matter whether a business is small scaled or large-scaled, proper marketing can turn even a small company into a big one. You just need a professional aid to bring most out of your efforts. If you are looking for a tool like this, then your search can get over with GetResponse. GetResponse is an outstanding tool for promotion & branding purposes. Let us learn more about this tool.
GetResponse – A Know-How
GetResponse has emerged as a powerful online marketing platform and has tended to improve its services throughout the years. The skilled development team has innovated the tool fabulously and brought new features to it. Its clientele has grown bigger with every passing day and has reached over 350,000 customers around the globe. The marketing automation feature has been the recent highlight of this awesome tool. GetResponse has now turned into an overall marketing solution for any business.
GetResponse – What's packed inside this tool?
GetResponse comes well integrated with a thunderous amount of features. Go through some of the best ones which have been listed here.
Marketing Automation
It is the recent additions to GetResponse's interface. The interactive workflows can be designed easily using this feature of the tool. The only thing you have to do is arrange the blocks in right order and leave everything else for GetResponse. The targets can be met and goals can be addressed easily using these workflows.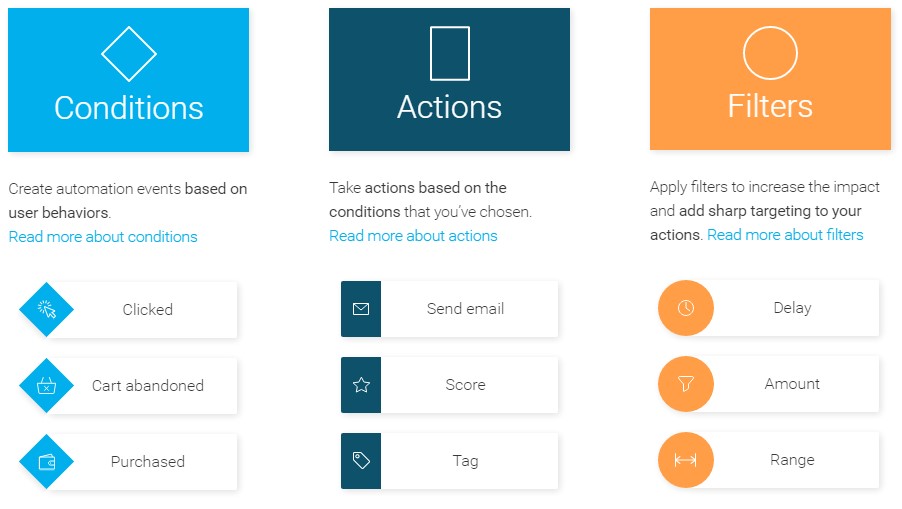 Moreover, this feature lets you simplify your goals into small sizes so that you can achieve them easily. You can react to every action of the subscriber which can help you reach your goal faster. You can also create the automated communications for generating the measurable results.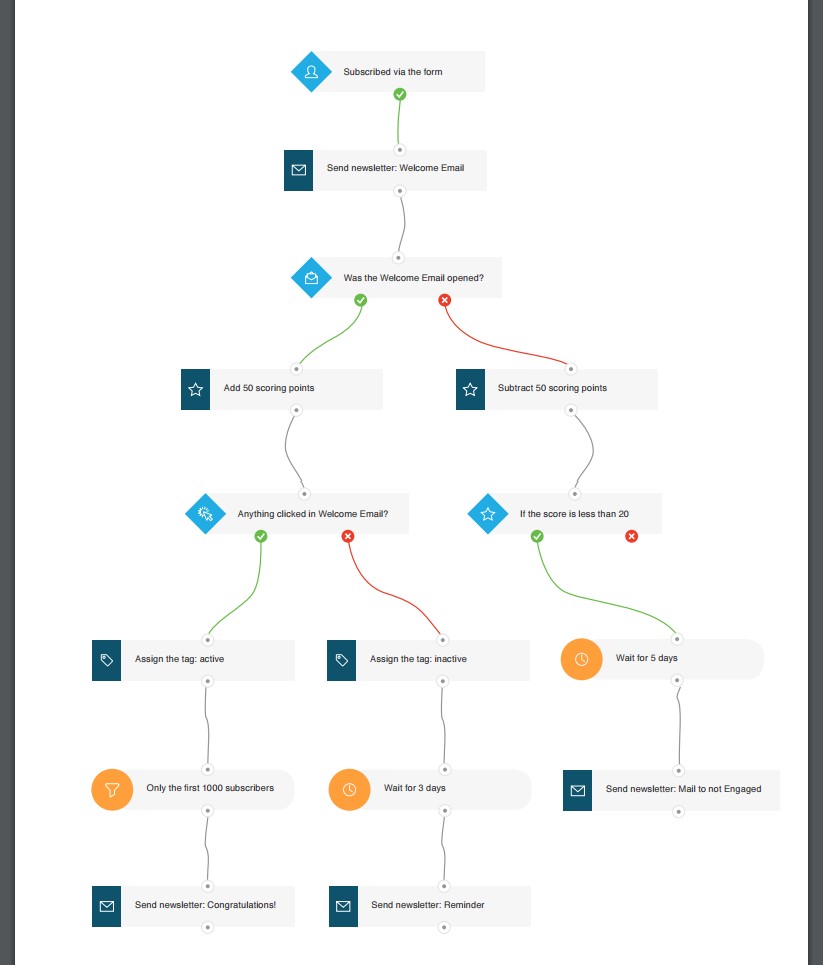 The drag & drop builder lets you design the interactive workflows wisely according to your need. You can easily setup the complex campaigns, and hundreds of different scenarios can be created for tracking your subscriber's journey. One can even utilize the eCommerce abilities like address cart abandoners, tracking purchases, website trackers, and few more.
Email Marketing
Email marketing tool became the base for the entry of GetResponse in the market. Having a wide range of templates from over 20 industries, a user can easily choose and select the best one for creating the email newsletters. You can select any from over 600 templates and change the entire design using its drag & drop builder. So, create an eye catchy template for your subscribers.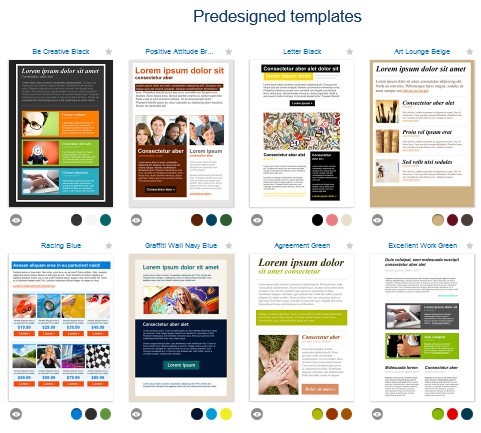 Not only this, email marketing tool is powered by GetResponse's own spam checker tool – SpamCop. It can easily identify the spam words in the newsletter and suggests you the changes to be made so that it can pass easily through spam filters of the mailbox. You can also add the Google Analytics option for finding the accurate results related to the performance of the newsletter. Contacts can be added & downloaded to the subscriber's list along with the reports.
Landing Page Builder
If you create eye-catchy landing pages, then a number of visitors can be attracted towards your product which might be beneficial for your business. The landing page can also turn a visitor to your permanent subscriber. GetResponse provides a massive range of over 100 landing page responsive templates that can be designed using the drag & drop builder. You can modify the template in a way you want.
It A/B testing feature comes handy when you need to select the best template design for the same template. It can show you the viewer's response to different versions of a template. Five variants can be tested at a go.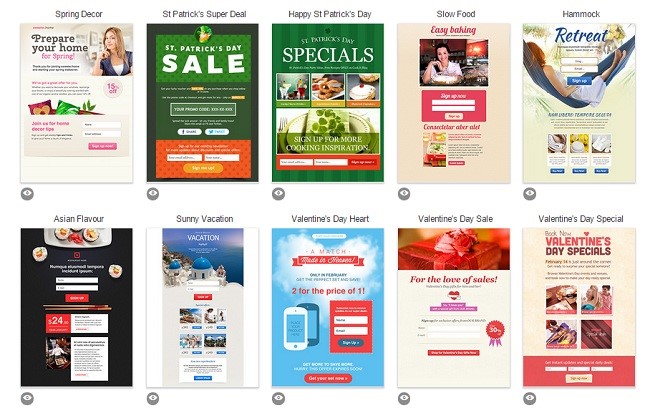 AutoResponder 2.0
Auto-Responder system is one of the highlights of this tool which welcomes the new subscriber to your list with a specific text entered by the user. The welcome note can be changed again and again as per your needs. The message will be delivered to the new subscriber once he/she joins your mailing list.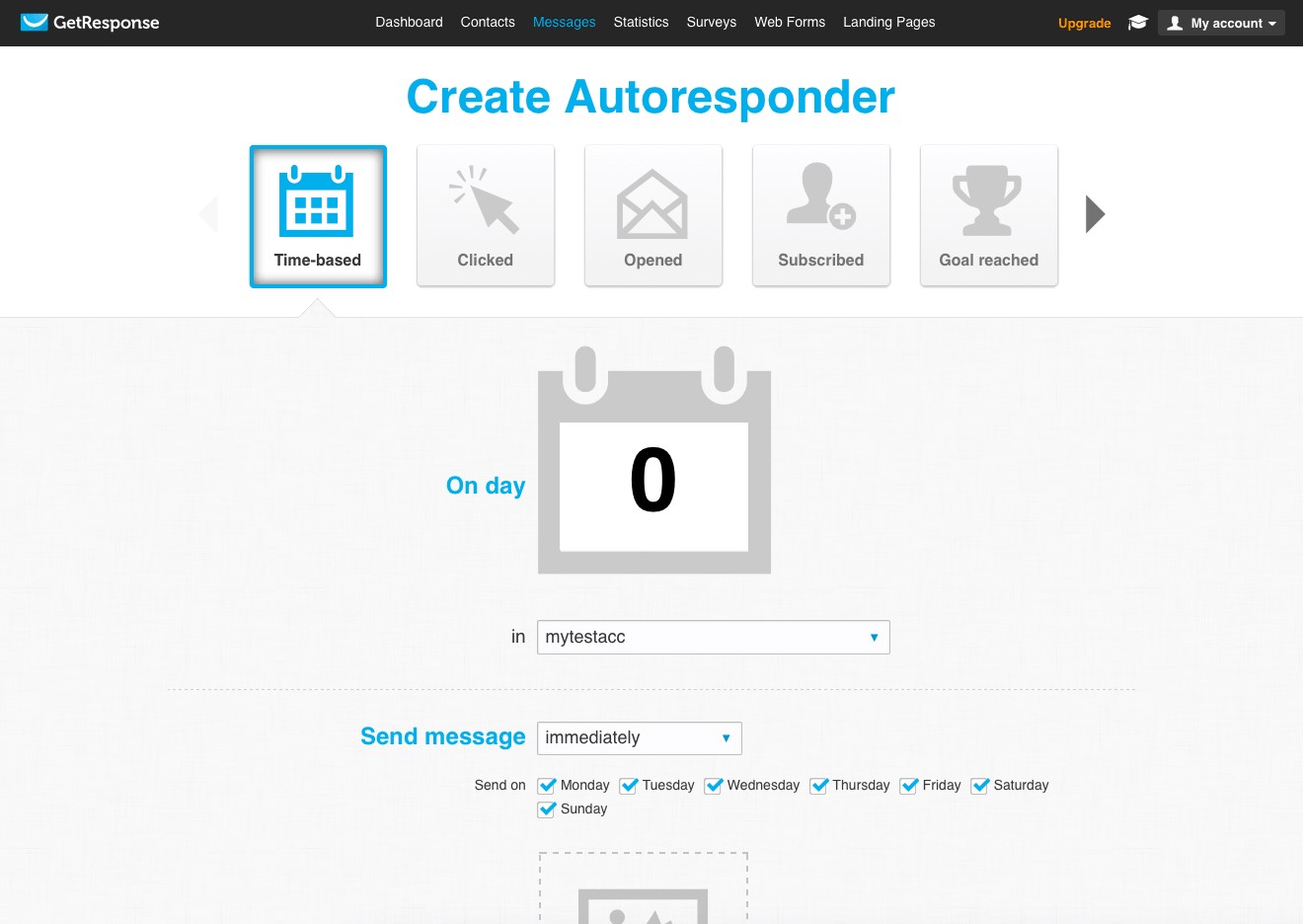 Webinar Tool
Nowadays, the office meetings have taken the shape of online meetings. GetResponse provides you medium to arrange an online meeting in the form of a webinar. Here, the members can join the online conference and can actually feel like sitting in the meeting. The URL for the webinar can be customized or can be kept password protected so that only selected users can attend the webinar. GetResponse also provides webinar templates and ways to invite the contacts to the webinar.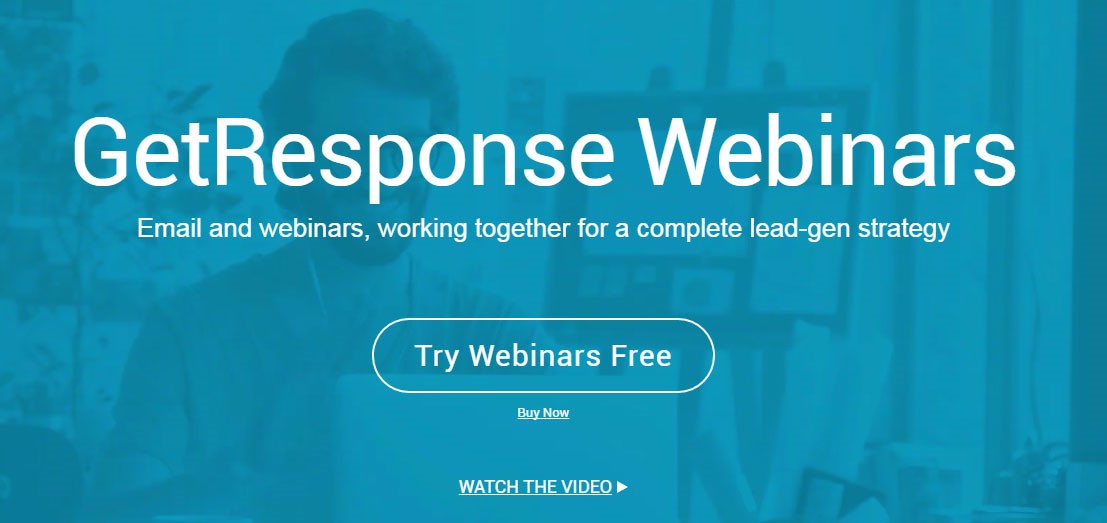 You can schedule any webinar in just 3 minutes, and its link can be shared on social media. You are allowed to share the screen with attendees of the webinar and can also record it for 2 hours. The recorded webinar can also be viewed by the non-attendees.
Why choose GetResponse?
The versatile range of features such as irresistible marketing abilities, simple interface, and reasonable price, makes GetResponse the ultimate choice for the users. One must choose to go with this tool because of several reasons.
Simple to Use: The user-friendly nature of this tool with easily navigational dashboard makes it really easy to be used. A number of video tutorials and FAQs are available in its learning center to help you understand about this tool in a better way. Rest, you can do anything through its main dashboard.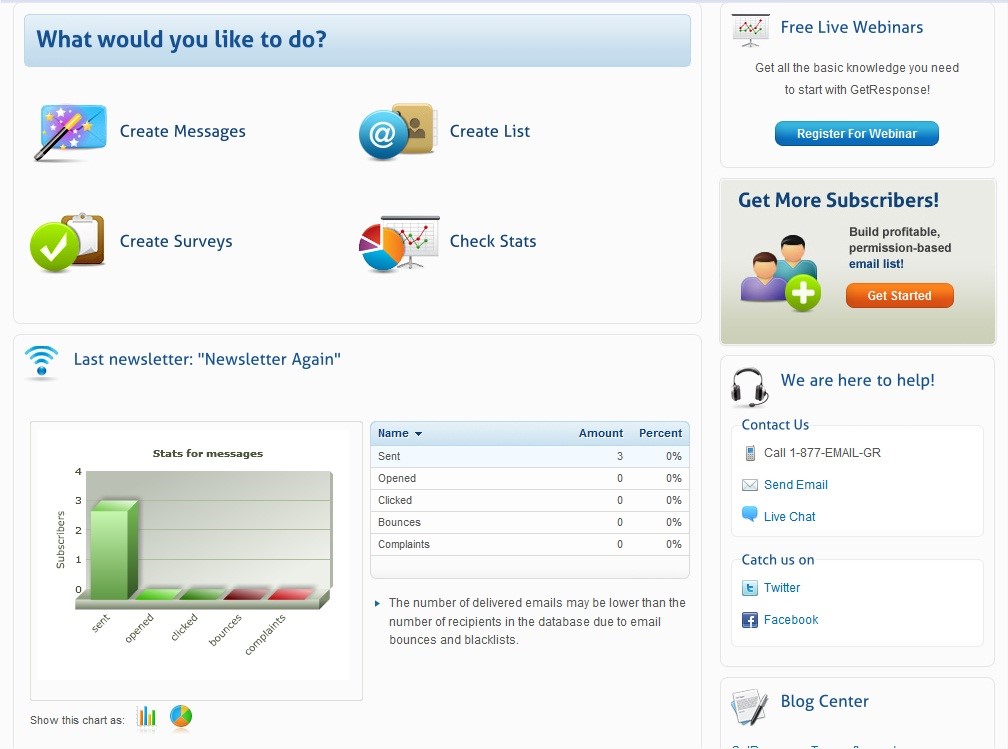 Cost: The packages at GetResponse are more than affordable when compared to other tools of its choice. The minimal plan starts from $15/month which lets you send newsletters to 1000 subscribers. If you wish to add webinar option to your plan, then go for the $49/month plan. The largest package for 100000+ subscribers is available at $799/month and is highly recommended for big firms. You can even try its 30-day free trial pack to understand its features and use.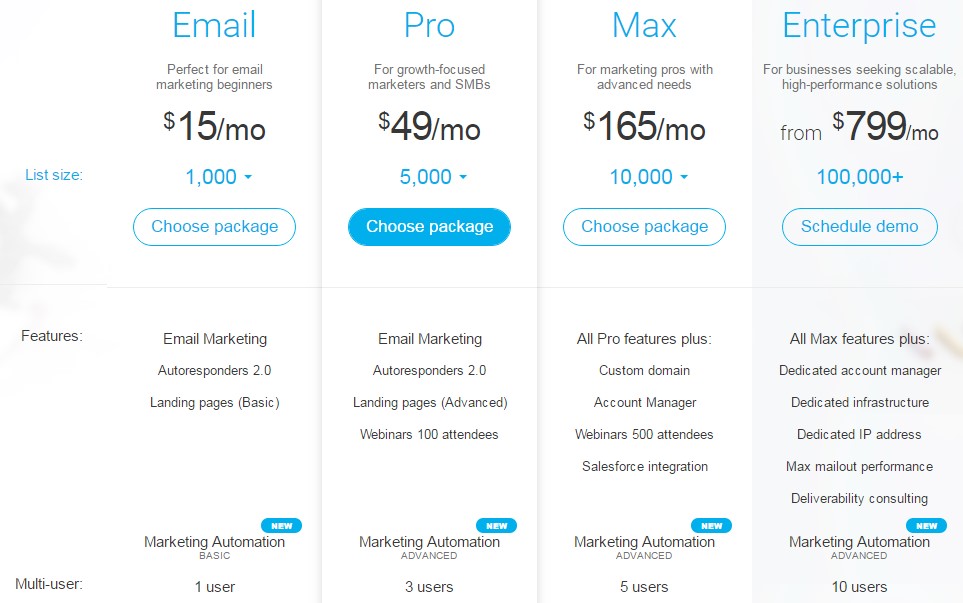 All in One Tool: GetResponse is the sole marketing solution that comes with so much of features and that too at budget price. From bloggers to internet marketers to companies, everyone can use this tool to perfection. You can get the most out of this tool without too much hassle.
What makes GetResponse the perfect choice for SMBs?
Most of the small and medium business (SMBs) firms are unable to cope up with their marketing needs due to lack of budget. This definitely kills their large clientele. So, to cater out this situation, GetResponse turns out like a true friend for SMBs. Without hiring a big professional marketing team, SMBs can use this tool and start promoting their business. Marketing automation features have enhanced the popularity of this tool.
It is the present day tool best suited for SMBs and internet marketers. With features like email marketing, auto-responder, webinar tool, landing page builder, marketing automation, and few more, GetResponse will soon touch new heights and set a benchmark in the industry.
Conclusion
GetResponse is an astounding online marketing platform that has given a new life to all SMBs. It has made promotion & branding possible for small and medium-sized businesses and that too at a really affordable price.