You want to learn how to develop your marketing strategy, and you want to know what options you have for gaining the necessary marketing knowledge to do so. In this article, we are going to review one such option: Google Digital Garage.
If you didn't know, Google currently offers a range of free and low-priced courses on Digital Marketing. These courses will teach you about all the core topics in the field. From taking your business online to content writing, SEO, and strategy building, you'll learn almost everything you need to know to create the perfect marketing strategy. The course consists of 26 modules and a total of 40 learning hours. Like all online courses, you can complete it at your own pace.
Even though the course is free, 40 hours is still 40 hours. And if you have a lot of things on your plate, it can take months before you can complete the course. So it's natural to wonder whether it's worth doing or just a total waste of time.
If you're still on the fence about taking the course, no worries. In this post, we'll explore the pros and cons of Digital Garage so you can gauge whether to enroll or not. Ready? Let's dig in.
What is Google Digital Garage?
Google Digital Garage is an online learning forum that Google launched in 2015. It provides free or low-cost training, courses, and certifications that prepare you for a career, business, or entrepreneurship. You can choose a course you like and learn it on your schedule.
Aside from the courses, Google Digital Garage also offers live training sessions and lessons on how you can learn to use tools that will help you communicate more effectively online.
Course prices range from being free to averaging under $10. Other courses range from $200-$3000 depending on the kind of certification you're getting. The platform provides 39 qualifications, the most popular of which are Digital Marketing, Fundamentals of Digital Marketing, and the Fundamentals of Digital Marketing certificate.
No matter what your education or skill level is, you can put these courses to good use on your CV. Courses are endorsed by industry and experts, so you'll be getting a certification that matters when it comes to the job market.
The Digital Garage offers courses to enhance your career, learn marketing, or get into data or tech.

What Can You Learn From It?
The course Fundamentals of Digital Marketing is a comprehensive plan of study that has been approved and endorsed by the Interactive Advertising Bureau Europe and The Open University. The curriculum consists of 26 modules with 106 lectures. The lectures are divided into 7 sections as listed below:
Take a Business Online

Make it easy for people to find a business on the web

Reach more people locally, on social media, or on mobile

Reach more customers with advertising

Track and measure web traffic

Sell products or services online

Take a business globally
These sections deal with concepts like establishing your online presence, developing your online and social media marketing strategy, concepts about online advertising, working with content marketing, concepts like SEO and PPC, working with web analytics, and going international with your business.
Each section consists of 1-7 modules and short lectures that make the content easily palatable. The course lectures are structured with informative videos, interesting and engaging visuals (e.g. graphics), action items, knowledge checks, and short quizzes at the end of each section that makes sure you're paying attention and not getting bored. You can also read the video transcripts and make your notes from there.
Once you're done with the course, you take an exam consisting of 40 questions and upon passing, you get a certificate with your name on it. Here's a sample of one:
(image source: Reliable Soft)
You also get a bunch of additional resources after completing the course to help you in your digital marketing journey. 
How Long Does It Take to Complete The Course?
Most of the modules in the Digital Marketing course can be completed in 30-40 minutes. The shortest module can take 15 minutes while the longest may take 70 minutes. In total, the course can take you around 40 hours to complete. You can approach the course at your own pace, spending about 15 minutes to half an hour every day or whenever it's convenient for you.
Once you've completed the entire course, you have to take a 40-minute test after which you'll get a certification. You can also skip lessons and just take the quizzes at the end of each module, and the final exam, if you feel that you know enough and just need the certificate.
Benefits of a Google Digital Marketing Certification
If you're wondering whether spending your precious time on a Google Digital Market Certification is worth it, we want to tell you that it is. Here are some reasons why:
1. It's Free!
You get to access a wealth of information for absolutely no price at all! Learn about topics like SEO, analytics, and online advertising in a short course and get a certificate at the end, free of cost.
2. Enhances your CV/Resume
We all want a resume that shows our experience with our preferred field. With these courses, you get to add a certificate to your CV which also automatically improves your achievement with LinkedIn. And you can apply to better jobs in the industry since these Google courses are endorsed by professionals and experts.
3. It's Different from the Traditional Topics
Pursuing a marketing degree at University might teach you the traditional topics, but the world is quickly moving towards the online sphere today. You'll end up learning more in this 40-hour course about contemporary practices in online marketing than with a 4-year marketing degree.
4. Anyone Can Benefit from the Course
Whether you're just starting in the field of Marketing or have been here for some time, taking this course will teach you a bunch of relevant stuff for you to excel in the marketing field.
5. It's a Refreshing Way to Learn
This course doesn't involve your typical monotonous lectures that seem to go on forever. The modules incorporate visuals like animations, graphs, and quizzes to keep you focused and interested.
6. Personalization
You can add a personal touch by selecting and registering for courses you're interested in pursuing.
7. Flexibility
Since these courses are available online, you can watch them at your own pace. Whether you set aside half an hour every day or work at a stretch for several hours, you get to complete the courses keeping your schedule and priorities in mind.
The course will prepare you adequately for a job in any of the fields of Digital Marketing, Content Strategy, SEO, social media managing, marketing and paid ads managing, and partnership marketing.
Are There Any Disadvantages?
There are a few disadvantages that come with the online learning aspect of these courses.
1. Not the same as Classroom Training
Classroom learning has a bit of an advantage over online learning. Classroom environments are more interactive since you're in the same room with the lecturer and issues like connectivity problems don't exist.
2. Requires self-discipline
The drawback of being able to pursue courses at your own pace is that you might never finish one. Without external deadlines, a lot more motivation is required to complete your work. You'd have to impose a schedule on yourself to make sure you do!
How to Sign Up For The Course?
To get started with Digital Garage you need to sign up/register first. Click on the Sign In button on the top right of the screen if you already have an account. If you don't, click the Register button.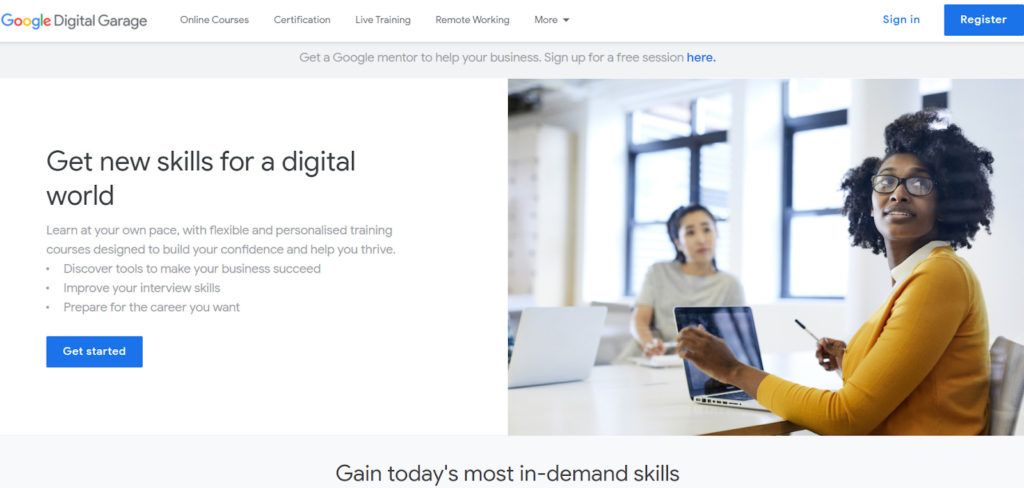 You could also click the Get Started button to go directly to the course list. Apply the filters you
need e.g. the course category or duration to pinpoint the course you want: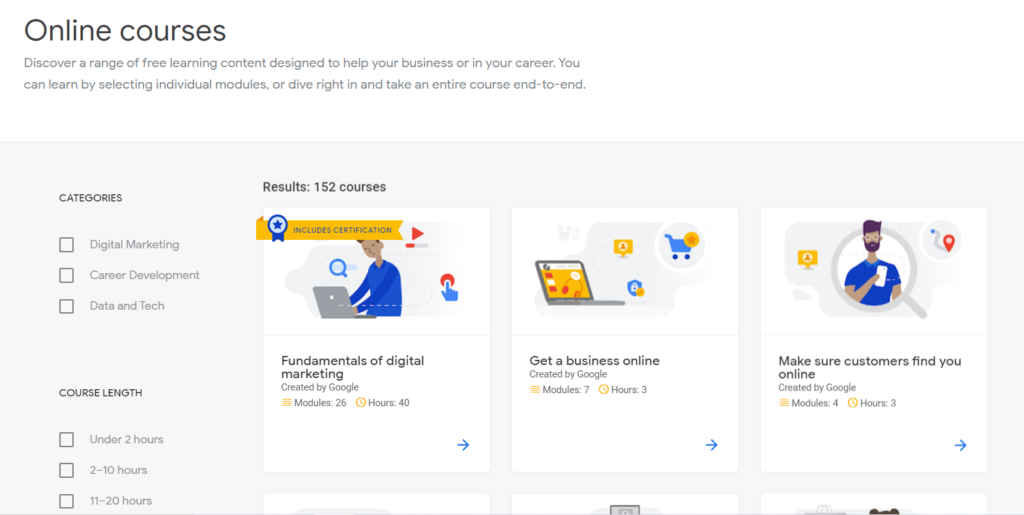 When you select the course you need, you'll be asked to sign up/sign in.
If you clicked the Register button, you can choose to sign up either with your Google account or with another email: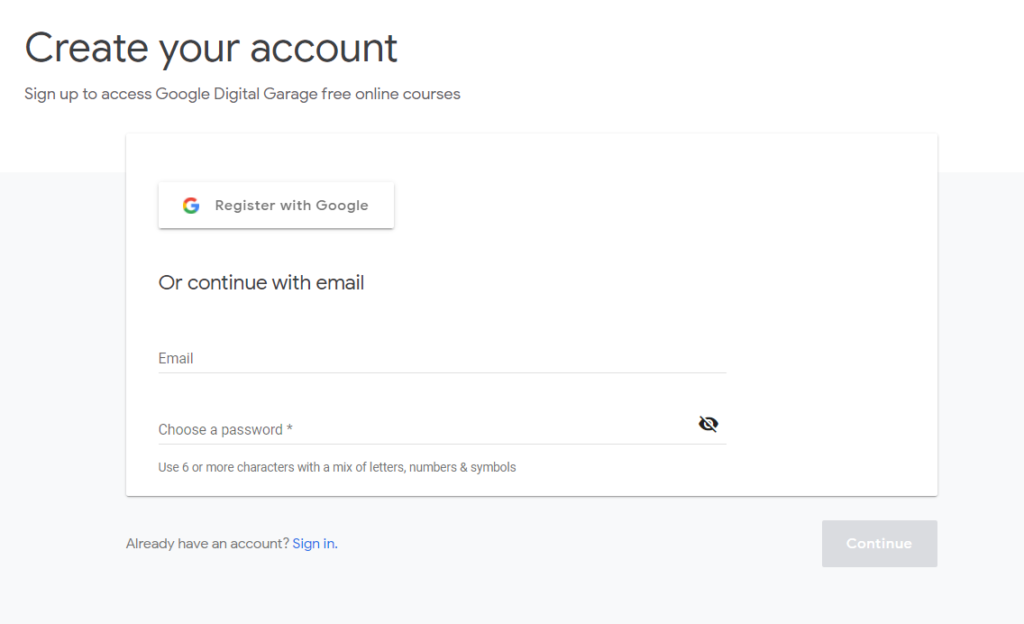 After you select your course(s), you can track how much you've progressed based on the unlocked badges or the % of the course completed. You can also download your certificate after you're done with the course.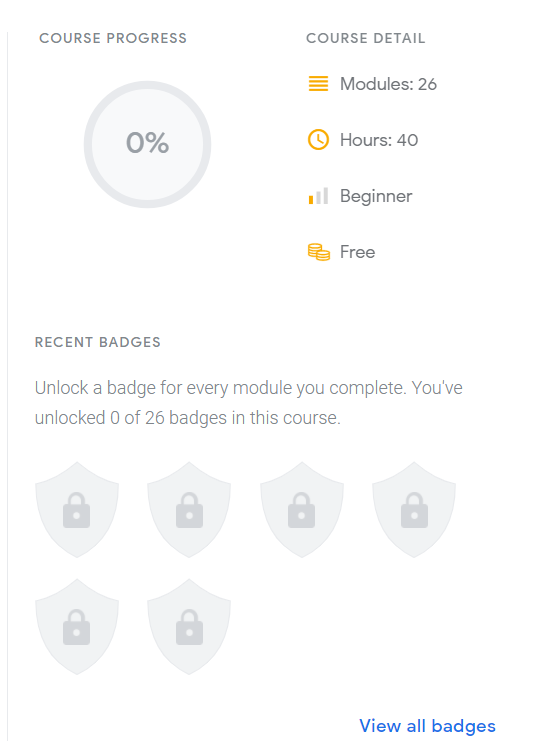 And that's it! Now you can get started on your favorite courses.
Bottomline
Whether you're looking to build on your digital marketing basics, improve your resume for the job market, or get a headstart in your new business–Google's Digital Garage offers a learning experience perfect for you. With its stimulating visual lectures and self-paced flow, you get to cover courses at a speed comfortable for you.
With the COVID situation these days, most learning and jobs have moved online. The same case is with the marketing industry. With this online certification, you can apply to digital marketing jobs online with different companies.
With these credentials, you could potentially end up with better job prospects and higher salaries. If you're looking to develop a business of your own, you'll get the necessary tips you need to know in order to formulate your own marketing strategy. We hope this overview of the Digital Garage platform gives you some insight into how its courses work.
If you have questions, don't hesitate to leave them in the comments below. If this guide was helpful, do share it with your friends. Have fun learning!
Suggested:
Best Free Educational Apps for Online Learning.
Learn the Difference Between a Blog And an Article.