Since the beginning of time, one of the key pillars of SEO has been keyword research. It's the language in which site owners and marketers understand what their audiences want, and what they need to do to provide it. While other facets of SEO evolved, keyword research tactics largely stayed the same…..that is until now.
The old-school, 'classic' model of doing keyword research methods goes a little something like this:
I've got a health and fitness website where I want to write an article about "Intermittent Fasting," and Google Keyword Planner reveals a bunch of keywords that are somewhat related. Keywords like "intermittent fasting results," "intermittent fasting for weight loss," "intermittent fasting for bodybuilding," you get the point. Using the classic model, I might decide that I'm going to create four completely different pages, each targeting one of the keywords listed above, to increase their chance of ranking for each keyword.
While this may have worked in 2008, it just doesn't cut it anymore in 2018. Google's algorithm is now sophisticated enough to recognize the semantic relationship between keywords, not just exact match. This necessitates a shift in strategy when it comes to keyword research and content development for SEO experts. I'm here to show you an innovative way to perform keyword research, that will help give your SEO and content marketing a massive boost, and give you a leg up on the competition.
How Does Google Identify Topical Relevance and How Do We Know?
Now that we know Google's search algorithm has gotten a bit more sophisticated, the question is, "How do we keep up?" The great thing about Google is that all you need to do is perform a couple of searches to understand exactly how it's treating content across the search landscape. Notice how when I search for "Intermittent Fasting," the first three results are touting themselves as the ultimate guide or a complete guide to intermittent fasting, indicating that they cover the entire topic and not just a specific aspect of intermittent fasting. If I'm a user and I want to know more about intermittent fasting, what is more enticing, a definition or the complete guide (we know the answer)?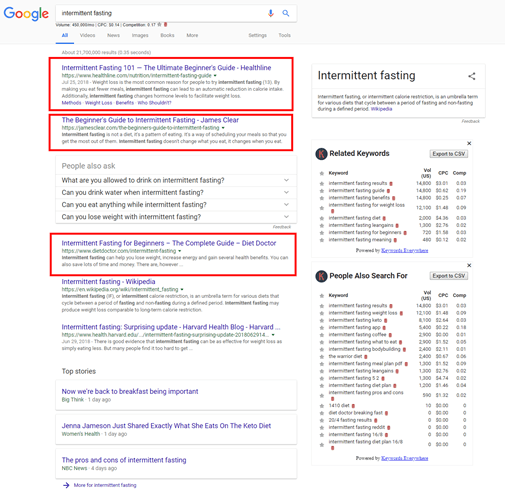 So, how do we go about consolidating a massive keyword list into more manageable topics that we can write quality content on? Below are a couple of ideas to help you select topics from your keyword research:
Problems: Real use cases of issues that your target audience is trying to solve through search.
Intent: What is the intent of the user's search (buy, review, compare, etc.)
Grouping your keywords into topics based on user behaviors helps increase your topical relevance in the eyes of Google. It's increasingly beneficial to your overall strategy to develop topical content for a specific category to establish your site as an authority on that subject before branching out. If you're having trouble identifying specific topics, oftentimes the synergy between keywords will give you an indicator.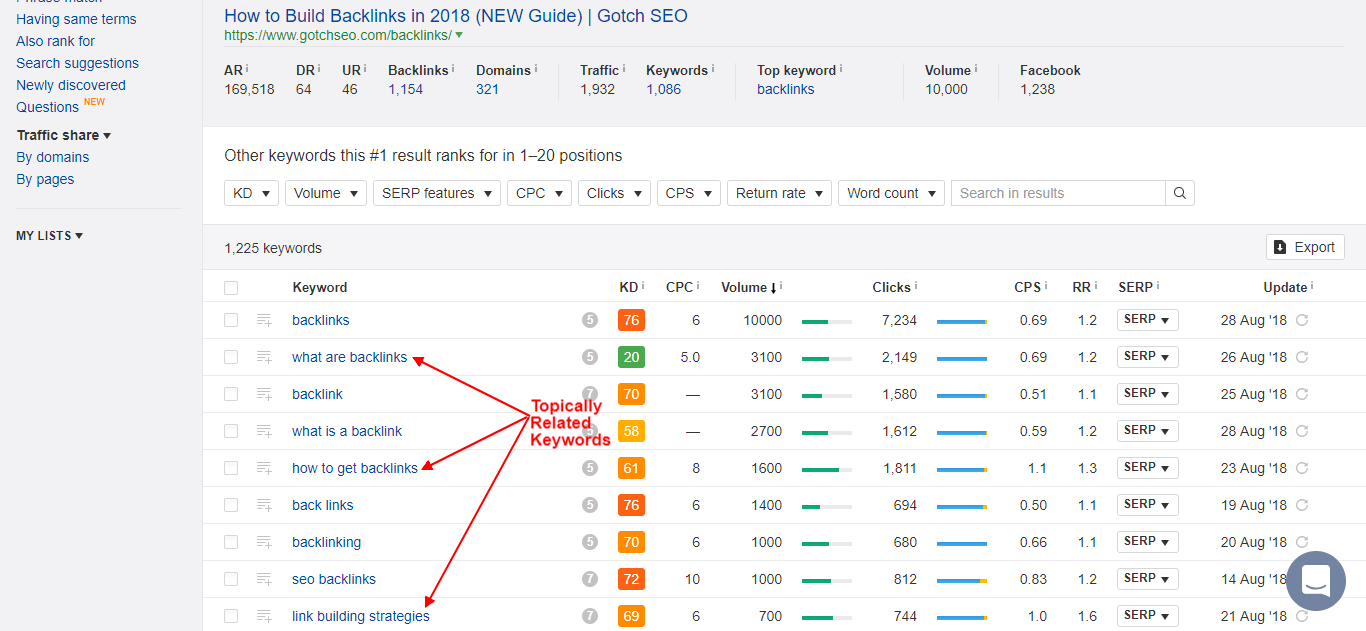 Outrank the Competition by Using Their Content Against Them
There are already plenty of amazing resources ranking in the top 10 for the keywords we're targeting, so why try, right? Wrong! In fact, what I'm going to teach you to do is use your competition's content to outrank them. They've already done the work for you in creating assets that Google has analyzed and deemed topically relevant, so let's use that valuable information to create our own long-form content.
Using a tool like SEMRush or Ahrefs, identify the organic keywords that one of your competitors is ranking for and export the list to Excel or Google Sheets.
After you have everything situated, sort the keywords by URL, this is where the magic happens. Sorting by URL allows you to understand the page that Google has associated as topically relevant to its specific keywords.
In this example, the page we're looking at in Ahrefs is designed to review Quest Protein Bars, so naturally, it ranks for "Quest bars review". But if we take a closer look, we'll see that this page also ranks for keywords like "Are quest bars good for you?", "quest bar ingredients," "quest bar for breakfast," etc. Google has associated things like nutrition information, ingredients, time of eating, and whether the food is good for you or not with a single page!
What can you do with this information? Well, in this instance, knowing would allow you to create and optimize an even more robust page with topically relevant content that your competitor has not done. We know Google loves long-form, informative content, so you'll reap the benefits of your hard content development work.
Develop a Content Strategy Centered Around User Engagement
Ultimately, the most productive content strategy isn't developed to serve a search engine, it's for your target audience. Your users engage with a multitude of content pieces, so it's best to meet them with the content they're looking for, whether that be blog posts, videos, images, etc. Keep in mind that not only does the quality of your content come into play, but engagement also centers around how your website is optimized. Keep these factors in mind when auditing your content strategy.
Site Architecture
Optimizing your site's architecture is extremely important for your on-site content marketing strategy. Ease of access not only helps your site visitors find your content more easily but allows search engine spiders to crawl and understand your site as well. Using a hub and spoke model to create semantically relevant content supporting larger long-form assets around a specific category is a great strategy as well. The more users see your content as beneficial, the more they share it through social media and enhance your topical authority on the subject.
Optimize Internal Links
What good is the awesome content that you just produced to rank for a thousand keywords if no one can access it? Internal linking is crucial to drive users to your most authoritative pages, but also to send signals to Google that it's an extremely important page as well. Go through both old and new content on your site to find relevant anchor text to link to your most authoritative pieces. Topical relevance and internal/external authority signals (aka links) are the perfect marriage to increase your rankings.
Conclusion
Long gone are the days when you crafted a web page to rank for a single, specific keyword. The more sophisticated users' searches become, the more we need to adjust our content to fit their behaviors and intent.
In fact, according to Winston Burton in Search Engine Land, "These days, a practitioner of search engine optimization is more of a content experience analyst who focuses on optimizing and deploying content across multiple devices and platforms. It's all about building high-quality, useful, intent-based content for all stages of the buyer journey so as to be there in a consumer's moment of need."
The pivot isn't easy, and there are still many marketers in the industry testing and learning the true impact of creating topically relevant content for multiple layers of the customer journey, instead of a strictly keyword-based approach.
However, the quicker you're able to adjust to a more strategic plan of action, the quicker you'll find major SEO success.