Are you looking to browse securely over the internet?
Do you wish to access the sites that don't open with your ISP?
If yes, then choosing a secure and affordable VPN is the best option for you.
A good number of VPNs exist around the world. Finding the best one is always a big challenge. If you haven't found a reliable VPN host so far then NordVPN is surely the one to invest in. We have already tested this awesome VPN, which supports both OpenVPN and IKEv2/IPsec security protocols ensuring that your internet browsing is totally safe and secured. It protects your network including the mobile, tablet, personal computer, your router, and even the TV. Let us learn more about NordVPN in this post.
What You Need to Know about NordVPN
NordVPN, the Panamanian Company, uses military-grade encryption to make the data secure so that it is transmitted safely between the internet enabled device and the internet when the user starts a browsing session over a VPN connection. The low ping times from its servers will surely impress you. The high traffic rarely has any impact on its servers. It makes NordVPN servers very accommodating for secure browsing. If you are concerned about the personal data protection and privacy then NordVPN is the best you can get at a reasonable price.
Suggested Post:
How to Choose the Best Hosting?
Getting the cheapest Web Hosting?
NordVPN- The Setup
The NordVPN Client must be downloaded at first.

After you have downloaded it, extract the package to the desktop. As the installation progresses you will see the following screen.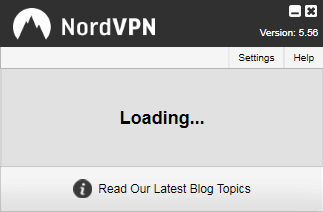 Enter your login details (username & password) to progress.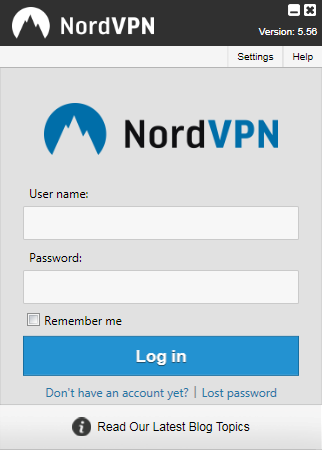 Press 'Connect' button after you have selected the country to connect.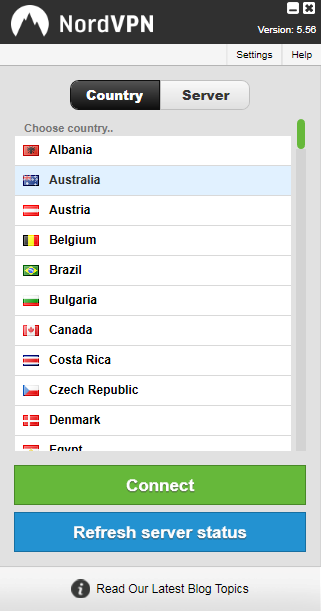 You will see this screen while connecting to the server selected.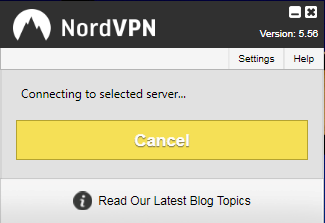 After the connection has been established with the server, the following screen appears.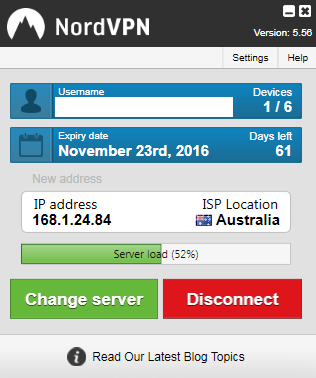 The server can be changed anytime. You are also allowed to disconnect any time.

Surf anonymously after opening your browser.
Notable NordVPN Features
NordVPN is one of the most popular players in the VPN world. Considering the value you are getting for the price, they offer very competitive pricing options. Here are some of the greatest features of NordVPN that contribute to its immense popularity.
Double Data Encryption
NordVPN offers Double VPN server option – this means your data is encrypted twice, multi-hopping across two secure server locations. This advanced security feature certainly distinguishes NordVPN from its competitors.y 
Easy Setup
All you require is PC/laptop or a mobile to set up this VPN customer application. Create an account on the official website and choose the best plan. After your account is active, download NordVPN client accordingly. Now follow the above-mentioned steps for browsing securely.
No Logs Policy
This is probably the key feature that makes a VPN worth considering. If you are considering a VPN, choosing one that does not store logs is very important if you want to stay truly private online. With NordVPN your browsing data is not stored, unlike many other VPN networks that falsely claim to follow this policy.
Speedy Servers
The wide network of 700+ servers in over 52 countries across the world ensures that browsing is carried efficiently. Its network is growing continuously and is expanding to different locations. All the continents of the world apart from Antarctica are covered by its servers. With well spread out servers, you can enjoy quick browsing sessions and stream over its servers wherever you are.
Multiple Device Supported
You can easily connect to 6 different devices simultaneously while using NordVPN. The devices like tablets, smartphones, routers, TV etc can be connected at once. There would not be any connection loss as more devices are connected because they have no bandwidth limit on their service.
Multiple OS Supported
Some of the most popular operating systems in the world like Windows, Mac, Android, iOS, and Linux are well supported by this tool. The Android and iOS apps are easy to use and can be downloaded from the app stores, while other apps are easily accessible on NordVPN.com. NordVPN also has a helpful tutorial section for a detailed walkthrough of router set-ups and more.
DNS Leak Resolver
The DNS server might wrongly send the unencrypted query outside its VPN tunnels, but NordVPN's DNS Leak Resolver secure your all DNS queries and protects them from any threat.
Automatic Kill Switch
If a VPN connection loss is detected, NordVPN's automatic kill switch technology closes the site/software you had specified as sensitive, instantly. If you set it up ahead of time, you don't have to worry about sensitive data loss even with a VPN interruption.
P2P Supported
The P2P traffic might be throttled by many VPN providers, but NordVPN doesn't do this. The content can be easily downloaded and uploaded at relatively good speeds.
User-Friendly Support Staff
NordVPN's support staff is always ready to assist any user. The support can be availed through email tickets and other methods, specified in their contact form. You can contact them any time of the year if you are facing any trouble.
Payment Choices
You get a number of payment choices while opting for NordVPN's package. You can choose to pay by credit card, Paysera, PayPal, WebMoney, or even through Bitcoin.
Pricing And Plans
NordVPN has three different plans to offer to its users. The plans are starting from $5.75 per month and are offering tons of features.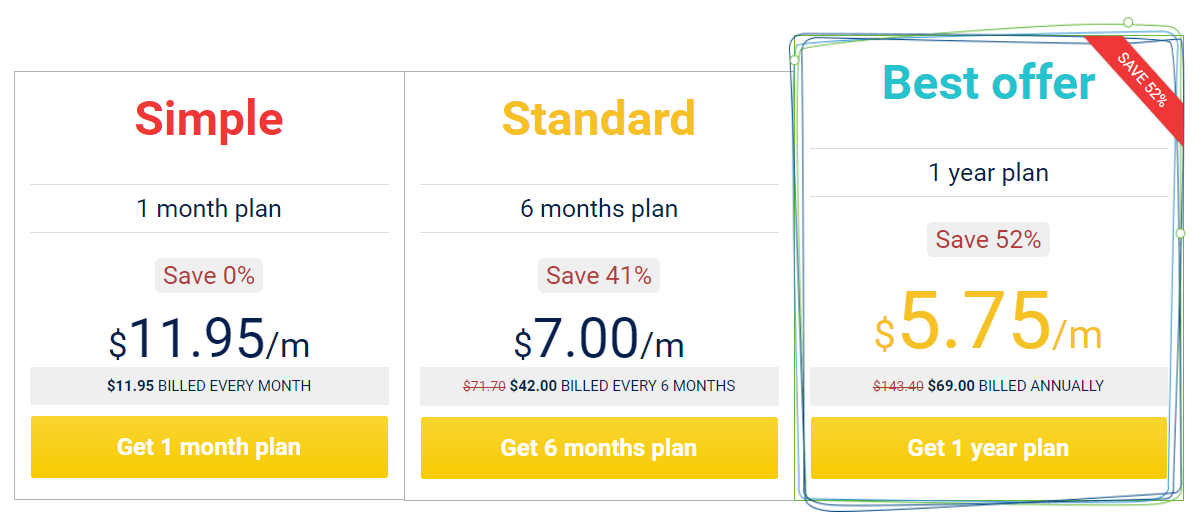 Simple: You can get this plan at $11.95/month and it's billed per month. All benefits are offered with this plan.

Standard: You can get this plan can at $7.00/month and it's billed half-yearly. All the benefits are offered with this plan.

Best Offer: You can get this plan at $5.75/month and it's billed yearly. All the benefits are offered with this plan.
The plans can be used and checked thoroughly. If you try the services and do not like it much, the refund can be requested. But make sure that it is not more than 30 days as money can only be refunded within this period.
The Bottom Line
NordVPN has a phenomenal network of servers providing premium and secure VPN services to all its users. An impressive range of features at a reasonable price is what makes it the most affordable VPN service we have tested. If you haven't tried it yet, it's the time now. Start using NordVPN and hide your identity while browsing online.