It is no lesser than a heart attack situation when you open your email account, be it Google Gmail or Microsoft Office 365 and you realize all the emails have vanished. And you need to have the Best Email Backup Software for that.
Reasons for such situations can be multiple, it can be malware, some hacking activity, virus infections or sometimes, accidental deletion.
The one and only solution to fix and avoid such situations is an updated email backup file. So, a person can perform email recovery from the backup record in case of accidental deletion or data loss disaster. However, taking email account backup is a tedious and cumbersome task, especially when you do not have proper knowledge of it.
To overcome this situation, there is a need for effective, value-for-money, handy Email Backup Software. SysTools, the world's leading data recovery & backup software company, provides the best email backup Softwares.
Here you get the complete list of top-notch email backup software by SysTools.
Let's begin!
List Of Best Email Backup Softwares by SysTools
1. Office 365 Backup & Restore:

It is an incredible dynamic Office 365 Email Backup utility that enables single user or Office 365 administrator to safely take backup of data from O365 account's. One can export the copy of emails, contacts, calendars on desired on-premise location. Besides, the best Office 365 email backup tool supports backup of admin mailbox, user's primary mailbox and shared mailbox in PST or EML format. To save time and effort, a robust Date Filter is also added that provides the extreme level of flexibility.
In fact, if you wish to Restore the data stored in PST format in Office 365 accounts, then the tool can also perform this, which makes it one of the best email backup Softwares of SysTools.
Supported Platform: Windows Operating System
Supported Office 365 Plans: Office 365 Business Essentials, Office 365 A1/A3/A5, Office 365 Enterprise E1/E3/E5, Exchange Online Plan 1 & Plan 2, O365 F1.
Demo Version: Available
2. SysTools Google Apps Backup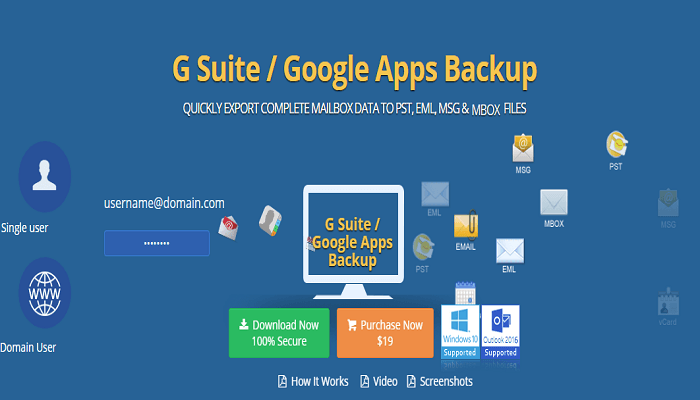 This G Suite Backup tool is meant for G Suite users who want to protect their crucial emails, contacts, calendars, and documents on the local PC. The Google Apps emails can be exported into Outlook PST, EML, MBOX, and MSG format. The best part is, the tool can be operated by Single or Domain G Suite User. In case, when you want to backup multiple mailboxes emails, then Login as G Suite administrator and rest of the process will be done by the utility. The tool downloads copy of contacts, calendar entries, and documents in vCard, ICS, original file type respectively.
In addition, features like Delete After Download, Include Folders, Add Time Interval make the backup process smoother and facile and G Suite Backup tool as one of the best cloud backup Softwares.
Supported Platform: Microsoft Windows
Supported G Suite Plans: G Suite Basic, Business, Enterprise
Demo Version: Available
3. Zoho Email Backup Solution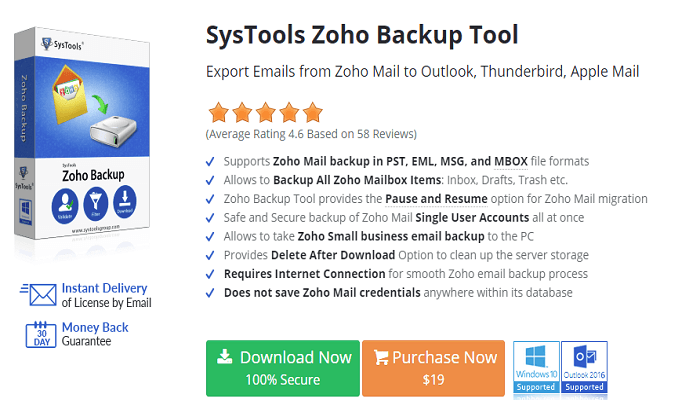 Another incredible backup software is Zoho Mail Backup Tool. This tool allows all Zoho email users to backup emails into PST, MBOX, MSG, and EML. All these file types are supported by popular applications like Microsoft Outlook, Windows Live Mail, Mozilla Thunderbird, Apple Mail, SeaMonkey and much more. Plus, users are free to backup emails from all the folders like Inbox, Trash, Customized folder. With the help of Select Folder Filter, one can select any folder for the mail backup process. Plus, E-mail filter is also offered to save only emails of particular Time intervals.
Supported Platform: Windows Operating System
Supported Language: German, Japanese, English, Spanish, Dutch, and Portuguese
Demo Version: Available
4. SysTools Hotmail Email Backup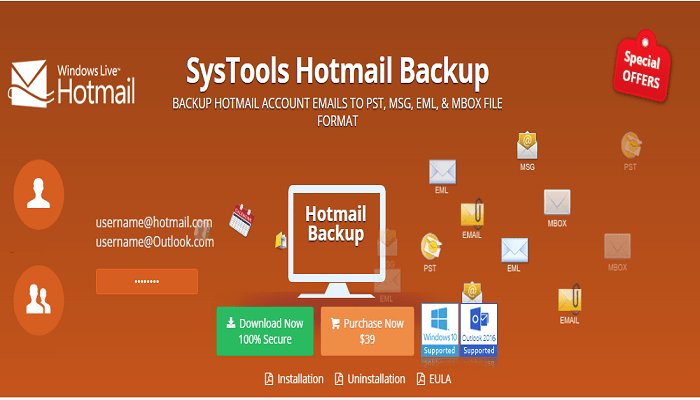 It is true Outlook.com (Hotmail account) does not provide any option to take email backup. Here, the Hotmail Email Backup Tool plays a vital role. It is a highly potential software that exports copy of emails from the user's Hotmail account in four different formats (EML/MBOX/MSG/PST). With this utility, one can save unlimited messages from any mail folder in the desired format on any location on the local system. Plus, Delete After Download feature allows to automatically wipe-out those messages which are backed up.
Supported Platform: Windows OS
Supported Language: German, Japanese, English, Spanish, Dutch, and Portuguese
Free Version: Available
Suggested:
How to get rid of annoying emails in Gmail?
5. AOL Email Backup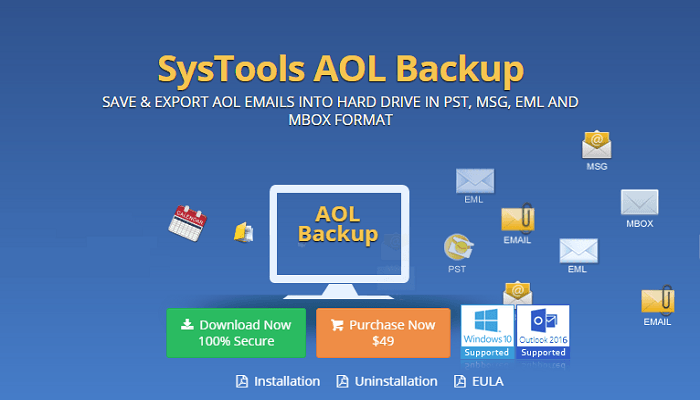 AOL Backup Software is used to take email backup of single AOL Mail account on the local machine. When buying a backup tool, always opt the one that provides multiple options to export the data. With this tool, you have PST/ EML/ MSG/MBOX option to choose. All these file formats are importable. Facility to customize internet bandwidth makes this tool worth for user attention. The advanced features like Granular email backup, save file at the desired location, select folder, the real-time export report is provided for the efficient backup process.
Supported Platform: Microsoft Windows (32 and 64 Bit)
Supported Language: German, Dutch, Portuguese, English, Spanish, and Japanese
Free Version: Available
6. Gmail Backup Software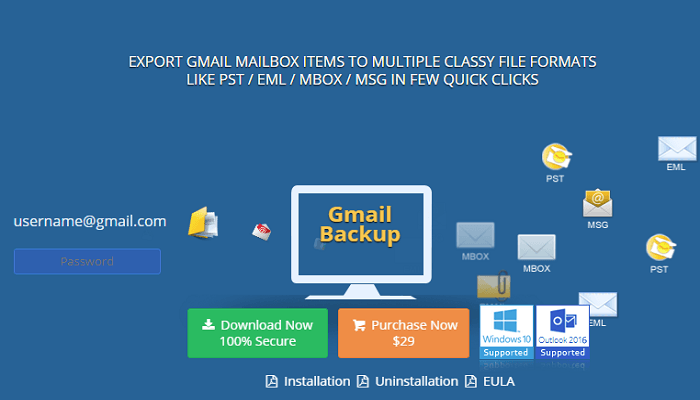 In a situation when Inbox of Google account flooded with messages, and you running out of space, then it is good to go with SysTools Gmail Backup Software. One of SysTool's best email backup software solutions to backup single Gmail account data into popular formats on both Windows as well as Mac Operating System. After that, wipe-out the emails from the server once it is backed up in the system using inbuilt Delete After Download option. In Windows variant of software, you can convert emails, contacts, calendars, and documents in PST/ MBOX/ MSG/ EML format. On the other hand, Mac Gmail Backup tool allows you to convert emails into Outlook PST, Thunderbird MBOX, MSG, EMLX, and EML type.
Supported Platform: MS Windows and Mac Operating System
Supported Language: German, Dutch, Portuguese, English, Spanish, and Japanese (For Windows)
Free Version: Available
7. SysTools Yahoo Email Backup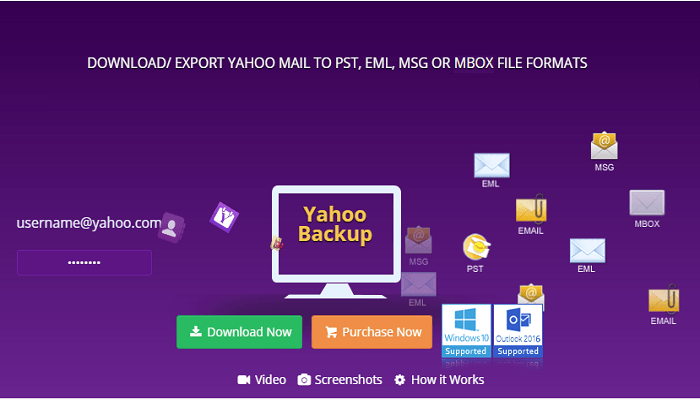 Yahoo Mail Backup Software is the finest tool that saves an offline copy of emails from cloud to local machine from a single Yahoo webmail account. It is available for Microsoft Windows and Mac OS environment too. One can download the emails infamous file formats like Outlook compatible PST, Thunderbird supported MBOX and so on. The dynamic features such as Delete After Download, Email filter are worth for effortless backup.
Supported Platform: Windows & Mac OS
Supported Language For Windows: German, Dutch, Portuguese, English, Spanish, and Japanese
Supported Language For Mac OS X: English
Free Version: Available
So, that was it! These all email backup utilities are so far the best email backup applications provided by SysTools.
Suggested:
How Microsoft Email is better than Gmail?
Few Closing Thoughts
Unexpected email loss or accidental deletion is the worst situation a user ever faced. But, a solid email recovery tool always ensures the availability of your irreplaceable emails and the local environment. That's why we enlist all the reliable best Email Backup Softwares for Mac or Windows in this post. This eliminates the problem of data loss that could arise from any reason.