Python is consistently the favorite of developers 2021. It is reliable, powerful, scalable, and diverse. Because of this, Python development services are in high demand. Most companies are now opting for Python for web development for their applications. Web application development in Python is beneficial for enterprise applications.
But things get tricky while hiring a Python software development company. There are thousands of them. Whether you want to outsource or develop an in-house team, the decision depends upon a lot of factors. It is difficult to find experienced talent that can deliver good work. Web application development in Python is now gaining high popularity with the increase in demand for Python developers.
This article will highlight how to choose the right company for Python application development services. We will focus on the following points:-
Where to find the right Python company

.

Tips for finding the best Python development company

.

Top 5 companies for Python app development

.
Let's have a look at the Python development services tips in detail.
Where to find the right Python company?
The biggest problem is finding the right company for Python software development is not knowing where to find one. There are two primary factors to consider – geographical location and the platform.
A myriad of countries offers to outsource for Python app development. Some of the best and cheapest are India, Vietnam, Ukraine, Poland, the Philippines, and Brazil. These countries offer highly skilled talent at the most reasonable rates. The price ranges between $25 to $100 per hour. Some companies in India, like BoTree Technologies, offer Python development for $2800 per month for a dedicated developer.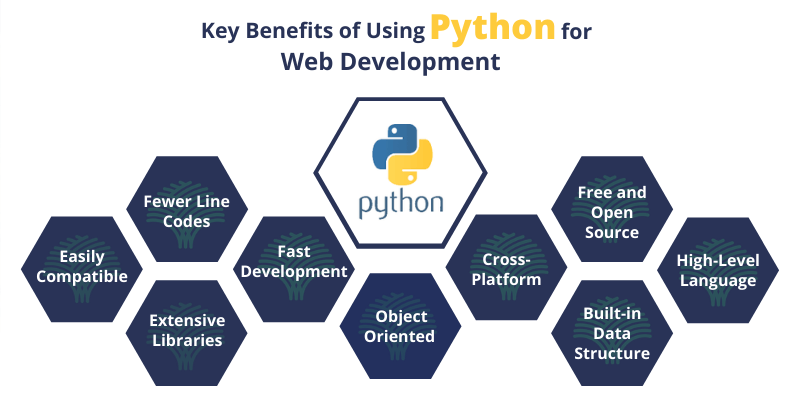 You need to take care of cultural differences as well. It impacts the communication, productivity, and overall efficiency of the developers. Python developers in countries have different working styles and capabilities. You need to find a team that your project manager can suitably handle and work with easily.
Once you decide the location, you need to look for companies that provide end-to-end Python development services. There are multiple platforms available. Good firms, Clutch, Techreviewer, Upwork, Toptal are a few platforms that provide a list of service providers for Python. They have companies reviewed by clients and offer a portfolio of their work. You can choose the company based on their industry, project domain, and much more.
Let's have a look at a few more tips that can simplify the process of hiring a Python development company for your next project.
Tips for finding the best Python Development Company
How can you find the right company for custom Python development services? You can get recommendations from around the world. However, there are a few tips that you need to keep in mind before making the decision to hire a company. These tips will save you from a lot of trouble and eliminate mistakes in hiring. Here are the tips you should consider:
Be specific with your requirements
The first step starts with you. Web application development using Python requires you to specifically identify your needs. Whether you want to build an enterprise application or just need to upgrade from a previous version of the framework, it makes a world of difference. Companies that specialize in enterprise app development are much better for your app rather than offering general Python services.
Look at their Portfolio
And not just in Python – check their work and portfolio for Django-based projects as well. Django is the most popular Python framework for building web applications. Check whether they have worked in your industry or not. Their portfolio will also tell you their expertise in building an application as per your requirements. You can also look at the features they have installed in different web applications.
Check reviews
Today, most companies offering Python-based web development services are online. They are listed on portals and platforms where clients can leave a review. Check their reviews and get feedback from previous clients. You can also ask previous clients about their performance. They will give you a good review of the company's working style, communication, and culture.
Consider their pricing
Now pricing should not be the sole factor but it is an important one while hiring a company for Python mobile app development. Different companies offer prices based on the requirement. Ensure that you are not putting a hole in your budget. If you are a startup, you might get an inexpensive prototype from companies across the globe. Identifying your requirements and how much you want to spend can keep you a lot ahead.
Conduct preliminary interview
And finally, you must conduct an interview before hiring the Python developers from the company offering Python application development services. You must conduct a technical interview asking all the relevant questions related to your project and the developer's skill. The most important thing is that you need to understand their soft skills. Ensure that the developers can take ownership of the work and communicate properly.
Top 5 Companies for Python App Development
Now that you know how to find the right Python development company, it's time to select one. We have compiled a list of 5 companies that offer top-notch end-to end Python development services.
Here they are:-
BoTree Technologies:
BoTree Technologies is a leading and trusted Python development company. It has 10+ years of experience in building Python web applications. The company has clients in 10+ countries. Their technology expertise in Python includes Django, Flask, Web2Py, Machine Learning, and AI development. They charge around $2800 per month for a project.
Netguru
One of the top Python development companies, Netguru has served Fortune 500 companies. It is a perfect Python development services provider for startups, enterprises, and MNCs. It has an excellent client base with presence in over 20+ countries. Netguru focuses on digital innovation and building world-class products for companies.
DjangoStars
A company specializing in Python and Django, DjangoStars is a leading name in the industry. It offers Python application development for UI/UX, cryptocurrency, blockchain, data science, and more. They have 10+ years of experience in building dynamic and rapid web applications. They have worked with established companies across the globe.
iFlexion
With 20+ years of experience, iFlexion is one of the top Python web development services companies in the world. It has a team of around 850 professionals, working on different web development projects for companies worldwide. They offer customized Python development services for startups, enterprises and MNCs.
PixelCrayons
A trusted software development company, PixelCrayons offers 99% on-time product delivery. It has a team of 100+ Python developers serving clients globally. They work with technologies like Pyramid, Django, Flask, and many more. They provide variable engagement models that companies can choose based on their requirements.
Conclusion
Python development services are in high demand. The market for Python developers is also growing. Because of the advanced applications of Python, it is the first preference of modern-day enterprises. The future of Python looks bright and promising. These tips can help you easily find the right Python web application development company for your business.
Suggested:
Why Is The Need For Python Developers Increasing In The Industry?
Best Frameworks for Python to learn in 2020.