Do you know why it is necessary to automate your business in 2021? And, how to automate your business...
The hype for NodeJS is not unknown to anyone. There are plenty of reasons why developers as well as...
Website development is no more a luxury but a necessity for businesses to go online with a visually attractive...
If you are thinking of starting your own personal blog, but you are confused about which platform you should...

Every second, we are moving forward and observing that the advancement in technology is becoming a shine on the...

The present COVID 19 emergency has kicked up a booming market for e-commerce websites. As the situation demands minimum...

MEAN Stack Development is a collection of JavaScript and other technologies like MongoDB, Express.js, Angular.js, and also Node.js that...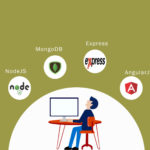 Expanded Internet use among organizations and people has impacted the way of business. This made many companies shift from...
Angular has been quite popular since its introduction and has seen remarkable growth. It is a framework recommended for...