Instagram and B2B? There is something wrong here because B2B companies don't use Instagram as a rule. Yep, most of them don't but only "as a rule.†I am here to tell you that underestimating the power of Instagram in B2B companies is a huge digital marketing mistake. And Today in this post I am going to the Instagram marketing tips for B2B companies.
The common misconception is that Instagram is limited to people who post photos of their food, vacation, and pets. As of September 2017, Instagram has 800 million active monthly users. And I highly doubt that all these people use Instagram to show how cute their puppies are.
B2B companies are more prone to using "serious†social media platforms like Facebook and Linkedin because assumably that is where their target market is. But we forget that CEOs, human resource managers, or IT specialists are users of web 2.0 too and they use Instagram.
Before I proceed to share some tips with you, some food for thought as to why Instagram is as good as Facebook for B2B companies.
What is the story behind your brand?
Both companies and individuals are interested in the story of your brand. People are curious to know who came up with Adobe or why Bill Gates decided to name his product Microsoft. Instagram is a platform that allows you to expose the history of your company, showcase your values, and connect with clients.
Being a B2B company doesn't at all mean that you shouldn't brag about your product or service. I can't think of a product/service that can't be condensed into one photo or video. And we all know that people prefer to watch a demo or a photo than read a long description of a business. So, take advantage and use Instagram to tell the public what your product/service is all about and share success stories.
Clients remain clients in the sense that they have to be excited and engaged to keep purchasing your product/service. You need to show your clients that other people choose you. In other words, create a community of users. Instagram allows you to share insights into your business just like the post-credit scenes. A lot of people go to a movie theater just to see the post-credits: the same applies to Instagram.
Suggested:
How can you get Instagram followers without following others?
Tips #1 Post User Generated Content
The more people use your product or service, the more credible you look in the eyes of prospective clients. Plus, your customers love being appreciated. You can combine these two ideas in one and show it on Instagram. How? Well, as the heading hinted, through User Generated Content or UGC for short.
It basically means that you are going to stalk your Instagram customers and if they have an appealing post that involves your product, repost it. I just realized that "stalk†came off a little creepy but essentially that's what finding UGC entails.
How to gather UGC? Easy! Hashtags. Come up with an interesting hashtag, which, of course, is related to your company, and ask your followers to post photos with that hashtag. Instagram users engage in such activities faster than you think. Take the example of Redbull, it's not a B2B company but you get the idea. In 2015, the #PutACanOnIt campaign created a huge buzz around Redbull.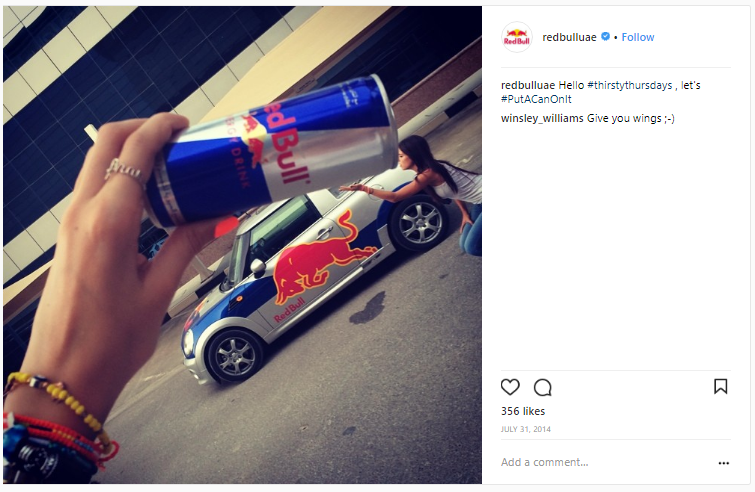 Okay, what if you're a newly launched company and aren't yet famous? UGC doesn't necessarily only mean post photos of your clients, employees will do the trick too. Share the photos your employees post about their job and that will be as engaging and effective. And this is a smooth transition to our next point.
Tip #2 Show Off Your Employees & Culture
There are so many ads and promotional campaigns that users get tired of being targets. Stop telling people how wonderful you are and instead, expose more of your working environment. Post on Instagram or Instagram stories, a teaser from your working routine. How do you start the day? What is everyone up to? What is brainstorming like? Did a child of your employee visit? Customers are looking for more than quality and affordability. They are looking for a company that cares about its employees, is fun, and has something special.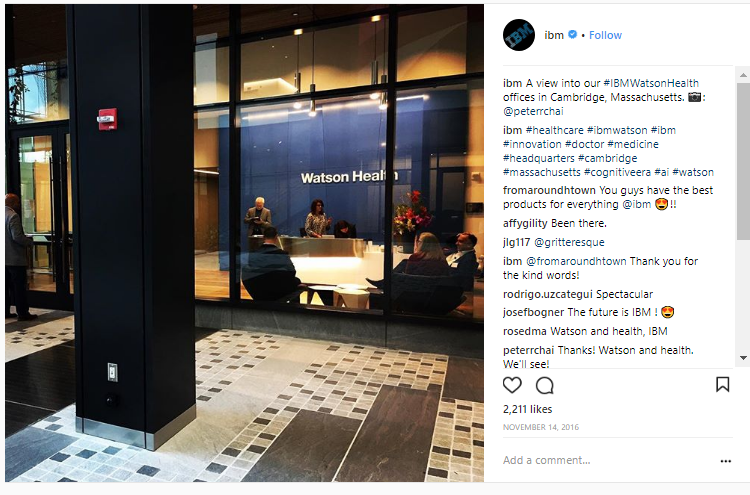 Say you are an IT company that develops software. I am not the one to tell you how harsh the competition is in IT. Imagine in addition to ads, showing one of your developers in a funny setting working on a project. If you make people laugh, you automatically catch attention and get one step closer to converting users into customers.
Post out of office hours content. I'm sure you do fun things as a team like going bowling, having a picnic, travel, etc. (if you don't then you should) Â
Tip #3 Show You Care About The Same Things Your Customers Care About
Humanize your brands, illustrate that gaining profit is not your only goal and you're concerned about what's happening in the world too. It is relatively simple to identify at least some of the interests of your customers. They are using your product or service, which means your field of operation matters to them.
If you are selling flowers and seeds, it means your clients care about nature. So, you can share eco-friendly products on your Instagram page that you think your customers will love. Or share their concerns regarding global warming, for instance.
Tip #4 Short tip tutorial
A lot of B2B companies avoid Instagram because they have no idea how to keep it active. At some point, they run out of ideas and have nothing to post thus reducing engagement level. Let me help you with that struggle a little – have a series of tutorials. I understand that it may seem like your company profile does not allow you to have tutorials. But think closely, every time you update your product or service, you can make a video about it.
If your product is an app then create a short tutorial on how to use it. For service providers, you can share tips on your Instagram page. Creativity has no limits, put it into action and you'll come up with excellent post ideas.
Tip #5 Instagram and Story Ads
Saving the best for the last. Advertising remains an efficient way of reaching more people. Instagram stories are becoming increasingly popular and so do Instagram ads. If you are not on Instagram, you are missing out on a targeted advertising platform that works. Unlike Facebook ads, on Instagram stories, users actually stop on ads and watch at least a second of them. If you make it eye-catchy enough, they will stay until the end.
Did You Change Your Mind?
I get it, the target market of B2B companies is different and you'd much rather focus your resources on reliable tools. But hold your horses for a moment – what do marketers claim all the time? Successful marketing lies in trying various tools, platforms, strategies, and techniques.
800 million monthly users. And you can reach them through Instagram.
And I hope that these Instagram marketing tips will help you to grow your B2B business. do let us know your thoughts through comments.
Related:
Benefits Of Instagram Marketing For Your Business.