In many cases, webmasters and business owners need to maintain several websites. If you're a webmaster, you work for different clients. Clearly, you need to handle several sites at once. And if you are using WordPress then it will far more easy for you to manage multiple WordPress sites at one time with a single dashboard.
If you're a business owner, you might need at least two websites. One of them will feature the products or services, and you'll use the other one for marketing purposes. Many business owners do that. If, for example, you offer Ph.D. candidates to buy superior dissertations, you can have another site where you'll feature samples of the best term papers. People will come here for great content. In each post, you'll include a call to action that takes them to the main site.
But managing several WordPress sites can be a struggle. You have to deal with multiple dashboards. All that logging in and logging out isn't fun.
You need a tool that helps you handle all sites from a single dashboard. It has to be well-organized and easy to use.
We have 5 suggestions for such tools!
List of Tools to Manage Multiple WordPress Sites from One Dashboard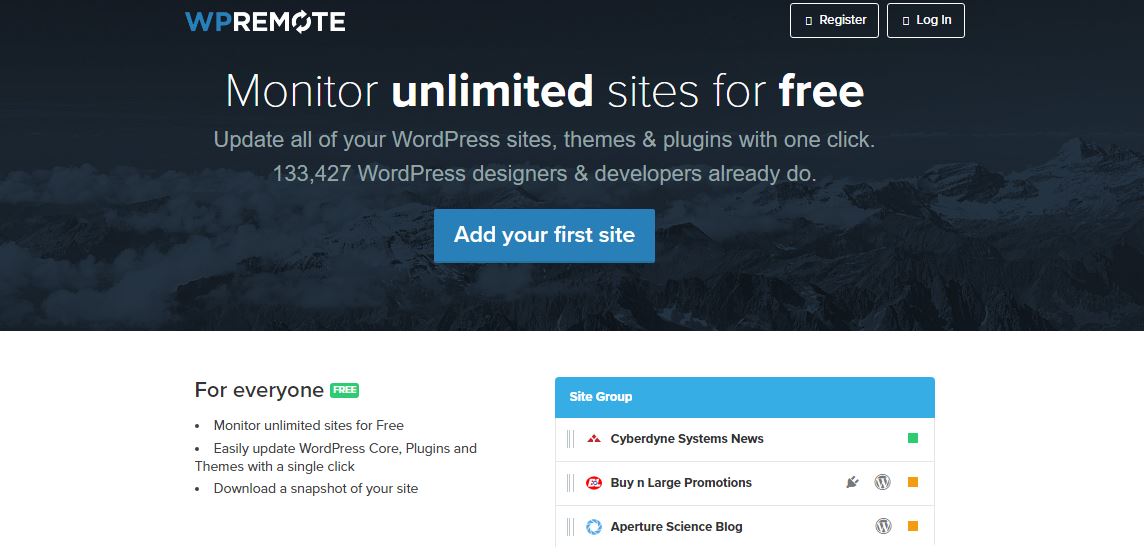 There are two main qualities to this platform:
It's free, and
It allows you to manage an unlimited number of sites.
Since it's an entirely free tool, you can't expect a massive offer of features. Still, WP Remote gives you basic functionality that's perfect for beginners. You get an intuitive dashboard, which allows you to work on an unlimited number of WordPress sites. You can update themes and plugins with a single click.
It's also safe since it doesn't ask for the username and password of a site. It relies on unique API keys to ensure that the owner manages their site.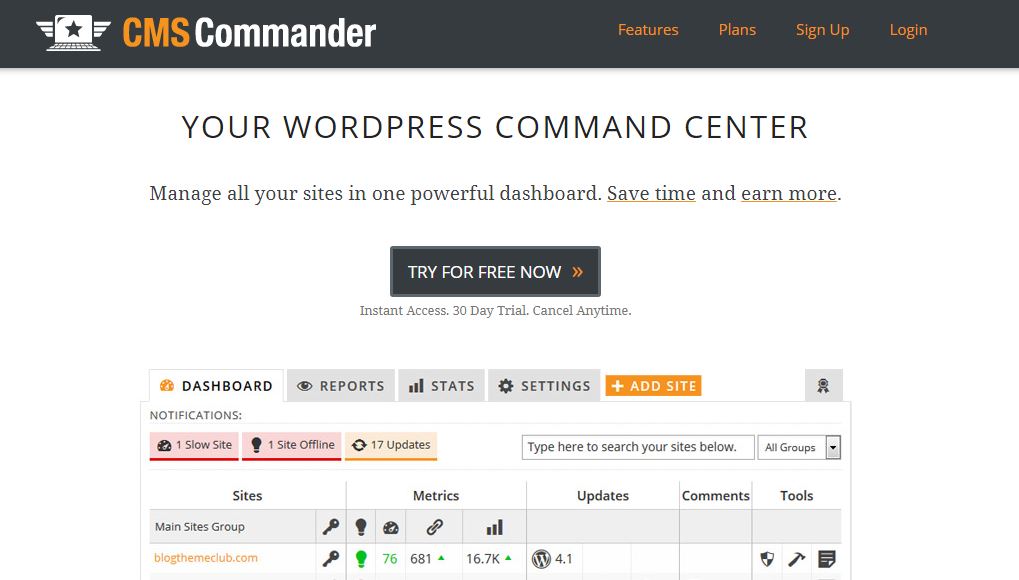 This one is not free, but it's really powerful. You can benefit from the 30-day trial version if you want to test it out and see if it's worth the money. If you decide to start paying, it won't cost too much. To manage 5 sites, you'll pay only $8 per month. The price gets higher in accordance with the number of sites you want to manage. If you want to include 200 sites in the dashboard, you'll pay $75 per month.
CMS Commander is a multifunctional tool. You can create backups, manage updates, monitor Google Analytics, and clone sites. It also supports malware scans. The best thing about CMS Commander is that you can manage the content, comments, and users for all your websites from a single dashboard.
There's also a feature for rewriting (spinning) articles. But that's just software and it's far from perfect. Spun articles usually turn out ridiculous, so it might be better for you to hire UK.BestEssays.com or AustralianWritings.com if you need more content for your sites. These are services that deliver student essays on time, but they also complete other types of projects. Real writers will handle your tasks.

This is one of the best popular WordPress plugins that are all about security and management. It's great for keeping malware, spam, and attacks at bay. It also includes a Manage feature, which enables you to control several WordPress sites from one dashboard.
It's a default feature. It enables you to manage plugins, view stats, and post content. There's a free package, but you can get better feature if you pay $3.50, $9 or $29 per month for the more advanced options.
The site management features are limited when you compare them for tools that specifically target that need. But with Jetpack, you get maximum security for your sites and an option to manage them from one dashboard.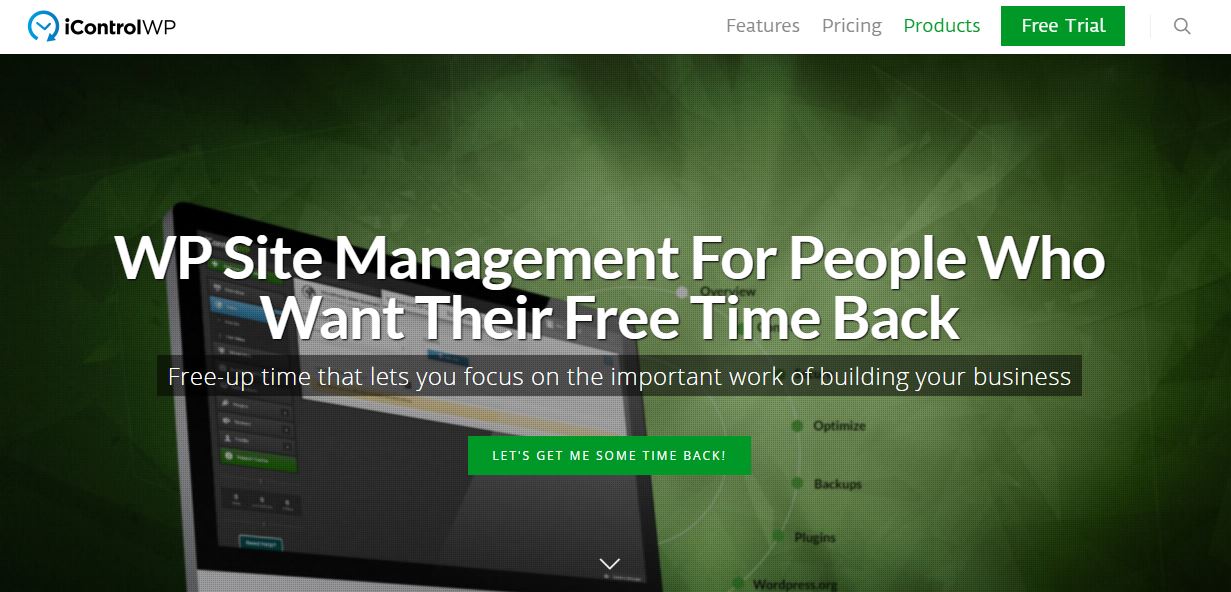 With this tool, you get really powerful features through affordable packages. The free trial lasts for only 7 days. But that's enough for you to test the tool and see if it's the right one for you. The Control package is for 10 sites. It costs $15 per month. If you want to add other sites, you can do that for $1.50 per site.
The most advanced package, Agency Pro, costs $39 per month. It includes extra features like client reporting, shield security channel, daily automatic backup, and more.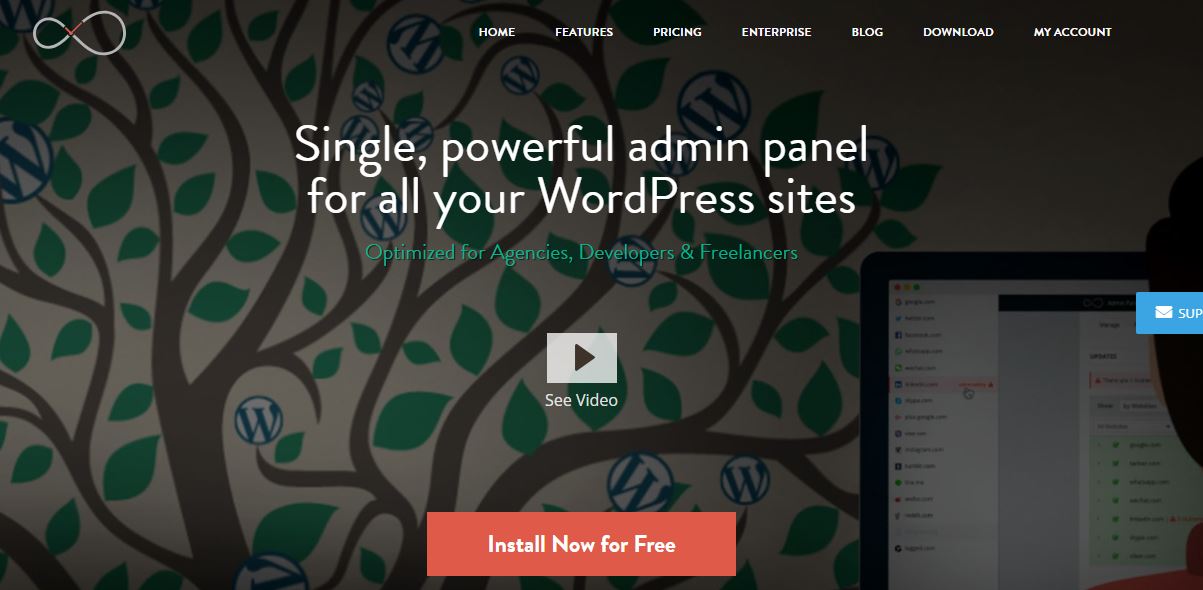 This is an advanced tool for serious webmasters and business owners. It's great for freelancers, professional web developers, and entire agencies. The admin panel gives you access to all your websites. You can update their plugins and themes, check out analytics, scan for malware, publish pots, manage comments, check broken links, and so much more.
All premium features are included in each package. The only difference between packages is in the number of sites you can manage. With the Starter package, you can manage 10 sites for $147 per year. The Agency package lets you manage an unlimited number of websites for $447 per year.
What's the Best Tool for You?
The choice depends on your needs. If you want to manage many WP sites and you want the most powerful tool to save you time and energy, then InfiniteWP is the best choice. But if you're a business owner and you already spend a lot on marketing, you might need a more affordable tool. In that case, you can choose any of the remaining four tools we listed above.