Undeniably, WordPress is the most powerful content management system (CMS) tool currently. Most of the people are using it...

If you want to change the WordPress template on a live website but don't know the proper method to do...

Your website is worthless if it is unable to attract your audiences. Despite that, if your audiences don't get...
Hosting is the first baby step to your successful online career. It is nothing but the space that you...
WordPress is a free, open-source software to curate websites, blogs, applications, and enterprise portals. It focuses on performance, security,...
Let's dive right in. Learn the 4 effective ways to optimize your landing pages to convert more visitors to...

The Google Web Stories Plugin Google introduced a new WordPress plugin to enable publishers to get more traffic across...

Do you want to move your website to another hosting company to another server? Or looking for best WordPress...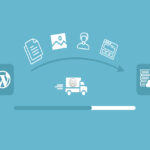 Typically, many business owners like you are a bit confused as to why you should have a landing page...