A lot of people face problems merging two Facebook pages. But some people don't even know "How to Merge Two Facebook Pages?".
You may be one of the people facing this problem, and don't know How to Merge Two Facebook Pages. You have come to the right place, here we will tell you an easy way to merge two FB pages. I will explain, how you can merge two pages and perform these simple steps.
Do You Know? Facebook offers an option where you can merge two pages. If users have one Facebook Business Page and one personal Page, they can combine both pages. But please make sure that any ads you are running on the page are not pointing. And if this happens the Page will remove ads before sending your merging request, so please check it too.
If any user has two Facebook pages of the same Business, You can also merge them very easily. But there are some criteria that you should know to do, and these are the following criteria:
If any Facebook user wants to merge pages, both have to become the admin of the Facebook page. That is mandatory.
Update the 'about' details on Both Facebook pages to provide a similar Detail about the service and make ensure that the same page is mentioned, along with your same mobile number and also with a similar description. That means users should have common names on their Facebook pages and show items with similar names.
Their physical addresses must be the same, which means they should have the same address on both of their Facebook pages.
If a Facebook user has to merge both his Facebook pages, then it is important to fulfill all these three criteria before Merging both his Facebook pages. Only then will he be able to Merge his two Facebook pages.
Steps to Merge two Facebook Pages
If you do not know how you can merge your pages and you want to Merge them, do not worry, here we will tell you how you can Merge your two pages for this, you need to follow Facebook Merging steps given below:
Step 1: You can open your Facebook account with the help of a Facebook app on your mobile, or you can open your account with the help of any web browser, and you will have to log in to your account by visiting this website of Facebook.
Step 2: After that, you have to go to your Facebook account and click on the page option. After that, a merge option will come, then you have to click on it.
URL: https://www.facebook.com/pages/merge or else you click on this URL, and it will take you directly to that page.
Step 3: Now, after the 2nd step, you need to choose two Facebook pages that you want to merge and select it if you want to Merge your two Facebook pages.
Step 4: After Selecting the two Pages option then you need to click on Continue Button.
Step 5: Now, At the last, you have to go to the request to merge option, and then the merging process will begin. And after they completed the full process you need to End up these two Pages process with one Page.
You can see the below screenshot for the same.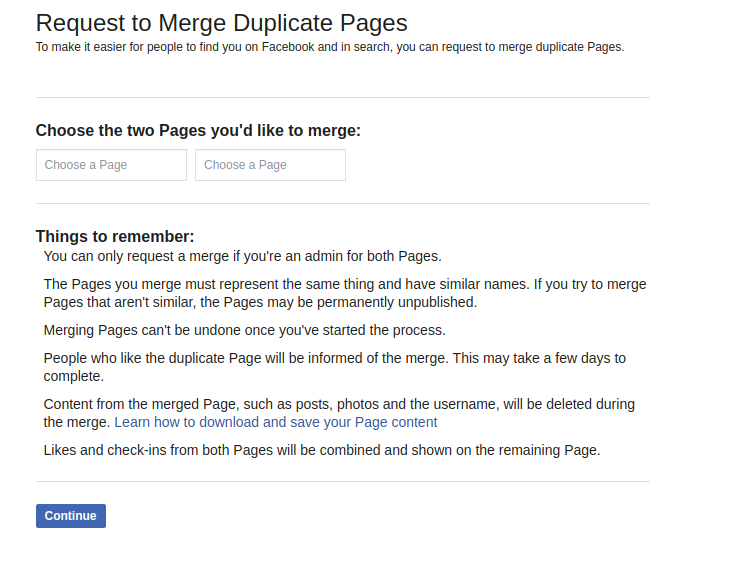 After following all these steps, you have now merged your Fb pages, and after following these steps. if you have not yet been able to Merge your two pages, let us know that Your Facebook page is not eligible for merge. And check one more thing, if the option to merge is available on your Facebook page and you see it as well, then you can message Facebook teams about reviewing this request about why your two Facebook pages are not Merged. Why you were not able to do this? If you failed to do this, the Facebook team will help you merge your pages. If for some reason it is not happening, they will talk to you and ask you to fix it. When you are done with this, you will be able to merge both pages very easily.
After successfully Merging both pages, then the user can update your cover photo and profile photo. And also add some attractive and relevant information to your description. When done, the user who is looking at your Facebook profile can make a good impression on him/her.
Suggested:
How Can Facebook Ad Courses Help Improve Your Marketing?
The Basics of Messenger Secrets For Facebook Courses.
Instagram vs Facebook: Which Is Better For Your Business?