Social media platforms involve user engagement every single day. For a business to grow extensively, marketers need to study all the social media platforms and then launch an integrated campaign targeting their consumers.
It is shaping any business or brand, by penetrating into the minds of users in every corner of the world. A recent survey revealed some of the top social networking sites people are currently occupied with. Among these Facebook topped the list, followed by Twitter, LinkedIn, and YouTube and then in the fifth place is Instagram.
For business promotions, brands are more likely to use Facebook and Instagram due to its capacity to reach the desired audience directly, enhance sales, develop a brand image and so on. But to understand which one would work best will help immensely to form the base of campaigns and lead to a better Return on Investment (ROI).
Let's find out how each one is relevant and better for your business.
Consumer Engagement
According to Statista, Instagram, founded in 2010, have 1 billion monthly and 500 million daily active users as recorded in June 2018. Another Instagram analysis showed that 200 million visits a business profile once daily, 80% of them follow at least one brand and 75% end up taking actions.
Facebook, founded in 2004, had 2.32 billion monthly active users in 2018, Statista recorded. These numbers evidently show a double amount of Facebook users than on Instagram. But in the case of consumer engagement, the scenario is different for the former. There are about 50 million Facebook business pages and among them, 93% invest in advertising regularly. But only 32% of users engage with these brands regularly. Facebook still accounts for more number of users, meaning a wider reach than Instagram.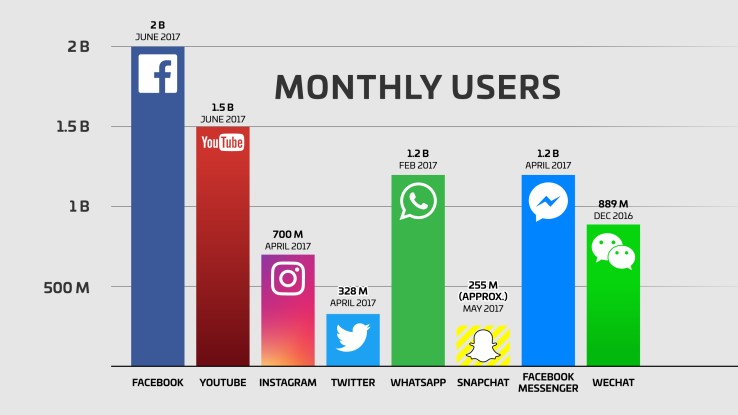 Demographics
Understanding the demographics of each is also vital, as every business caters to the need of a particular set of the target audience. Looking into some Facebook statistics, it was found that 88% of users are 18-24 years of age and 84% were 30-49 years of age. Apart from that, 62% of users from the senior section are 65+ and 72% are 50-64 years of age. Facebook clearly offers better visibility for the middle-aged to older age groups. If your business targets this section then reaching them through Facebook is more beneficial.
On the other hand, Instagram is dominantly used by teens. To affirm, according to a survey, 59% of Instagram users are of 18 to 29 years of age and 33% are between 30 to 49 years of age. Instagram mostly includes fashion, photography and beauty industries which relate more to the younger generation. Companies hire an Instagram influencer, having a decent number of followers, to establish a brand image among desired target audiences. The process is pretty basic.
However, Facebook provides easier access to channelizing users to a third-party website. Unlike Instagram, it does not allow link sharing facility for a particular page, unless the post is public.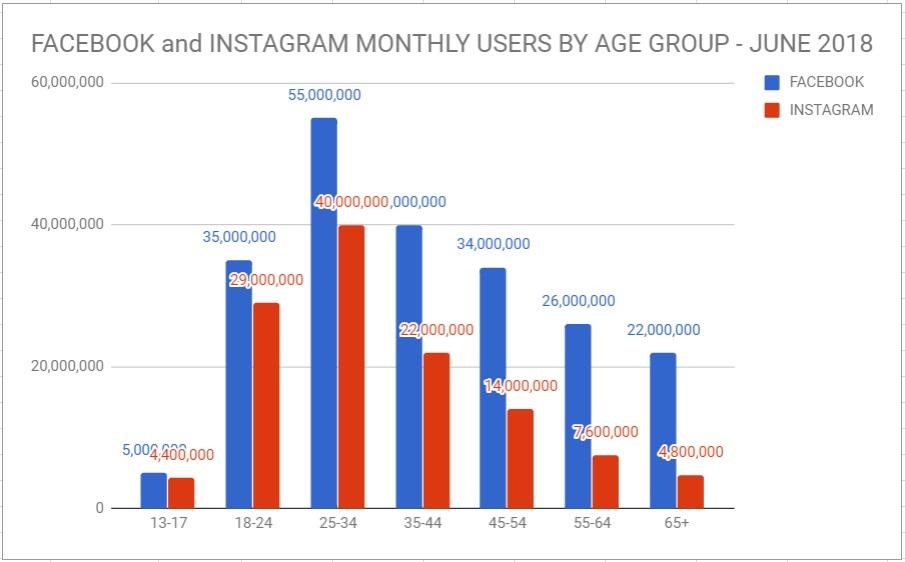 Advertising
Every business sets aside a budget for media marketing. Social media advertising facts disclose some statistics, wherein it is shown that ad investments are going to hit $47 billion dollars in 2021, which is more in comparison to $32 billion invested in the year 2017. For social media advertisements, Facebook and Instagram are the easiest options due to the larger number of engagement seen every day. Adding to that, revenues from advertisements are the main source for the functioning of social media networking sites.
Let's compare now. For advertisements to attract consumers, it needs to hold on to their attention for a longer period more than any other normal feed. Facebook ads, doesn't seem to be appealing, as they are put up in a manner which instead detaches and puts-off the viewers. There might be various other reasons for Facebook ads not resulting in the desired conversion.
Instagram adopts a different approach which includes putting up stories and this according to one study has 23% higher conversion rate in comparison to Feed ads. An Instagram story fascinates users more and it also provides scope for innovative and creative ideas of presenting the products. Facebook offers 11 ad formats, whereas Instagram offers only 5. As an advertising channel, Facebook has the highest traffic with 13.9% visitors followed by Snapchat, Google and Instagram in the fourth place with 3.9% traffic to their websites.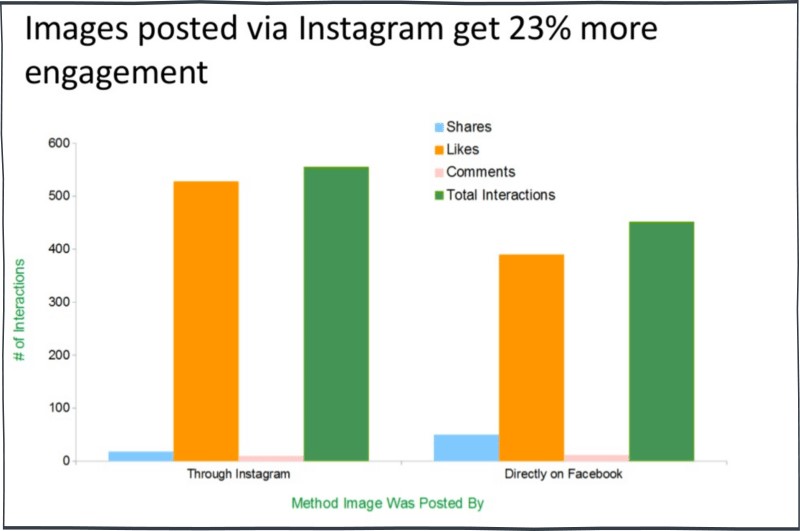 Mobile Friendliness
We need to admit the fact that getting your business a probability to enter into the lives of consumers, is much more likely to happen when done through mobile phones or tablets. The generation is so where mobiles are the only tech objects attached to humans the entire day. Now, which of the two social media networking sites accommodate most for business? While both have easy access through a mobile application as well as a web browser, yet Instagram seems to be smoother through mobile applications. It easily navigates users to different pages via mobile than through a PC. Browsing it via laptop or PC includes certain usage limitations.
Facebook, on the other hand, is easier to operate on any platform. For a campaign to reach your audience, developing a mobile-friendly content would go a long way in creating the impact. Facebook has recently introduced the concept of stories, yet Instagram remains the leader.
Marketing Strategies
Facebook campaigns occupy third place after SEO and Google AdWords in achieving marketing effectiveness. As mentioned above, Facebook currently has 2.7 billion active users which offer a higher probability of reaching out to more audiences. Also, with a variety of ad formats and instant tracking with the help of Facebook pixel, marketers are gaining immense benefits. It also allows direct access to demographic information from the Analytics page which in terms of Instagram one has to switch to a business account. In terms of organic reach, which means a number of people accessing content without any paid promotions, Facebook falls behind Instagram. Instagram is more driven by the #tag trend.
Instagram marketing is more of creating brand visibility through pictures or videos. If we take visual effectiveness into consideration, then Instagram is performing better. Facebook has an average conversion rate of 4.7% and Instagram with 3.1%. Clearly, the picture application generates lesser conversion rate, but if user count is again taken into consideration than it is a lot.
Both these two social media platforms are similar in many ways, yet different in terms of engagements and layouts. To end this riddle of which one would suit best for your business, it would be advisable to actively be present on both Instagram and Facebook. Each offers a different user experience and the conclusion should not be on the basis of statistics. Not everyone likes to post pictures or follow random influencers to buy a product. For which Instagram may not be relatable. Facebook tends to be a more reliable source for this section of the audience. Hence, to sum up, even though Instagram appears to be a more practical option for business promotions and campaigns, yet it is necessary to go with a dual strategy. After all, Facebook owns Instagram and has all authorizations of the app's privacy policies.