Thinking of finding someone special online. If you do not want to spend any money on Dating apps, you can try activating Facebook dating. If you don't know how to activate Facebook dating, Then this post is for you.
Select the menu icon which appears to be a hamburger located at the extreme right corner. After that, tap on Dating. Follow the instructions which are visible on the screen to create a profile.
Configure Facebook Dating settings. You need to select the gear icon and then choose General. Adjust the criteria to perfect matches, so that you can even get the Instagram profile that is linked with the account. You can also improve your social media experience by buying social media follower
For deleting the profile you've created on Facebook for dating, all you need to do is select the gear icon and then choose the General Tab in which there is an option to delete the Facebook Dating profile.
The dating feature that Facebook comes up with is a combination of the top downloadable apps Bumble and Tinder. These apps focus on dating only hence their popularity and their functioning accordingly. Let's see how you can activate it to come across as appropriate to perfect matches. This information will apply to both the platforms Android & iOS.
Keep in mind that Facebook dating is generally more useful for people who have wide social circles or for those who live in busy cities. So if you fit into those categories, you should be able to find some success on Facebook Dating. But if you're not from a big city with tons of people or if you don't have a ton of friends on Facebook because you're an introvert, there are other apps worth checking out.
This list of the best dating apps for introverts might suit you better, especially if you don't consider yourself well-versed in the world of dating apps. These introvert dating apps are pretty easy to use because they don't require you to be an expert conversationalist. They often have features that allow you to showcase your personality through your profile without making you chatter away with a ton of different users. Try them out while also using Facebook Dating to increase your odds of finding your ideal partner!
How to turn on Facebook Dating?
Before you can turn on Facebook dating, you must optimize and boost your Facebook profile. Next, follow these steps to start Facebook dating:
Start the Facebook application and click on the hamburger menu which is on the upper right side of the "Your Feeds" tab. Use the link by clicking here.
Then click on Dating.
Now you need to follow these instructions which will help you set up a dating profile. Once you share your location and add a photo to the account, the profile will be created using this information.
You can customize the dating profile more by uploading more info, pictures, and Instagram posts. Whenever you feel all set and you are good to go, tap on Done to wrap up the process.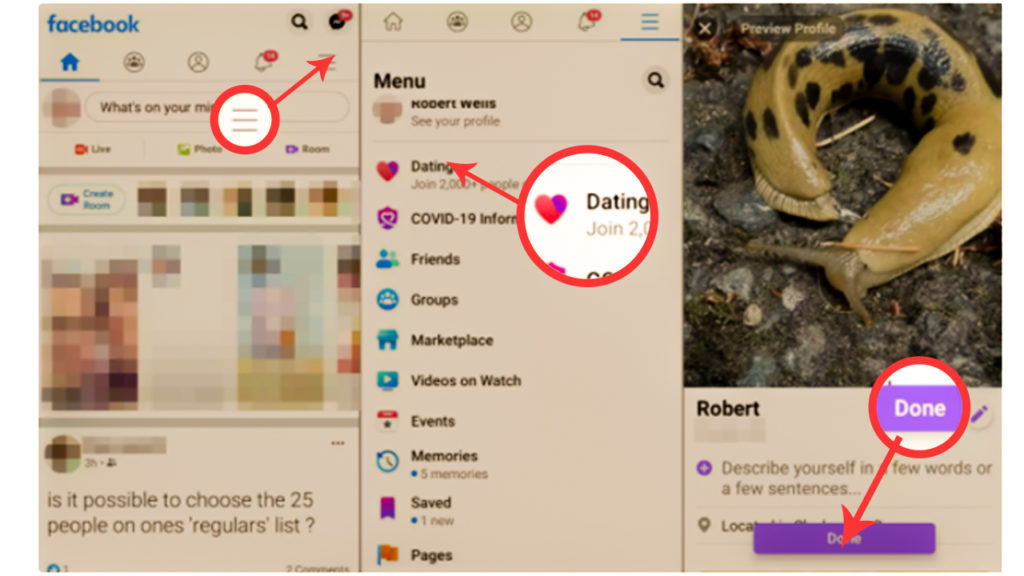 Understanding the Concept of Facebook Dating
Facebook Dating is one of the latest updates from Facebook which assists you in making romantic relationships with the help of the world's social network. Basically, what Facebook does is use the information present on your Facebook account at your current profile to suggest probable matches. It is based on shared interests. Then, according to that others with matching interests suit your profile. And it gets an activation. How to Activate the Facebook dating feature? can be solved with understanding.
In some cases you delete the Facebook messages then you have to Retrieve Deleted Messages On Facebook instantly. It is very easy to do it.
The functioning of Facebook dating is very much like Tinder and Bumble as in these applications you can't send messages to other users until and unless both express interest in each other. The application will not recommend any of the friends that you associate with on Facebook. Similarly, the dating profile is not visible to any of your Facebook friends who use the dating function of the platform. Nevertheless, a user can add each other to the list of secret crushes, so you could match with a mate if they have a crush on you.
Important: Facebook users who are under the age of 18 years will not be able to use Facebook Dating.
Facebook Dating How to activate: How does it actually work?
Prior to enabling the Facebook Dating feature, you need to create or set up a Facebook user account. As the dating feature gets all your information from your user profile, you should try to fill in all the details to the maximum limit.
There is no such thing as a Facebook dating site or a dedicated app to suit the purpose, this new feature of Facebook has been integrated into the mobile applications only.
Any kind of content and pictures you share or post through Facebook dating do not reflect on your user profile. The conversations that take place on Facebook dating are kept separate from FB Messenger. So if in case you are looking for someone special on Facebook dating who happens to be on your Facebook account too, their profile is visible to that user only.
Important: Facebook dating functionality is unavailable on the Facebook official website. However, there is a separate page for the FAQs for people who have queries about Facebook dating.
Note: The dating feature is not available on FB's website, but there is a page for frequently asked questions about Facebook Dating.
FB dating: How to use it?
FB dating will start suggesting profiles of other users on FB dating gradually. To see your suggestions on FB dating, you can visit the dating section on the app itself.
You can tap on the heart of FB dating profiles which will inform them you liked them, or else you can tap on the X prompt to give it a pass. And if someone liked your profile back, you can start chatting with them.
And if you get lucky, and someone pushes a like on your dating profile, you will be informed with a notification. You can tap on the profiles of those people to send a like back. Along with that, you can also leave a message and begin a conversation with them.
All of your matches and the conversations can be seen by selecting the Matches to prompt at the top of the application.
At the bottom of your user profile, you can select to revert a query that is random in nature which will assist FB to enhance itself and get better matches for you every time you answer a question.
The profile page in the beginning usually looks dull and empty, but you can share and add your posts from Instagram which is at the bottom of the profile page.
FB dating: Configuring it for a better result
Just making a few changes in the settings will definitely give better results to you and how it delivers the best matches.
Choose the option from the screen which is a gear icon, it is where Facebook recommends profiles to get through the configuration settings.
There's a tab labeled Ideal Match whereupon you can choose the specific niche for probable future matches. The tab labeled General is a place where you can decide what should be visible on your user profile.
In order to get your Instagram account linked, you need to choose the option known as ellipses [it looks like …] placed right beside Instagram.
Select connect stories and later use the connect option visible as buttons that let you share both Insta and FB stories together.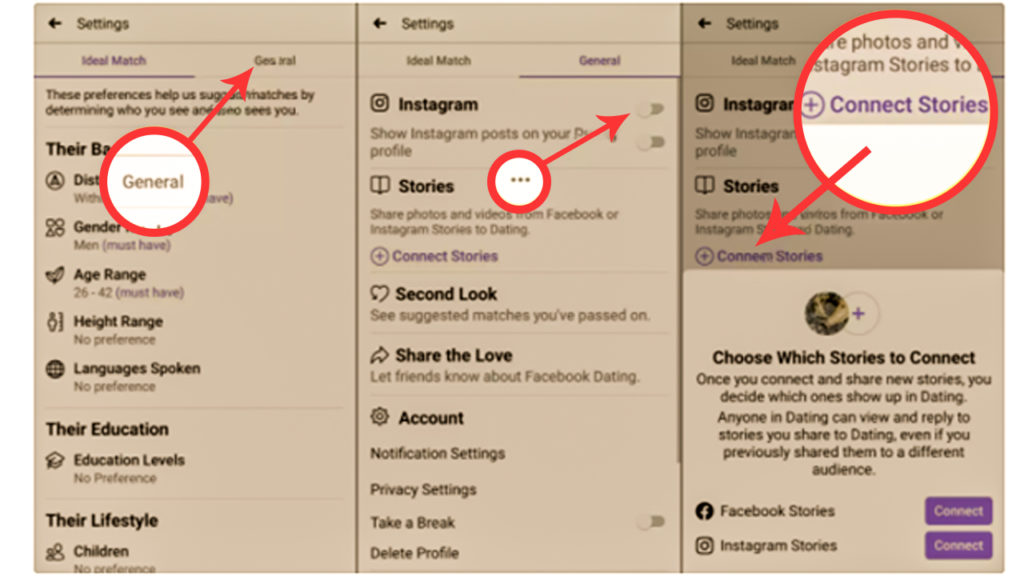 FB dating: Secret Crushes
The secret crushes feature from FB dating allows you to come across cup ties of your friends from both Instagram and Facebook. To get that done, you need to get down to the bottom of the page wherein Facebook has gathered some suggestions, You can tap on Secret Crush.
Herewith the Secret Crush feature you can cup tie with your friends on either Instagram or Facebook.
Now you can choose friends on Instagram and Facebook. And if they tend to use FB dating, they will be informed with a notification that they are under the radar of someone. If they add you back, then it's good to go, and you are ready to match.
Facebook Dating Profile: Deleting it!
Delete your Facebook dating account without any harm, such as deleting your main FB user profile! Nevertheless, deleting the FB dating account will have you removed from FB dating once and for all. So to get this done, you need to choose the gear option on the main screen, This is where Facebook recommends your profile to get to the account settings.
Now you need to choose the general tab.
Choose to delete the (FB dating) user profile in the account settings.
A question will be asked to you, saying "Why you are deleting the Facebook dating account Provide a reason. After selecting a reason, you can tap on Next to finish.
How to Enable Facebook Dating?: For your safety
Prior to you seeing someone or meeting someone face-to-face, you should share this with someone you trust such as a family member or a close friend, and keep them informed about it and where you are headed.
It is a great thing to have a bit of conversation with such new people either on FB messenger or on text for your own safety.
If you wish to block a user so as to bar them from contacting you and taking a look at your profile, you can easily do that in the FB dating settings.
Suggested:
Can You See Who Views Your Facebook Profile, Story, Videos, and Page?
How to merge two Facebook Pages?
The Basics of Messenger Secrets For Facebook Courses.