Are you weary of editing material for hours on end to make it distinctive and unique? Then you are not alone. For writers, students, and professionals of all kinds, paraphrasing is a vital skill. who want to stay credible by avoiding plagiarism. Paraphrasing Tools can make your life much easier.
Fortunately, there are a number of time- and labor-saving paraphrase technologies accessible in 2023. You may paraphrase any kind of text, from academic papers to blog entries, using these simple, precise tools. These tools can facilitate your writing process and boost productivity whether you're a student, blogger, or professional writer.
What is Content Creation?
Content creation is the process of developing, producing, and distributing digital media. such as articles on social media, blogs, movies, infographics, and books. The purpose of content creation is to amuse and inform a certain audience. frequently with the goal of improving brand recognition, fostering thought leadership, or promoting a good or service.
Producers of content use a range of techniques to create high-quality, distinctive, and interesting content that appeals to their target audience. For content development to be successful, the target audience must be fully understood.
Top 5 Paraphrasing Tools for Content Creation
An online program or software that can be downloaded is a paraphrasing tool. It rewrites information, feelings, or thoughts using other words or altering the sentence structure to make it stand out.
You might be able to better express yourself and write better essays with the paraphrasing tool. There are numerous paid and unpaid internet paraphrase tools accessible. Here, we'll examine the top 5 online paraphrasing tools in 2023.
1. Quillbot.com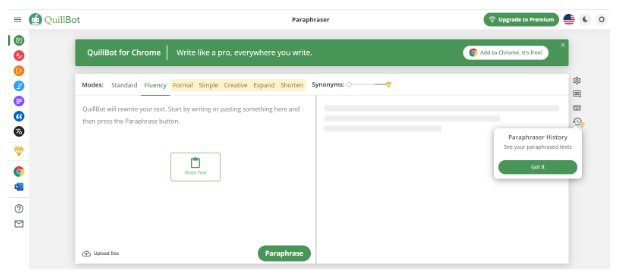 In terms of accuracy, Quillbot's paraphraser tool might be the best. There is no usage cap on this paraphrasing tool, however, it can only translate up to 125 words at a time. One of its drawbacks is the support for short word counts. The word count can be raised with a commercial version, though.
Seven different content tone-changing modes are available. Only two of them are free to use; the others need payment. The two free modes, however, use AI and can deliver precise results. Finally, it is possible to freely and simply export paraphrased text.
Certain phrases are paraphrased, and the altered word is highlighted with a different color. This web tool's ability to paraphrase information without changing it is its strongest feature.
2. Paraphrasing.io

Making writing simpler was the major objective of this paraphrasing tool. This tool allows phrase-level, sentence-level, and paragraph-level rephrasing of the text. Changes to the grammar and syntactic structures provide entirely unique and error-free material.
To rewrite your material in a distinctive tongue that sets you apart from the competitors, use Paraphrasing.io. To make your writing more unique and imaginative, change the words you use and the ways in which you combine them to form sentences.
To make the text distinctive, paraphrasing.io removes redundant phrases, clauses, and sentences. This device improves your grammar, punctuation, and diction to raise your readability rating.
3. Copy AI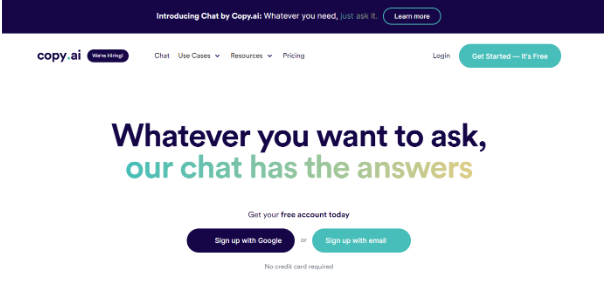 Another cutting-edge AI-based paraphrase tool that can assist you in producing more interesting and expert material is Copy AI. The "Freestyle" template is one of Copy AI's most notable features. It enables you to precisely communicate to the AI the type of content and tone you want to produce.
Paste the words you want to rework after you enter the material to paraphrase and add any necessary instructions. Copy.ai offers several possibilities, in contrast to other article rewriting programs that only provide you with one version at a time. Allowing for minimal customization while still allowing you to easily pick the version that best suits your needs.
With a variety of templates and choices, Copy is one of the best AI article rewriting programmes out there.
Copy AI has the ability to produce written content rapidly and accurately.

The user interface is straightforward and uncomplicated.
4. Article Rewriter Tool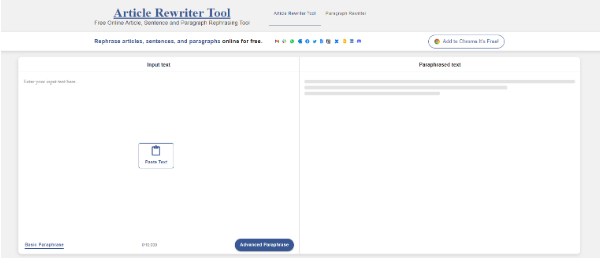 Your writing process is made easier by an article rewriter, which uses cutting-edge AI algorithms. It allows you to quickly rephrase any form of content. It enables you to completely original your writing so that it can stand out with better terminology and no copying.
Users from all over the world have free, unrestricted access to text rewriters. No premium plan must be purchased, and no registration account must be made. Every time you restate your material, the article rewriter makes sure the quality is raised. Rewrite your material to make it more understandable, interesting, and easy to read.
This tool operates without any delays or mistakes.

Users can easily add content and modify it to suit their needs.
5. Spin Rewriter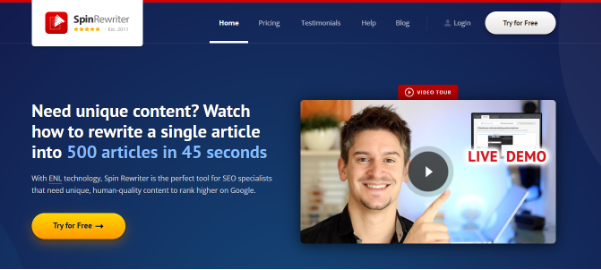 Spin Rewriter is a web-based paraphrase application that rewrites information using cutting-edge algorithms. You can compare your original text and the rebuilt content using the text comparison option provided by Spin Rewriter.
You can easily rewrite your material with Spin Rewriter's manual mode. For individuals who need to swiftly rewrite big volumes of information, the automated mode is also fantastic. Because it enables you to see exactly how your revised text relates to your original content, the text comparison option is extremely helpful.
For writers who need to rapidly and effectively rewrite their content, Spin Rewriter is a terrific tool.

You can produce original and interesting material quickly with Spin Rewriter.
Conclusion
You can write original articles with the aid of paraphrasing tools. Only a small portion of the numerous paraphrase tools that are accessible online are covered in this article. Make sure to take into account aspects like the tool's accuracy, usability, and output quality while selecting a paraphrasing tool. You may develop unique, interesting content that will capture your viewers using the correct paraphrase tool. It's crucial to remember that rephrasing tools should be utilized in addition to, not as a substitute for, your own writing abilities.
Suggested:
Free Grammar And Punctuation Checker And corrector.
Online Grammar Checker Tools To Avoid Grammatical Errors.
The best Grammar checker tool I have used.