eBay is a very popular platform for buying and selling goods. It is one of the most popular and largest eCommerce platforms worldwide. It turned many small sellers into powerful sellers and made their businesses profitable. However, eBay has many disadvantages. That's why we are finding the best alternatives for eBay and in this article, we are going to tell you the best Websites like eBay.
Need to find an eBay alternative
Undoubtedly eBay is one of the biggest platforms in the eCommerce business, but eBay has some disadvantages.
High Fees and costs
When you are working with eBay or want to work with eBay, firstly, you need to know about the fees and costs of eBay. When you list any product on eBay, you have to pay the fees for listing the product. The fees include a layout for your product, subtitles, and photos of your product. These fees and extra costs will lower the profit of the people.
Less Flexible
The policies of eBay are less flexible than any other eCommerce platform. When listing any product, you must follow eBay's policies and guidelines. There is also a limit on keywords. You can only use some specific keywords on your product listing. It is also the main problem why we are looking for an alternative.
Best eBay alternative websites – Websites like eBay.
Amazon is a popular eCommerce platform with an extensive customer base. Amazon mainly focuses on its buyers. If you plan to list your products on Amazon, you can list your products free of cost. You have to give 1$ per item sold on amazon. Amazon is generally famous for its large and massive customer base. In listing charges, eBay takes listing fees from their sellers and commissions each item sold, while on Amazon, you don't have to pay any fees for listing your product.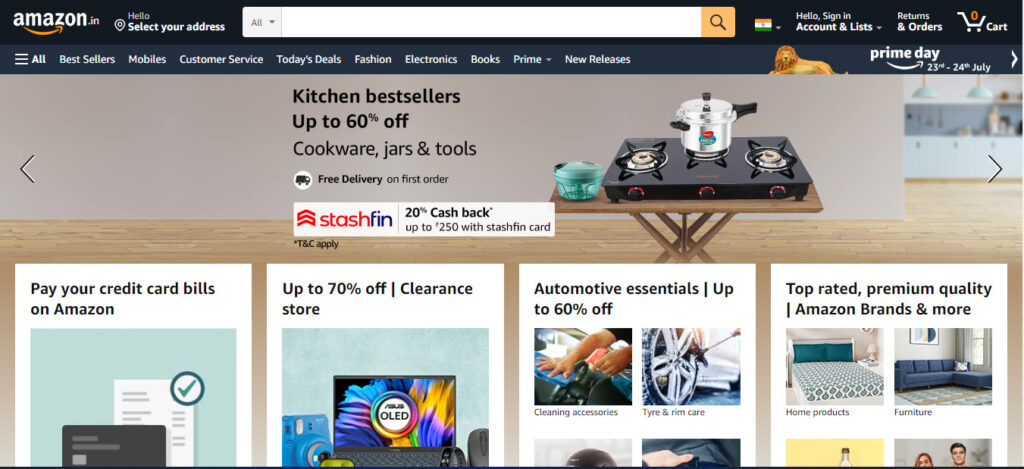 Advantages of Amazon
Amazon has a huge and wide customer base
You can list your products for free
Best choice to list your products
Disadvantages of Amazon
Competition with amazon's products
High competition
If you are planning and want to sell your vintage items online, you can list your products on the Etsy marketplace. Products like handmade items, craft items, etc. It is a very safe website and very popular for selling your products.
Etsy is the top choice for people to sell and buy products. Etsy was developed and started in 2005 for creative people to sell and buy things. It is similar to eBay. They also charge listing fees on eBay for up to 30 days, but on Etsy, you can list your product for 120 days. Etsy charges only a 0.20$ fee per item and a fixed commission of 3.5%. It makes Etsy very cheaper than eBay.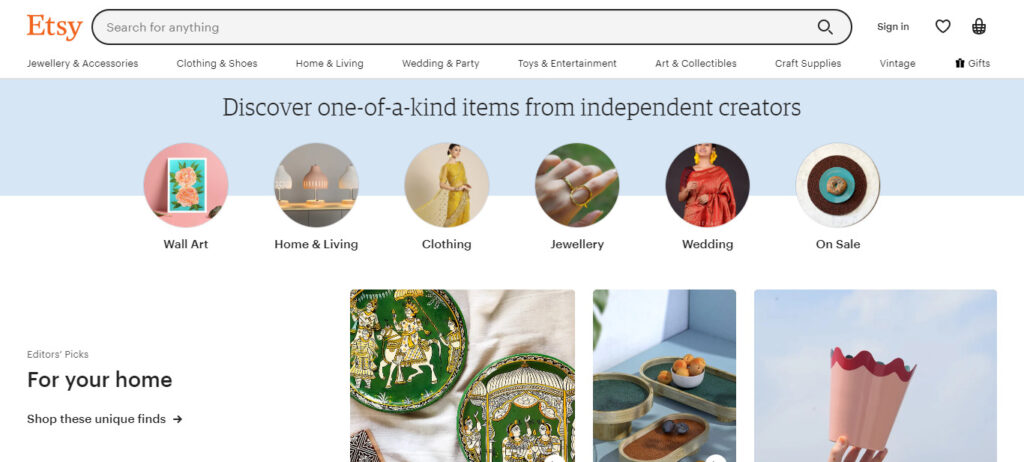 Advantages of Etsy
Best platform for buying and selling vintages items
You can list your products for 120 days
They charge only 0.20$ fee per item
Disadvantages of Etsy
Not has an extensive customer base
Only niche-specific market
Bonanza is not very popular as eBay because Bonanza is new to the eCommerce business. The website has a very good rating. It is ranked at the top when it comes to seller choice. Bonanza does not charge any listing fees but collects a commission. And the website charges 3.5% on the 500$ sale amount. Bonanza gives you a greater percentage of your sales. Bonanza is a very popular website, and you can list your products for free because Bonanza does not charge any listing fees.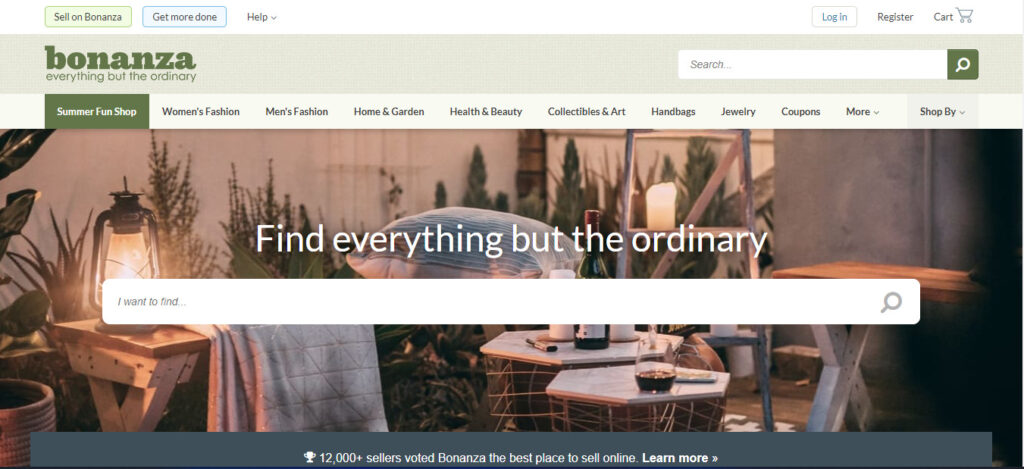 Advantages of Bonanza
Wide range of products
Free listing of products
Disadvantages of Bonanza
Low customer base
Best for unique items
eBid is similar to eBay, has a huge customer base, and is a very popular website for buying and selling products. However, if you want a cheaper website to list your products, you can go with this website. Starting on eBid, you can start for free and with a low commission. eBid has a wide range of items. You can also pay your commission one time instead of paying it every time. eBid is a very good alternative to eBay, and you can go with this website if you are looking for a low-cost website.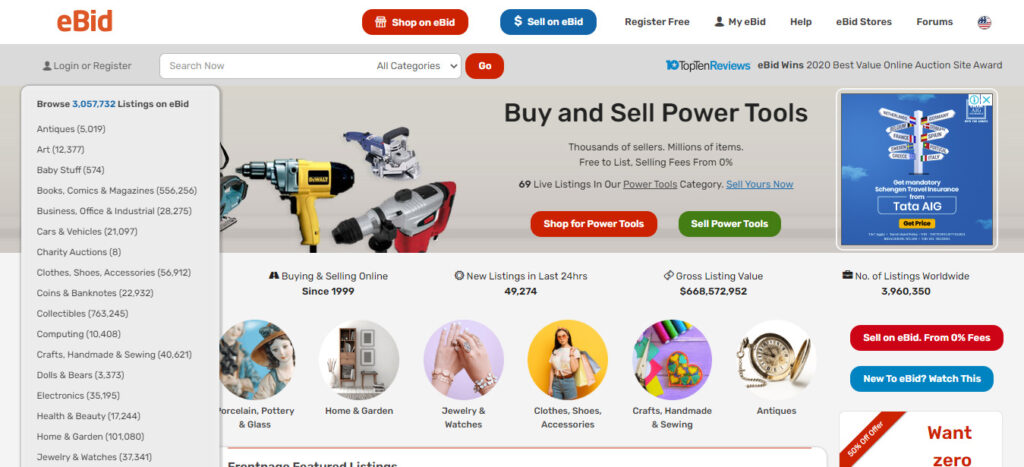 Advantages of eBid
Listing items on eBid is free
Low commission fees
Very popular for low-cost services
Disadvantages of eBid
It comes in the list of one of the best online buying and selling platforms because this website is 100% free. You can sell your products without paying any fee on the eCrater website. There are also several types of templates from which you can make a free online store. It also offers you to shift your products from eBay to eCrater. You can build your store on eCrater free of cost. Only you have to pay 2.9% of the item.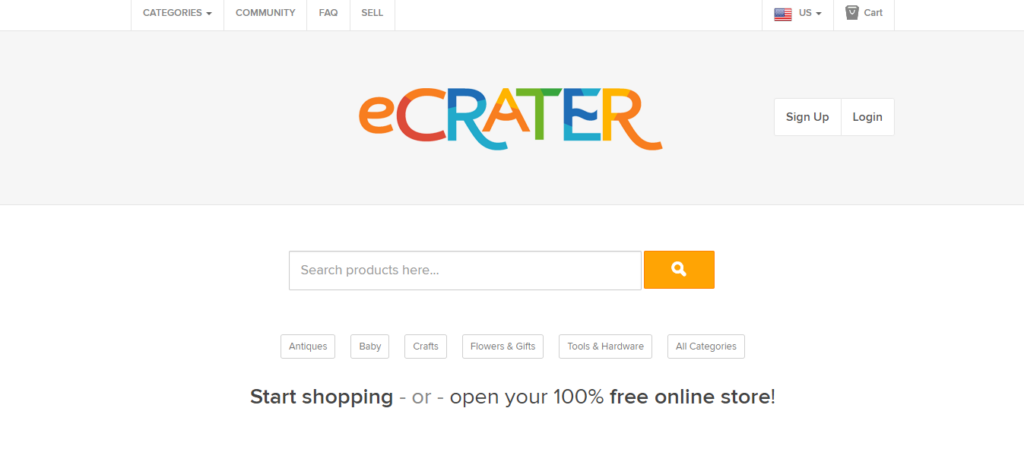 Advantages of eCrater
100% free to create an online store and sell your products
Free templates to create your online store
Only 2.9% of fees are charges
Disadvantages of eCrater
You have to spend a lot of time
And you have to drive traffic to your store
Facebook Marketplace is new to the eCommerce business. Still, we can't ignore it because Facebook is the most popular social networking app and has more than 2 billion users worldwide. And for the community of Facebook, you can build your store on the Facebook marketplace, and Facebook does not charge any fees. It is easy to list your items on the Facebook marketplace and sell them. But on the Facebook marketplace, you don't get the same protection as eBay and scam offers. Ignoring the downsides, you can go with the Facebook marketplace.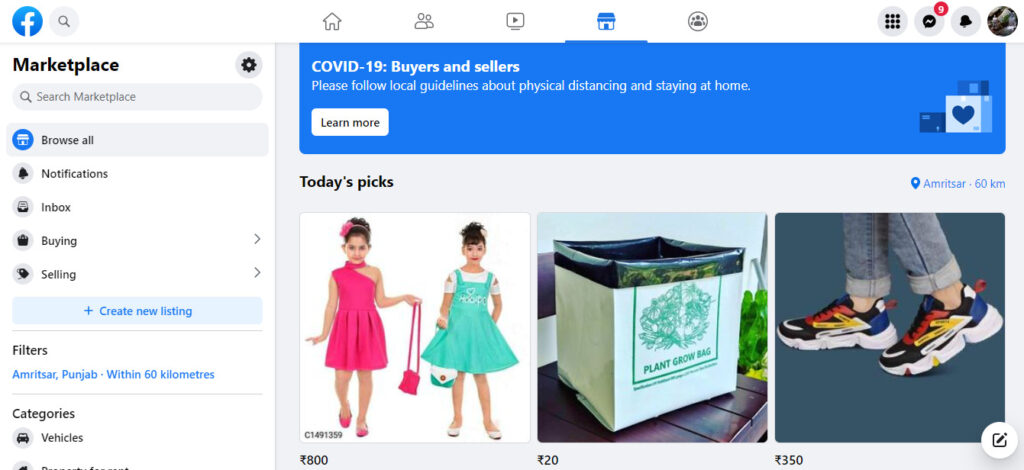 Advantages of Facebook Marketplace
It is free to use
Used by the regular community on the Facebook
Disadvantages of Facebook eCommerce Marketplace
Less protection than eBay
You will get some scamming offers
Suppose you are looking for the best online eCommerce platforms. On everything you can list, then you can use Newegg. It comes on no1 for tech products. From computers to smartphones, all electronic items are covered on this website. This website is California based and has many distribution factories across the world. It operates in more than 50 countries. It provides many services to its users, such as monthly and annually. They offer different memberships. The higher the membership more products you can list. But you have to pay the commission. 
It also provides you with a guide from which you can also get more traffic to your website.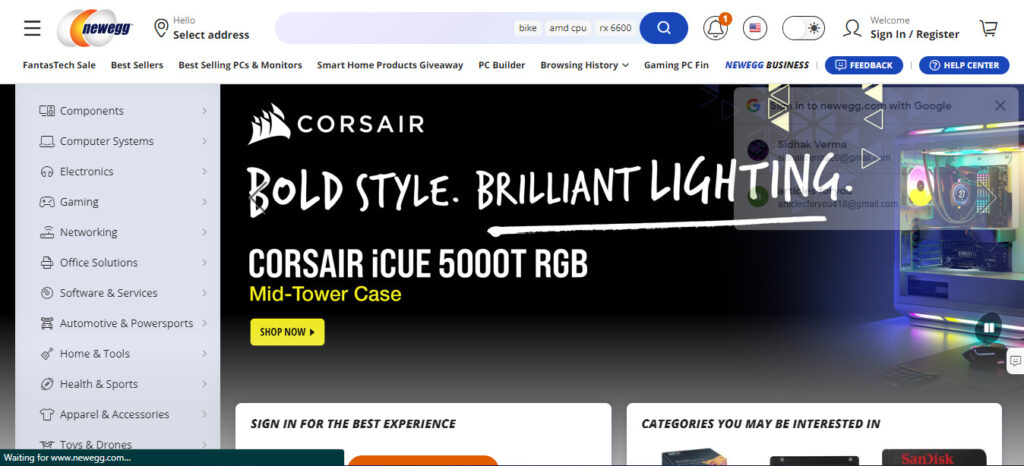 Advantages of Newegg
It provides service in more than 50 countries
Several membership options
Disadvantages of Newegg
On this website, you can get mostly tech products
Ruby Lane's website is developed to buy and sell vintage items, jewelry items, and many other unique articles. This website is very popular for these types of unique items. Ruby Lane is a niche-based marketplace that is only popular for these types of unique items. Ruby lane is mostly used in the countries like Canada, Australia, etc. They do not charge any commission, and you only have to pay the 0.20$ listing price per item. The cost of using the Ruby Lane website is very high, but if you need a trusted marketplace, you can use the Ruby Lane website.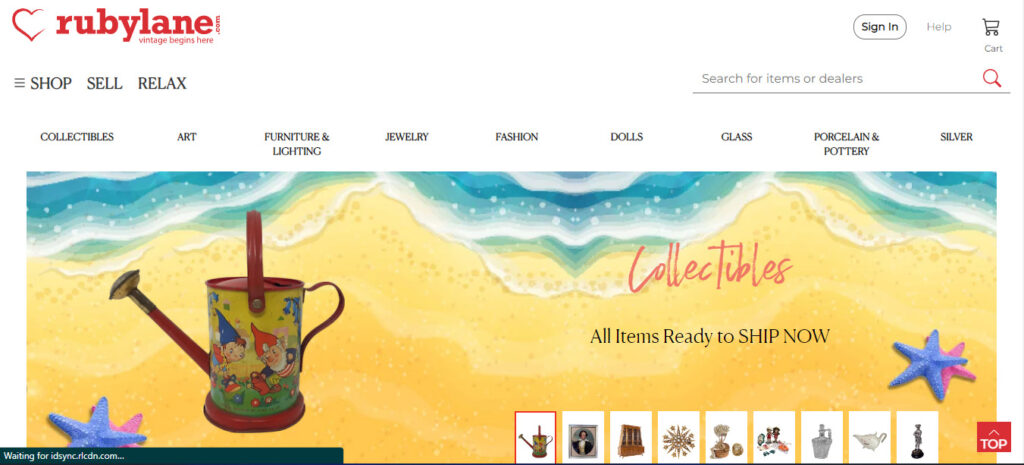 Advantages of Ruby Lane
A niche-based marketplace
Global reach on unique items
Disadvantages of Ruby Lane
Ruby Lane costs very high to use
Walmart is known for its vast reach and heavy and big customer base. Walmart is the best alternative for eBay. It is used worldwide and is popular in many countries. Walmart is also in the eCommerce business and is becoming popular because of its vast reach and huge customer base. Walmart is partnered with the Shopify website, which means that if you have a store on Shopify, you can directly sell your products to Walmart. It is the best website if you want a new online platform to buy and sell your things.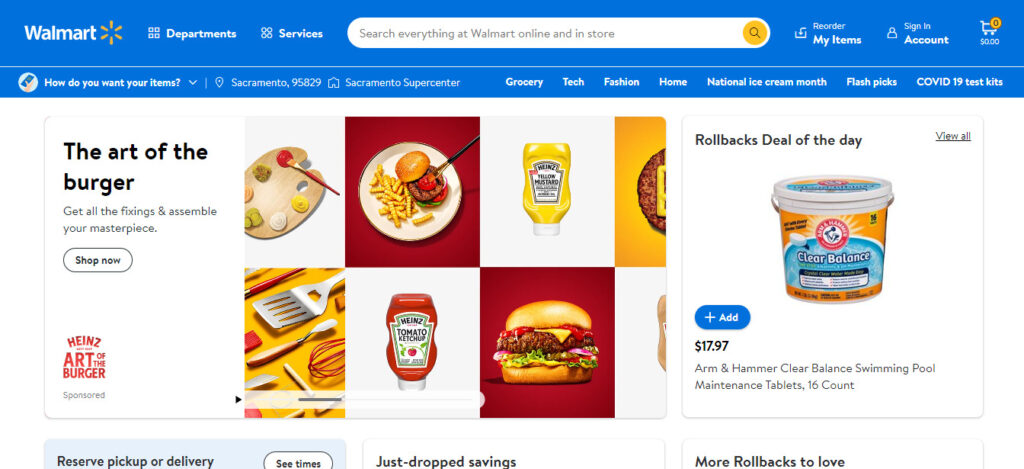 It is free for everyone and easy to use website. You can sell your products at Walmart for free, and only you need to pay the fees for successful sales. Walmart offers a fixed listing of every item. Looking towards all the advantages, Walmart looks good to start your business online.
Advantages of Walmart platform
Free and easy-to-use website
No fees are charged on set-up
Disadvantages of Walmart
You have to compete with Walmart-owned products
A low number of sales
Wish is also very popular and mostly focuses on making it easier for buyers and sellers to buy and sell their things. You can also place orders for buying and selling using the wish mobile application. Wish becomes a common choice for mobile users to buy and sell their things.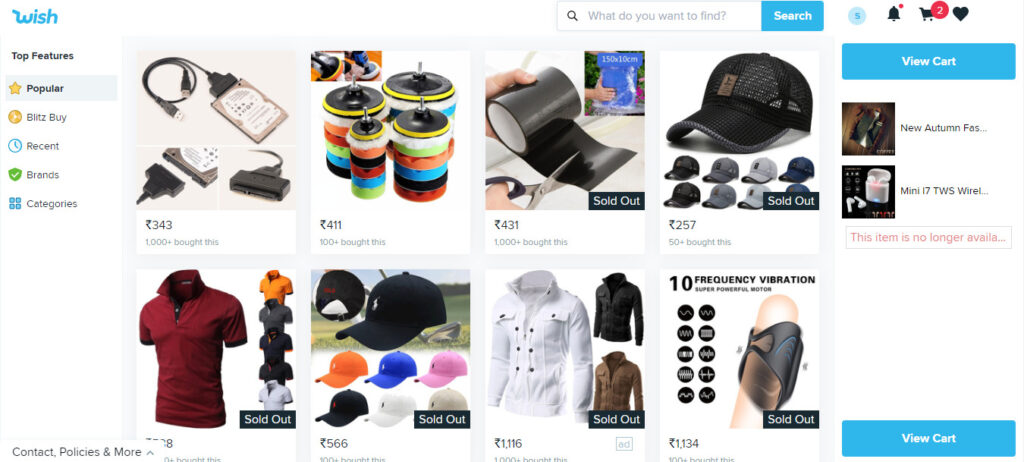 According to the platform's reports, hundreds of users spend more than 30 minutes on their wish eCommerce platform. Most people use the wish mobile app because of its ease. Wish becomes an excellent option for sellers to sell unbranded items and is also free to use. They don't charge any fees for monthly or annual uses. You only have to give the commission to Wish only when you make any sales. If you plan to start selling your items online, wish is the best choice.
Advantages of Wish
Very convenient to use
Free to list your products online
Disadvantages of Wish
After the successful delivery of the product, you can get your payments but payments can take up to 180 days
This eCommerce platform is good but not the best place to sell the high-priced items
Conclusion
I hope that this article is helpful for you, and there is a list of the best website like eBay. Don't just stick with one website, Give other websites and chance and explore.
Suggested:
Everything You Need to Know About Developing a Website Like eBay!