"Update" is a daunting word for any SEO specialist. With Google making up to 3,200 algorithm changes per year,...

Every successful business needs such an essential thing as strong customer relationships. When it comes down to running a...

The process of building a website began a long time ago since the invention of the internet when you...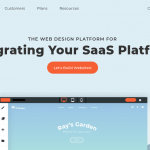 Many bloggers make their videos on YouTube. Through this, the blogger can help others as well as earn a...

There are over 2 billion blogs published each year all over the world. It's a cut-throat competition out there...

What is the difference between web design and web development? Well, if we go back in time then the...

If you are building a website using WordPress then it is sensible to look beyond the basic features that...

Ideally, to fulfill the needs of customers, businesses have to compete with each other and need to think in...

When it comes to improving your website, using the best WordPress plugins available on the market is probably the best way...