Ideally, to fulfill the needs of customers, businesses have to compete with each other and need to think in...

In today's digital era, it's crucial for businesses to market their products and services online. Customers usually live hectic...

Often, a person browsing an eCommerce website adds a product to the cart and after a few minutes, exits...

eCommerce is a swiftly expanding industry. Annually it takes a bigger share of the retail market than the last....

Do you want to build an appealing online store? If yes, then you have hit the best spot. Setting...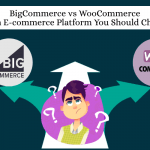 Running a PPC campaign may seem to be overwhelming at the beginning. Still, in reality, there are some affordable...

Clients go through 5 stages while making purchases. It is worth to analyze them all in order to create...

Getting succeeded with an e-Commerce store is challenging as the competition is too high to beat comfortably. Don't lose...

If you have attended any digital marketing or eCommerce conference, then you understand that artificial intelligence is likely the...