Are you someone considering the development of a website like eBay? But confused about the cost of development? It is vital to know that eBay is an e-commerce platform that makes purchases for customers easier nowadays.
If you are someone looking to develop something similar. In that case, you should read this blog till the very end as it involves several important factors that will provide you with knowledge regarding the cost to make an e-commerce website, including-
— What Is eBay All About?
— What Are The Factors That Affect The Cost Of Building a Website Like eBay?
— How Much Does It Cost To Build A Website Like eBay?
Let's dive into the blog if you want to know more about it!
What Is eBay All About?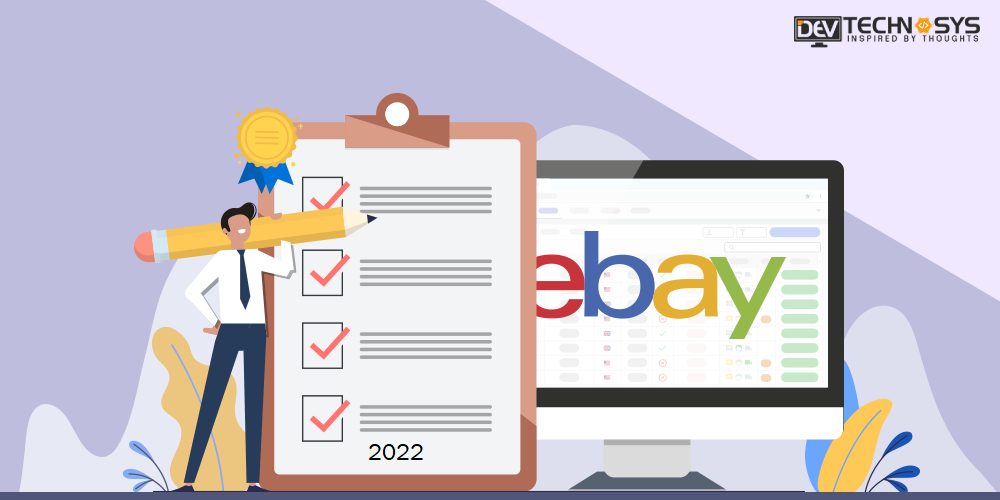 Before we go into how to make a website like eBay, let's look at how eBay started and how it became one of the world's most popular marketplaces. eBay was formerly known as AuctionWeb. It has grown into an eCommerce site with over 177 million active visitors over the years.
To develop an eCommerce website like eBay, you should hire the best eCommerce Development Company.eBay now describes itself as a multi-vendor internet marketplace. As explained, eBay is an online marketplace where businesses and consumers can sell and purchase new and used things.
It is essential to know that eBay is similar to any other online store which allows users to buy and sell items. However, the items are usually sold at a fixed price or through an online auction. Fixed prices operate similarly to other marketplaces. Sellers use selling apps like eBay to establish a starting price and attract buyers during auctions.
How Much Does It Cost To Build Websites Like eBay?
It is essential to know that an e-commerce website with 100 to 1000 products can cost you somewhere between $6000 to $60000. The Cost to Make an E-Commerce Website includes design, development, and any additional upfront fees.
Overall, a website similar to eBay would cost you anywhere between $70,000 and $90,000. The cost to build a website like eBay can vary depending on the features and support you want for your website.
Further, the below-mentioned table will provide you with a good piece of knowledge in understanding the cost of developing apps similar to eBay.
| | | | |
| --- | --- | --- | --- |
| eCommerce Pricing Factor | Small Business | Mid-Size Business | Enterprise Organization |
| Website Design/Graphics | $6,000 | $18,000 | $40,000 |
| Back-End Programming | $3,000 | $28,000 | $85,000 |
| 3rd Party Integrations | $600 | $9,000 | $30,000 |
| Data Imports | $5 | $6,000 | $15,000 |
| Content Management System | $2800 | $30,000 | $60,000 |
| eCommerce Website Maintenance | $4,000 | $15,000 | $70,000 |
| SEO | $15,000 | $60,000 | $130,000 |
As the table mentioned above shows, the development cost involves several eCommerce pricing factors, which may vary depending on the cost to Hire Ecommerce Developers.
What Are The Factors That Affect The Cost Of Build A Website Like eBay?
If you want to build an eCommerce Website Development company, you should know numerous factors that affect the cost.
The below-mentioned points are the top six factors that affect the cost to build a website like eBay.
1. Website Type
If you are considering an online shopping app development company to expand your business, you should know there are options available in the market. The development of eCommerce websites is not the same. It is essential to know that for initial website development, WordPress uses experts.
But for e-commerce website development, PrestaShop and Magento are among the most popular platform experts. With the help of an expert platform, your organization can customize the eCommerce website. For the coded creation, it is essential to Hire Ecommerce Developers.
2. Design Creation
One of the steps has the greatest impact on website development costs. If you have templates ready, the developer will create the website according to your specifications while optimizing the user experience. Otherwise, hiring a professional UI/UX designer may be preferable, especially if you want a unique design.
As a result, the cost of your eCommerce Marketplace Development Company will be more than if you use a ready-made, albeit personalized, website template. It is vital to know that achieving a high-quality design can boost the cost of developing a website.
3. Cost of Website Pages
It is critical to know that a website can have 500 pages. The cost of website construction naturally rises as the number of pages grows. Remember that each product on an e-commerce site requires its page.
4. Inclusive Payment Systems
During the eCommerce web development company Inclusive payment system is one of the critical factors that affect the cost. Your website must be secure enough to accept payments with confidence. Although the payment service provider sets up and manages most of the security features, you are still responsible for providing the user's personal information. For security purposes, it is critical to have SSL to encrypt your website or change the address from HTTP to HTTPS.
5. Combination With Mobile Application, or Management Software
Many people neglect this fact, but it is essential to understand that if you have a website and an app that provides the same service, the two aren't linked. In that case, the user can update his profile from the app, but the changes won't show up on the website.
To manage the site and the application easier, the developer can create a unified administrative panel. However, this specific integration may affect the cost of a website and mobile app development.
6. Creating an Internal Directory
Internal search engines can improve the user experience, even if they are not always used or even required. A two- or three-page website is good, but an e-commerce site should always have a search engine so that visitors can find what they're looking for.
These were some important factors that affect the cost of website development. The factors mentioned above affect the cost of the website and the Progressive Web Apps for eCommerce.
Takeaway!
Hopefully, the information mentioned above was quite helpful for you to know about the cost of cost to build a website like eBay.
Auction websites like eBay attract many entrepreneurs willing to build a site like eBay. It is fully reasonable as creating a successful website pays off with tons of users, and a high conversion rate, thus generating much profit. 
Suggested:
Websites like eBay To Try in 2022.