When browsing the web, as an SEO enthusiast, you will often find yourself in a need for instant analysis for a certain web page. You can do this with a help of numerous Chrome extensions that will give you fast insights and much-needed information within few seconds.
Today, we are going to mention those SEO extensions for Google Chrome that are considered to be the best inside the SEO community. They are designed to save you time and to give you a real-time result while you are on the move. These are must-haves if you want to save your time and get accurate results when it comes to SEO.
Here are the Most important SEO extensions for Google Chrome:
It is one of the best and most used Chrome extensions for SEO insights. Once you are logged into your Moz account, you can start using MozBar for testing the quality of websites. This tool offers quick and detailed page analysis of on-page elements, general attributes, page markup and it also analyses links. It includes many useful features like page load time, a country that website originates from, meta keywords, meta tags, and many other helpful metrics.
There is an option Highlight Links that can highlight followed, no-followed, external and internal links for a chosen webpage. The extension also works with Google search results. When you enter a specific keyword and you get a list of results, MozBar will display Page Authority and Domain Authority below every result.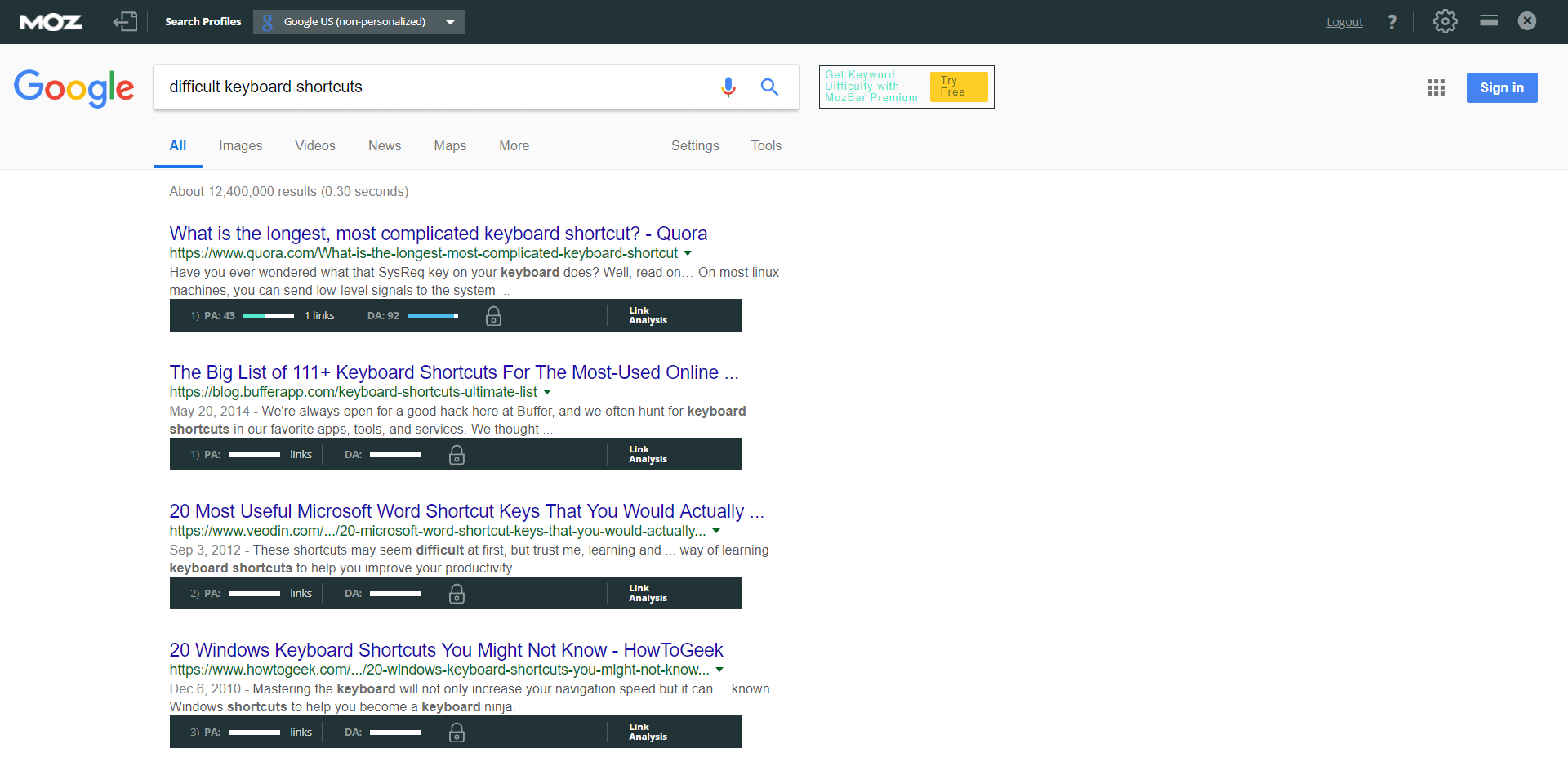 This extension has a free and a premium version. In addition to above-mentioned features, MozBar Premium offers Keyword Difficulty score in real-time, instant Page Optimization details and Content Suggestions for any keyword on page plus many more useful SEO metrics. It has a free 30-day trial so you can test these features and see if they suit your needs.
SEO is all about user experience and this extension will show you how your customers interact with your website and how your website behaves. Similar to Google Analytics tool, it provides a detailed analysis of your website's structure but in a real time. It is completely free but you need to have a Google Analytics Account to access its features.
While you browse through your website you will be able to analyze pages on the move. After you log into your GA account, access to many amazing features will be granted. Some of the available metrics are Average Time on page, Bounce Rate, Pageviews and Unique Pageviews. Next, to areas where you can click on (buttons, links etc.), you will be able to see a small window that shows a percentage of users who clicked on that area.
Page Analytics extension comes with Segments option where you can set up to 4 different segments to analyze. This includes Paid Search Traffic, Direct Traffic, New Users, Returning Users etc.
I would recommend this particular extension to people who want to improve the user experience of their website and see what works and what doesn't and which areas need improvements or changes. The only disadvantage is that you cannot use it to evaluate competition but that isn't what extension was intended for.
Since Google announced that Page Speed affects greatly website's ranking, people in the SEO world started constantly improving page speed. This amazing extension measures page speed and tell you why and if your website is slow.
It allows you to copy any given URL and analyze results. Two sets of results are being returned by this tool, the speed of your website on mobile and on a computer. First, you will see a speed score and it is often different for mobile optimization and usual desktop optimization. Under speed score, there are 3 types of analyzed data.
Should Fix is the first type and it displays suggestions on how to improve page speed. Usually, it offers you to eliminate render-blocking JavaScript and CSS code and to consider enabling compression for lower page load time. These fixes can be different for each website because not every site has the same problems.
Consider Fixing is the second type of data. Under this section, extension suggests that you consider addressing listed problems. These can very often include leveraging browsing cache and/or downsizing your JavaScript code to reduce page load time.
The third type of returned analyzed data is called Passed Rules. This section is designed to show which parts of the analyzed website are passing the SEO rules. You can see details about implemented SEO strategies that are functioning properly and this can help you achieve better results for other web pages.
The extension is completely free and you can use it to assess competitive websites as well.
We all know that SEO revolves around keywords and how difficult it can be to do a keyword research sometimes. They are crucial when trying to tailor a perfect piece of content to drive more traffic to your website. This is where you need a help from a tool like Keywords Everywhere.
When you enter a certain keyword, this tool will display their own results under a Google search box. These include search volume of the typed keyword, CPC, and competition that revolves around your chosen keyword. You can also save your favorite keywords for later review.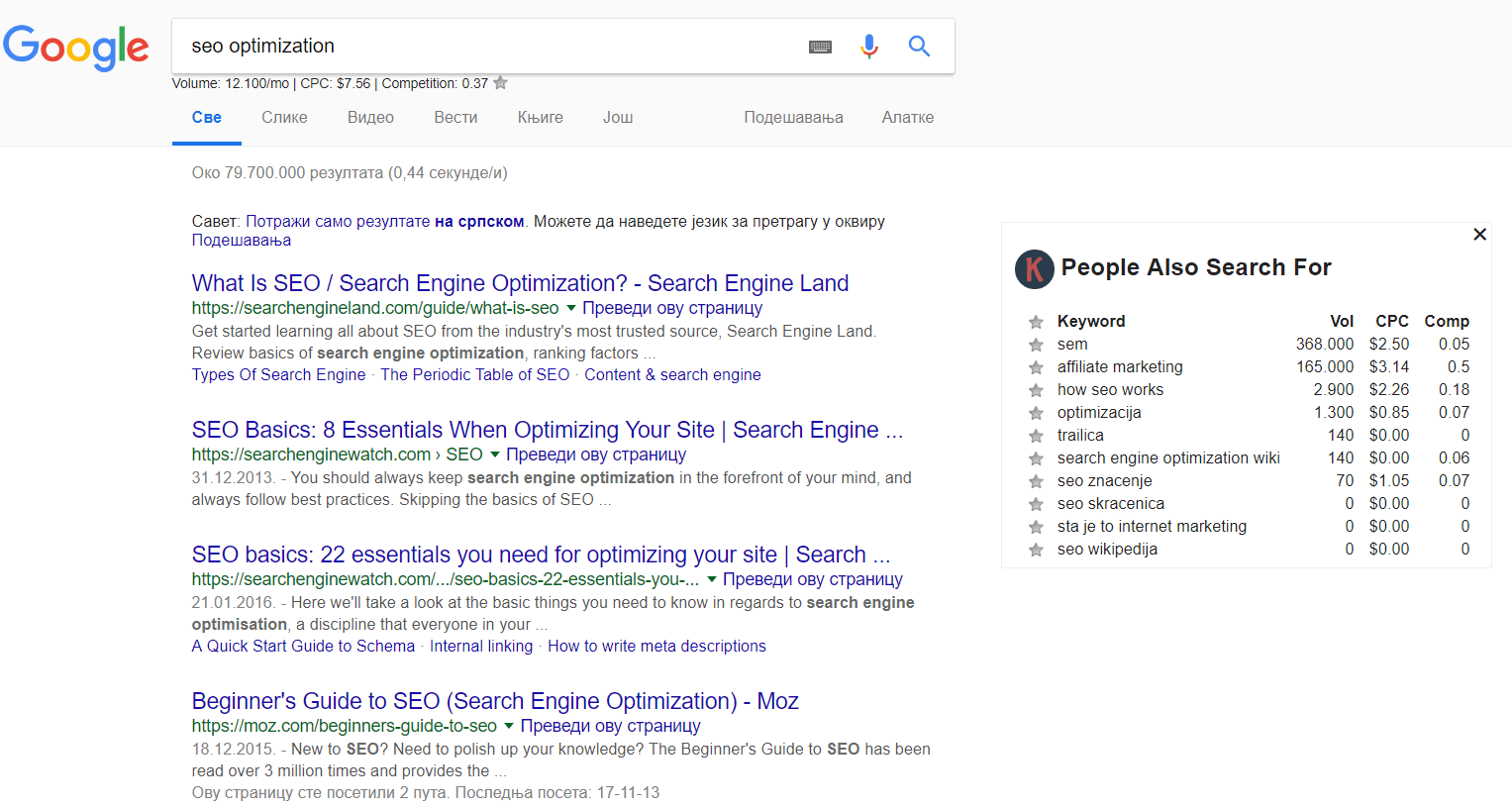 There is an option called Bulk Upload Keywords where you can copy numerous keywords and they will be analyzed for search volume, CPC and amount of competition for each uploaded keyword. It can be very useful when researching keywords to analyze more of them at the same time.
The tool is free and available at Google Web Store.
This extension is available both, for Chrome and for Firefox. Once you've downloaded your Mangools SEO extension, it is time to create Mangools account. This way you get access to more features. There are two versions of this extension, a free version, and a premium version.
If you don't want to register for a premium version, don't worry because there are many things you can do with the free version as well.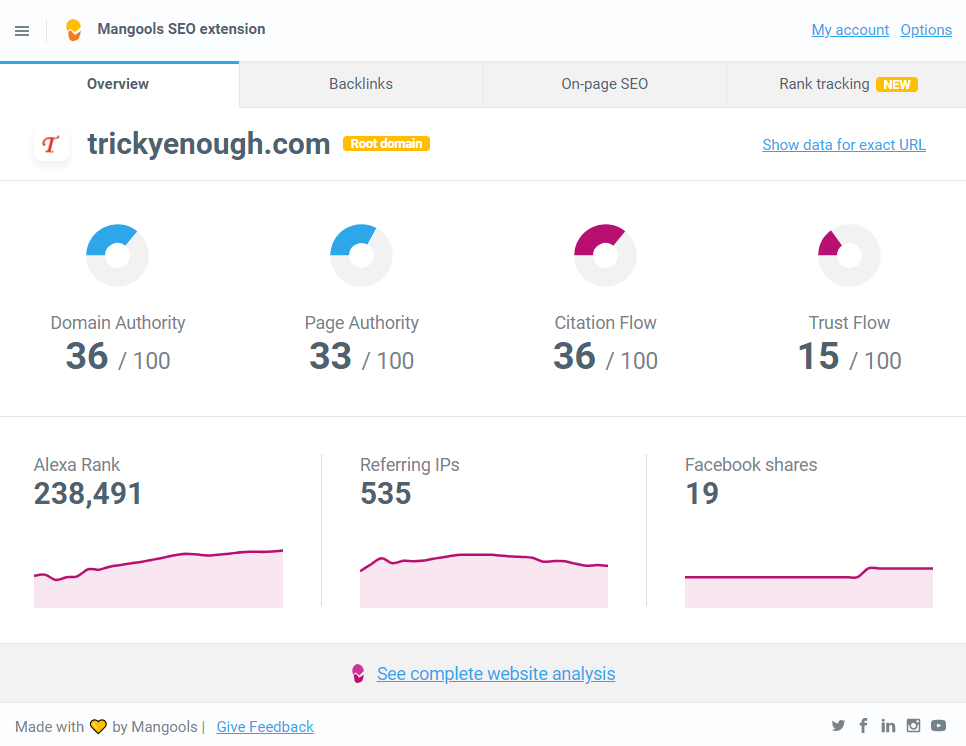 By clicking on an extension icon, you will get an instant analysis of the webpage you are on. There are four categories of SEO analysis provided by this extension. General Overview, Backlinks, On-page SEO and Rank Tracking (picture above).
In the Overview section, you get useful information like Domain Authority, Alexa Rank, Social Shares and Trust Flow.
The second section, Backlinks, is quite interesting. It will display backlinks for a webpage that you are analyzing with additional information like Citation Flow, number of External Links, number of Social Shares and Alexa Rank for every backlink on that page. It displays up to 50 backlinks per page, so if you click on an option See all backlinks, you will be able to see all of them in Mangools different tool, Link Miner.
On-page SEO, this is by far the most interesting section of this tool. It analyzes SERP presence of your webpage and it offers you immediate solutions to improve SEO ranking for that webpage. It tells you if your title is the right length, the quality of your meta description, Google Index and many other things. You also can analyze the heading structure of a webpage, keywords, outbound links, social widgets, and page speed.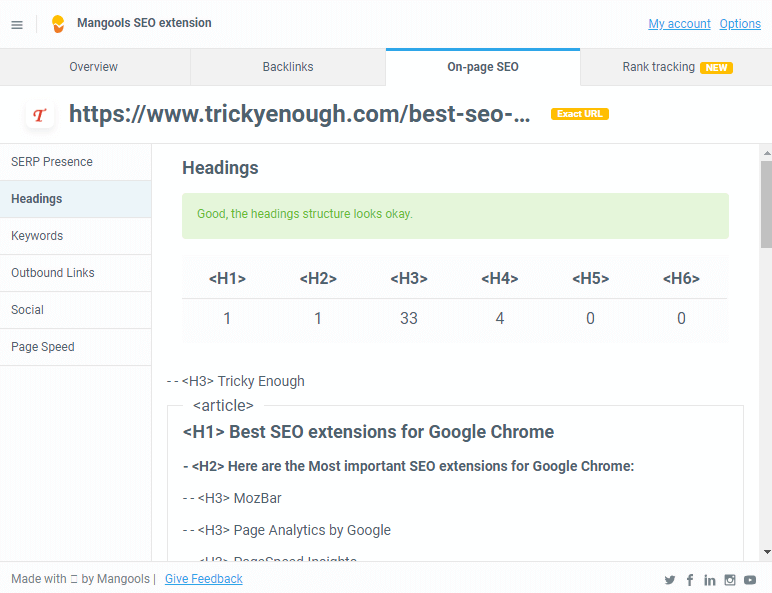 The fourth and last section of this tool is called Rank Tracking. In case you don't do a rank tracking already, this section will offer you a list of keywords to track.  If you already track that domain, you will see the Dominance Index and Estimated Visits to get a quick overview of how well are the keyword rankings.
As you can see there are many things you can do with Mangools extension to analyze your web pages on the go. Follow the tips that this extension offers in order to improve your website's SEO and to get better Google rank.
This extension is great when it comes to detecting technologies used on the website you analyze. By clicking on the extension, you will receive a list of widgets, managing systems, frameworks, plug-ins, programming languages and other tools used on that webpage.
Next, to every feature that is detected, there are two options that show up when you put your cursor over it. The first one is called Know More and by clicking on it you will be able to see a short description of the used tool. Other popular websites that are using that specific tool will be displayed next to the description along with a list of similar alternatives that you can use to achieve similar results.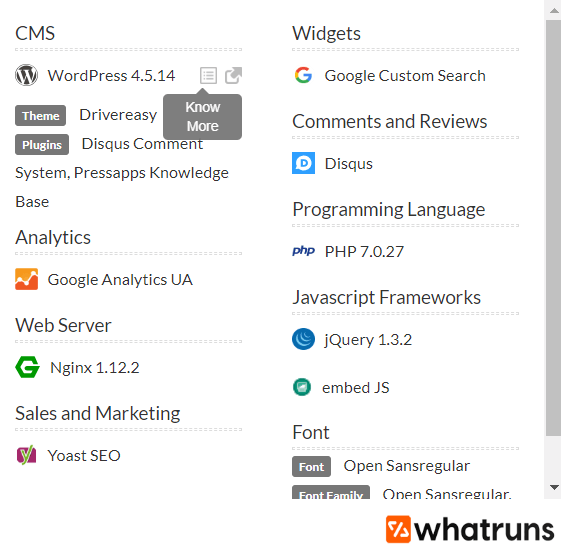 The second option will lead you directly to the website of the chosen tool where you can find out more about that product and how your website can benefit from it.
WhatRuns also offers you an option to follow a specific website. You will be notified if there are any changes made in a technology that is being used by the followed website. This can come really handy if you need to stay updated about your competition's progress.
Suggested:
Blocking CSS and javascript in the above fold content.