I have seen many bloggers struggling with the Alexa rank of their websites or blog. And even sometimes I get confused that how should I increase the Alexa rank of my blog. Even many bloggers and mates have asked me If I know how to increase my Alexa rank.
And My Answer to them was, it depends on many factors and explaining them individually, but today I am writing a post on how to increase Alexa rank so that many others can also learn. And get the benefits of increasing Alexa Rank on their website.
I know that getting a good Alexa Rank is hard these days. In the past few months, I have seen the Alexa rank getting worse for many bloggers, and they are worried about that.
Although there are bloggers who not only have good Alexa rank, they also have good domain authority for their blogs.
For newbie bloggers, It can be a lot harder to get a good Alexa rank.
So, the first question that comes to the mind of every blogger is how to boost the Alexa rank as quickly as possible.
Is there any trick to boost the Alexa Rank?
Is it possible to increase the Alexa rank in a matter of days or months?
And How important it is to improve the Alexa rank of a website?
And surely, this kind of question comes to mind of those who enter into the field of internet marketing, blogging, or start their own blog.
I have heard from some well-known bloggers that Alexa rank is no more counted, and we should not be worried about how to increase Alexa rank, instead, we should focus on increasing the domain authority of our blog and website.
But let me tell you that there are more than 70% of marketers and bloggers on the internet who values the Alexa rank. They consider it to be one of the best and oldest sources to check the reputation of any website.
Now, let's proceed with our topic on "how to increase the Alexa rank of a website."
What is Alexa Rank?
Alexa helps us to know the popularity and reputation of any website. According to one of the blog posts posted by Alexa on their blog help to understand better about Alexa. It can be used to check the rank of your website compared to the other Web sites. It also tells us that the Alexa rank of the website may not depend only on the traffic of the website, but a Website is ranked according to the changes that are being made to the other websites.
How does Alexa work?
Alexa collects data from millions of people over the world. It was founded in the year 1996 and is one of the well-known sources for collecting pure human traffic to any website.
Sometimes, many bloggers and marketers think that Alexa does not provide accurate data or analysis of a Website but when we compare analysis between two websites, it does amazing work, and I think you should try it.
How is Alexa Rank calculated?
The rank is calculated on the basis of three months of website performance. The Alexa tool counts the daily Paige view and visitors of a Website for three months and then gives it a rank. If no one visits your Website, then Alexa is not going to give any rank to your Website even after three months.
Does Alexa Rank have any connection with SEO?
When it comes to SEO many bloggers and expert marketers claim that Alexa and SEO are different. Alexa doesn't have any connection with SEO.
But let me ask you a question when you apply some good SEO techniques to your websites and you see a boost in your Alexa rank. I mean, I have seen that many times. A good SEO technique applied perfectly could boost the Alexa rank.
The reason behind this is that if you are getting good organic traffic to your website or blog using some SEO techniques, then I would say that Alexa rank is connected to the SEO through Traffic. And also Google AdSense may approve your Google AdSense account on checking your website quality, but there are many other monetizing ad networks that give approval after confirming the good Alexa rank of a website.
So, Alexa Rank and SEO are connected.
How to Check Alexa Rank?
You can check the Alexa Rank of your website by visiting the Alexa website or installing a toolbar in your browser as an Extension.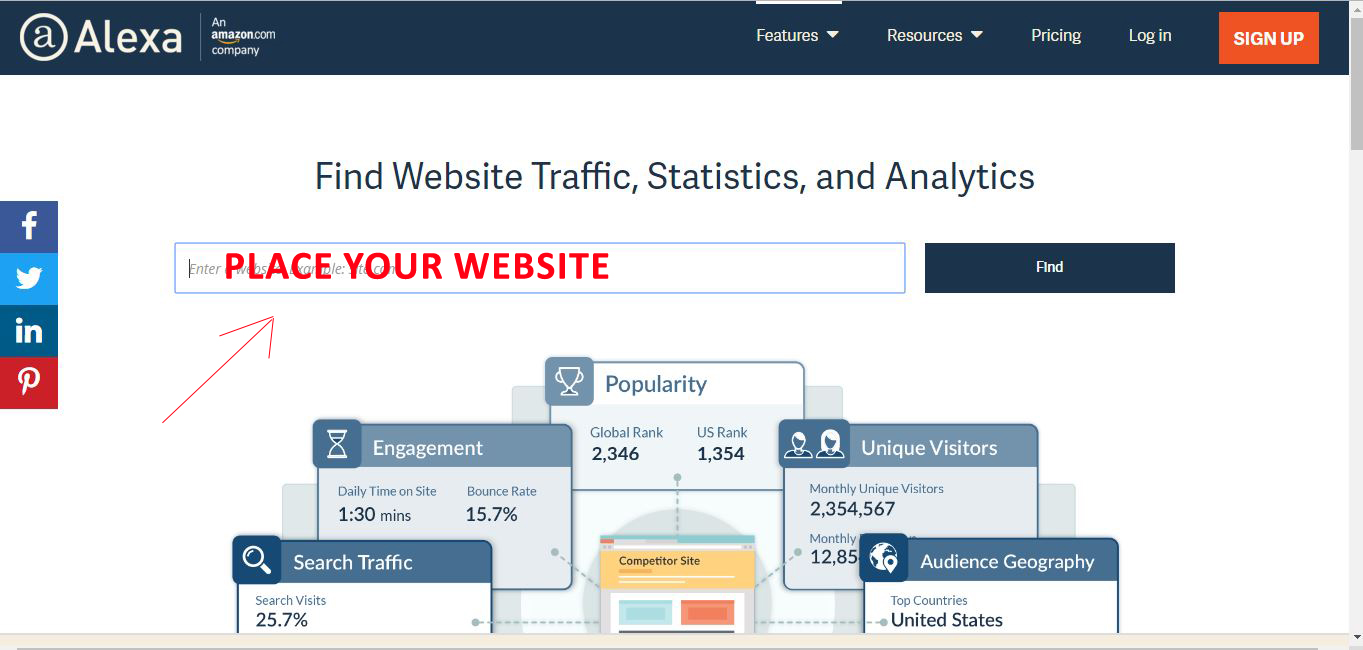 I will suggest you use the Alexa traffic rank Extension for your browser to check the ranking. The tool will help you to check the global rank, Country Rank, links to a Website, see similar sites, and some other things in the same tool or extension. You can see the below image for the same.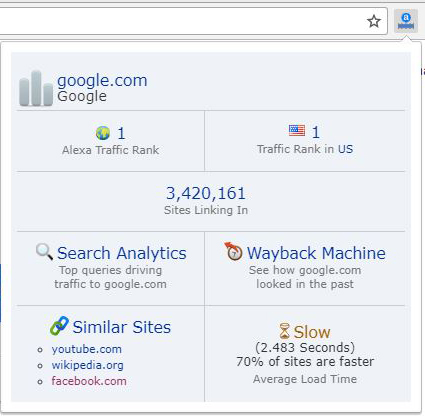 You can also install the Alexa Extension in any of your favorite browsers. Here is the link to the Alexa Toolbar Installation Page, which you can use to install this extension on the browser you use.
How to Increase Alexa Rank? Tips and Tricks.
Now that you are familiar with the Alexa Rank then let's talk about how to increase Alexa rank. So, here are the tips to boost your Alexa Rank.
Focus On Building Good Content
You might have heard from many bloggers or SEO experts that content is king. And they are perfectly right because the content is still the king. Focus on writing content on your own; the content must be unique and detailed. All search engines focus on content quality and quantity to rank on SERPs. And if you have unique content on your website or blog, you will get more visitors from Google which will lead to improved Alexa Rank.
Get links from your Niche's Websites
You can call it link building. But there are many websites or blogs which have the same niche as your blog or website, so focus on that to get links to your Website. There are also many link-building techniques that you can use to build quality links for a website or Blog. The Alexa toolbar also shows us the links to our sites. So, according to my opinion, Alexa also counts the number of links to a website to calculate the Alexa ranking. So, instead of focusing on building links to unknown Web sites, concentrate on building links to those websites which belong to your niche.
Internal linking is the link-building technique, in which you link your own pages and posts. Internal links help your website become more informative and easy to grab the exact information or similar kind of information while accessing a particular topic. You can even see in this post how I am interlinking this post with the other posts to make it more informative and user-friendly. But doing unnecessary internal linking can also get your site penalized, thus resulting in decreased domain authority and Alexa Rank.
Do Proper Keyword research
The webmaster or the SEO experts call it brainstorming. And one should do the proper keyword research before starting work on a website or a particular keyword. If you are using those keywords which have no targeted traffic, then your Website will end up nowhere because you will not be getting any organic traffic to your Website. So, focus on keywords that have high traffic and low completion. Use Google Keyword Planner for the best results.
I will request you to use Long tail keywords for your website which will help you to rank on Google SERPs as quickly as possible.
Check the strategy of your competitor
You must be knowing all about your competitor. There are websites like Serpstat to check the competitor stats and analyze them. If your Website is local, then you should also do an analysis of your local competitor's website. These stats will help you to get better keywords and ranking, but more importantly, they will help you to understand how hard you need to work on your website or blog. These stats can help you to find how many quality links you will need to rank on Google SERP's first page.
And checking the competitor's strategy will also help you to learn new SEO techniques and things and will eventually make you more knowledgeable.
Don't Forget the On-Page SEO
On-page SEO is the key to any website ranking. And if the On-page SEO is not done right then there are chances that you will not rank on any Search Engine. If you are using WordPress then there many WordPress SEO plugins which you can use to do proper On-Page SEO. I have been using the Yoast SEO and All in One SEO plugins for a long time and will recommend you use those plugins.
While using the Alexa toolbar, we get an option to check the speed of our website. The Alexa toolbar compares the speed of one Website with other websites to check the speed of your Website or blog. So, it looks that Alexa also counts the Speed of the Website. So, Speed up your Website to get a good Alexa rank.
What are the Benefits of increasing Alexa Rank?
There are many benefits of increasing the Alexa Rank. I will try to share some here:
People will consider your website to be Good and trustworthy.
Good Alexa rank cloud helps your website to get some good business and in the case of Blog, you will be approached by the Guest Bloggers for the guest post submission.
With a Good Alexa Rank, your website is judged as if you are receiving a good or in some cases a large amount of traffic.
People will think that you have a higher ranking on the SERPs.
Finally, What I want to say.
I hope that the above tips will help you to increase the Alexa rank of your website. These tips have helped me to boost my Alexa rank on my Web site.
Let me also conclude that Alexa rank is counted by many SEO factors to check your ranking on search engines. So, you must focus on improving your Alexa rank.