You've heard more than a thousand times that blogging has made lots of people rich even when they do not have any physical office.
You equally learned that the best way to make money right from the comfort of your home even in your pajamas is via blogging.
The fact is everything you were told about blogging and internet marketing is true in one way or the other. I don't really know all the other jaw-dropping stories you've been told as to why you need to start living the internet lifestyle, but like I said earlier, they are all true.
Wait a minute!
You even have a day job which you hate so much because it gives you less time to enjoy yourself. Hence, you've been looking for an exit door, so you can walk away and bid your troublesome boss farewell.
However, before you finally make up your mind to quit your job so you can start making money online, there are things you need to be mindful of. I want to tell you the truth that you've been shying away from, and you really have to hear me.
You don't have to be too fast to walk away from the source of income you're already sure of else; you might end up regretting it later.
What You Need To Know Before Hitting an Invisible Ceiling
See; let me tell you, even if every other person has been lying to you, I will expose them right now, just read on. The reason why you should listen to me right now is that because I bet I've been on this longer than you so, I've got lots of experiences to share with you.
Without wasting any more of your time, below are the five major things you need to know before deciding if blogging is for you or not.
Blogging is More Difficult than You Think
Think blogging is something you can just set up and it will start vomiting money for you within a couple of hours?
You need to think again.
Believe me, if blogging is that easy, everyone will be doing it.
The major reason why most people who started blogging often give up before sunrise is because they started it with the mindset that it's easy and does not take long to start yielding income.
While this is possible in some ways but, it does not work like that for an average person like you.
Except you have a lot of money to hire people and pay for an advert, it will take time before you start seeing any significant money from your blog.
Personally, it took me over two years before I started making enough money from my blog. Most people I started with gave up within the first three months, I should have followed them, but then, the difference between them and me was that I already made up my mind to do it till the end.
Therefore, you need to understand that blogging is not a get rich quick business, you must be willing to work your ass off if not, stick to your current job or go find another one.
It's Not All About Installing WordPress
The funny thing is that some people were told that once you've purchased a domain and hosting and install WordPress then, it's all over; your blog will start printing money.
Now, if you still believe that fluff then, I'm afraid, you need to see a Doctor.
The truth is, there are more to blogging than just installing WordPress.
In fact, WordPress installation is actually the beginning of the tasks. There are lots of other stuff you need to get good at before you can succeed as a blogger.
And if you're not good at them, you don't want to learn, and you do not have money to hire professionals to do those tedious works for you then, what you can't do it. Look for a job.
You Must Love Writing
Yes, you read that correctly.
If you hate writing then, blogging cannot be your thing.
Every successful blogger on the internet today is also a pro copywriter. Yes, there will come a time when you will no longer be having enough time to write your blog posts and that of clients, but before then, you must be doing it yourself until you can afford to outsource it to others.
Even if you have the money to pay writers from the beginning, you still need to know how to write and also love it because you will definitely be required often times to go through their work.
Now, if you don't know how to write, don't understand punctuation rules, can't spot grammatical and spelling errors, how then will you be able to cope?
It's just like starting a Pharmaceutical store when you're not a Pharmacist, it will be very difficult for you, and your workers will always cheat you.
Therefore, one of the things you will have to make up your mind on before starting your own blog is that you will be required to write contents for your blog and lots of it.
I don't mean any kind of contents here remember, I mean contents that engage and open doors.
NOTE: I'm about to publish my first Kindle Book titled: 21 Writing Hacks: A Cheat Sheet For Writing Kiss-Ass Blog Posts That Will Open Doors and Land You Clients.
As a reader of this wonderful blog, I've decided to give you a free copy of it once it's launched. Just CLICK HERE and join the waiting list and, I will notify you once it's live.
You Must Spend Money
Just like every other type of business in the real world, you need to lay down some investments before expecting to succeed at blogging.
If you're the type of person that like shying away from responsibilities and hate spending money on your business then, you can actually start a blog, but you will not go far.
Every successful blogger knows that for you to make money blogging, you must also spend money blogging. There are so many things you will need to invest in while starting.
For example, you should not go for the free blogging platforms out there if you want to be perceived as a serious blogger and marketer.
You will be required to get your own domain and also pay for a good host. Mind you; this is the stage you should be careful of the choices you make.
There are many hosting providers out there on the internet, and if care is not taken, you will make a bad choice while starting, therefore; you have to be careful while choosing a company that will hold the future of your site.
Ensure it has a good reputation and is well secured to avoid telling a story that touches the heart later.
Aside, your web host, you will also need to purchase some essential WordPress tools that will make everything easier for you including Themes, Plugins and more.
Even if you can't afford some of these tools, in the beginning, don't hesitate to give them a chance once you can.
You Must Be Ready To Help Others
Remember you will get all you want in life if you will help enough other people get what they want. Now, I wasn't the one that made that statement; it was quoted by the famous Zig Ziglar.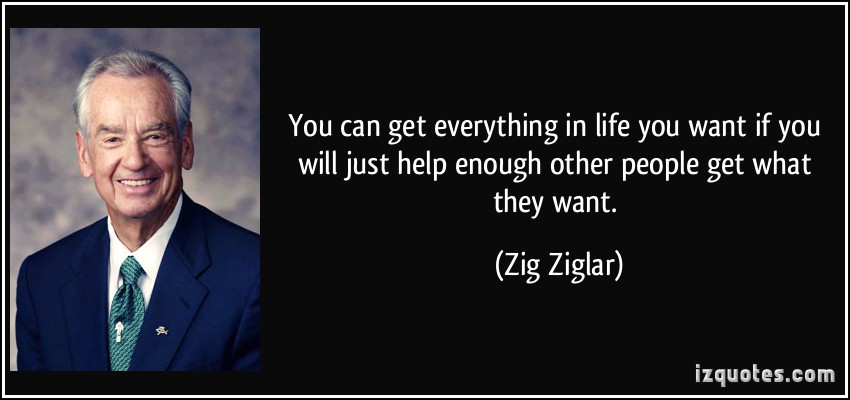 This is not really supposed to be a choice; it's something you have to do in order to succeed in your blogging and internet marketing career.
You need to develop the habit of helping people selflessly, and by people, I mean your audience. You should not treat them as just any kind of people instead; treat them as the most important aspect of your business.
They're the pillar that holds your business, and they're also the ones that will decide whether you will be successful or not.
If they unanimously agree not to give you their money or email address, there's nothing you can do about it.
Therefore, you should always have the interest of your readers at heart. Give them all the attention, supports, and love they need from you and they will, in turn, reward yourself handsomely with their loyalty.
Conclusion
There you have it all. If there's no other thing you picked from this blog post, I want you to remember that making money on the internet takes time, money and efforts. There's no magical formula around it; you must do what you must do to get what you want.
The bottom line is, the internet lifestyle is real, and if you do your homework properly, it will eventually pay off, and all your efforts will not be in vain.