Do you know just like every other thing, even the world of search engine optimization is constantly changing? A...

If you are thinking of starting your own personal blog, but you are confused about which platform you should...

During the last few years, there has been an interest among established bloggers in anonymous blogging so that the...

Running a successful blog can be difficult, we agree. However, blogging is definitely something that can give your innovative...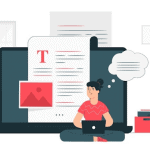 Being a great blogger sounds like the easiest thing in the world, but you need to invest a lot...

Social media is both contagious and essential business visibility! Brands and bloggers can't survive without sharing their products and...

Writing for a niche industry can be difficult, especially if it means dealing with highly technical or unfamiliar information. But...

Businesspeople, lawyers, artists, and authors may all seem like pretty different people with different ideas, focuses, and goals in...

There are two ways to get followers on Instagram: the fast way and the smart way. Let me explain...