Running a successful blog can be difficult, we agree. However, blogging is definitely something that can give your innovative...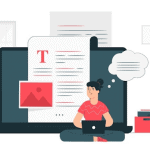 Being a great blogger sounds like the easiest thing in the world, but you need to invest a lot...

Social media is both contagious and essential business visibility! Brands and bloggers can't survive without sharing their products and...

Writing for a niche industry can be difficult, especially if it means dealing with highly technical or unfamiliar information. But...

Businesspeople, lawyers, artists, and authors may all seem like pretty different people with different ideas, focuses, and goals in...

There are two ways to get followers on Instagram: the fast way and the smart way. Let me explain...

Whether you are trying to build links and establish relationships for your brand/website or simply love writing, guest posting...

If you have a subject that you're passionate about and want to share your thoughts and ideas with the...

Pat yourself on the back if you've decided to have a proper content strategy for your blog. This simply...