We are living in a digital world where PDF plays a significant role in the distribution of information. In today's time, every user is aware of the importance of the PDF. When PDF has such a large extent to reach to the users, we receive miscellaneous requirements from the users. One of these requirements is how to extract elements from PDF. In this blog, we will showcase aspects of PDF extraction and various scenarios where users demand to extract images from PDF. There are three most prominent solutions that have been demonstrated in the upcoming sections. Users can choose any of them depending on their specific needs.
SysTools has the decisive solution that revolves only around the query of copy text from PDF.
We recommend always use dignified tools to accomplish tasks that provide distinctive excellence. This tool provides all the essential features to provide precision to the desired outcomes for the user.
Brilliant features of PDF data extractor
Attachments extraction on a Selective Basis.
Support extraction from Multiple PDFs at the same time.
Extract elements from selective files or a complete folder.
Unconditionally supports restricted PDF files.
Two filters to extract elements i.e. using File Size and File Type.
Designed for both Windows and Mac operating systems.
Let's first discuss the various conditions in which users seek to extract images from PDF. When it comes to PDF data extractor, the user demands either PDF to JPG or PDF to Word. Here the situations that depict a clear picture of why users want to extract text or images.
Case First – When a user wants to extract text from a PDF file and later on wants to use that extracted information as the fundamental concept in his future projects, research, thesis, investigation, analysis report, and so on.
Case Second – In the second scenario when the user is trying to extract images from PDF to use for his personal purpose, professional learning, academic studies, and several other areas that require up-gradation and revision.
Where The PDF Data Extractor Tool Benefits The User?
Most of the research, reports, analytical writing, investigations, etc are published and shared but are secured with encrypted restrictions from the creator on how to make any changes and copy from there.
So when a user is trying to take some theoretical ideas, he won't be able to access the restricted PDF files. In that case, our PDF data extractor tool comes handy to accomplish that specified task of the user.
Here are the three solutions that are dedicated to extracting elements from PDF on MAC:
Solution #1 – Manual Method Using Copy And Paste Command.
This method is only suitable for less amount of text data copying and pasting.
In this method when you want to extract text from PDF, you just need to select the particular textual portion and press Command+C, and then paste that text to the new location using Command+V. For example, PDF to Word.
When it comes to PDF to JPG the approach is different. Open the page of the PDF that contains the image.
Now either take the screenshot and later crop it OR use the snipping tool to crop out the image. Now copy and paste the images to your desired application.
Major Drawback Of Manual Method
This solution fails in the case of restricted PDF files.
It lacks a practical approach for large PDF files and an enormous amount of text.
Solution #2 – How To Extract Pages From PDF Using Adobe Acrobat Pro Dc
This method is dedicated to paid users only. This software license costs 118 dollars annually. This cost does not justify the worth of accomplishing only extraction purposes.
Acrobat Adobe Pro DC step-wise tutorial is shown here to understand how to extract elements from PDF. Follow these steps to extract images from PDF.
Open the licensed version of Adobe Acrobat Pro.
Open the PDF file from where you extract images.
Then go to the View >> Tools >> Document Processing in the toolbar.
In the prompted menu section, select the export all images option.
You will be redirected to the navigation page, where you name the file and select the location to save it.
For additional settings to the extracted data, click on settings on the right side.
In the next window select the desired settings for file settings, color management, conversion, and extraction. Then click on the OK tab.
You will be redirected to the previous window, press the save button to finalize.
This will extract elements from PDF, for instance, images as shown in this tutorial.
Challenges You Might Face While Using Adobe Acrobat Pro DC.
Must buy a subscription that costs $180 annually which is undoubtedly not reasonable only for PDF element extraction.
Whereas the SysTools costs less than 20$ annually along with all the other benefits.
The user struggles to extract the elements from the restricted files. This challenge is effortlessly resolved by the SysTools PDF extractor that provides support for the restricted files too.
Adobe is bulked with burdensome features. It is not designed to solely focus on the extraction of elements. This might confuse the novice and non-tech users who lack the knowledge of terminology.
But SysTools has a direct and straightforward approach to extract the elements from the PDFs.
Errors you might face while extracting the elements from PDF using Adobe Pro DC.
Error 1. Please Enter A Valid Page Range
This error might emerge when adobe lacks the latest update or there are conflicts between the operating systems and software environment. 
Unknown Error Occurrence
This error might occur while setting up the password, the user won't be able to resolve this issue unless he knows the nuances of adobe.
No Digital Id Is Present To Decrypt The PDF File.
Even though the relevant certification is installed there you might face this error.
Solution #3 – SysTools PDF Extractor Steps To Extract Elements From PDF
Moving ahead, this utility solely focuses on extracting elements from PDF. We have demonstrated the complete tutorial to convert PDF to a text file. Follow these steps to copy text from PDF.
Step 1. Download the free version to experience the awesome functionality of PDF data extractor.
Install and run the PDF extractor on your machine. Click on add files or add folders according to your requirement.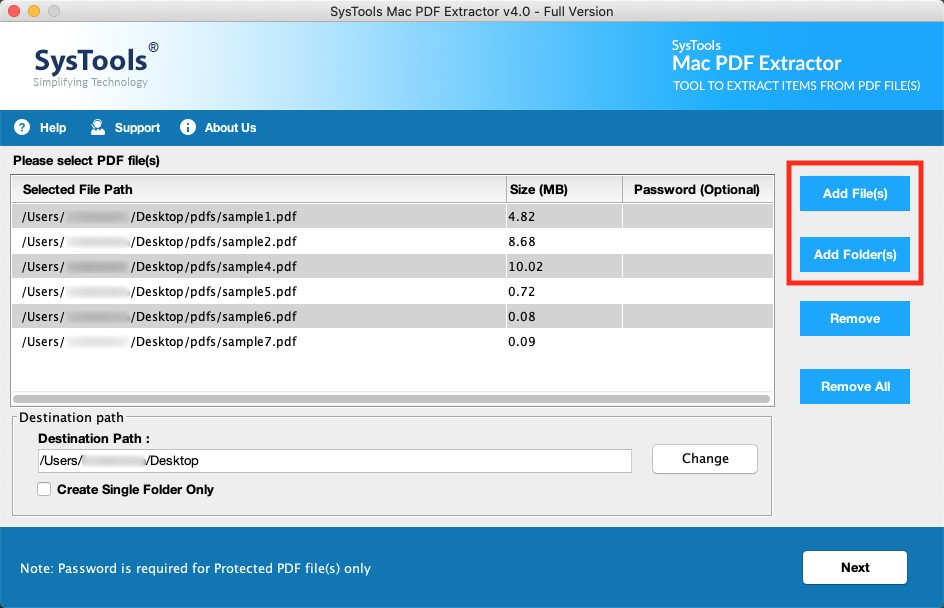 Step 2. Users can select the item type – attachment, inline images, and text. Apply attachment filters that will allow extraction on file size and file type.
This step will enhance the accuracy and precision of your extracted data.
Step 3. Apply page settings i.e. you can choose the option for extraction from the PDF by creating an individual PDF or creating a single PDF.
You can select all pages, even or odd pages. Choose the pages depending on page number or page range.
Step 4. You can also opt to maintain the format and page numbers by checkbox the given option.
Once you are satisfied with the settings then directly hit on the Extract button. It will begin the extraction process.
You could see the Ongoing progress in the progress bar.
Once the extraction process will complete the confirmation message will appear on the screen denoting the successful extraction of PDF extraction.
This is how you can extract the chosen data for various attachments in your desired format and settings that are too without any changes in the metadata and resolution.
The main advanced feature of this tool is that it allows users to export images from PDF and also extract text from PDF image.
Other Remarkable Traits Of PDF To JPG Extractor
Maintain the file format while extracting
Extract elements from selective files or a complete folder
Volume extraction in a single time.
Provide five different types of page settings while extracting the text.
Two options for text setting i.e. Maintains formatting and the page number.
Self-explanatory steps that require no additional assistance.
Conclusion
This write-up shows the PDF extraction requirements and solutions for user query how to extract elements from PDF using PDF data extractor. Each user's need differs from other users while extracting the values from PDF. That's why this tool provides various advanced features to meet the individual user requirements. Foremost it overcomes the hurdle of editing and copying restrictions. You can initiate by installing the free version of the tool and check out the functioning and quality of the product.
Suggested:
Two Methods to Import Excel to PDF on Mac With Formatting.
How to Convert MSG Files to PDF With Attachments?- The Best Solution.
An Expert Solution to Import Contacts From Excel to VCF on Mac.