Did you check that your website is optimized for the Google voice search or not?
If you have not optimized your website for Google voice search then it is one of the biggest SEO mistakes that you are doing.
More than 30% of the world's search is now being done through Voice search on Google and other search engines.
If you are wondering what you will do to face this revolution and how to make your content speak to users, check out the techniques that can make you more visible to this kind of searcher.
We often talk about the future of digital marketing, but we forget about changes taking place right now and in front of us. Google Voice search is such a wonder that took place and is affecting our current search results. Due to increased demand for artificial intelligence, it has given a rise to voice-enabled search which is going to dominate in the coming years.
In this article we will deep dive into the domain of voice search, highlighting potential trends in the future, guidelines to preparing yourself for new opportunities, digital marketing strategy to optimize your website for voice search.
Let us understand what is Google Voice Search?
Google voice search is software used to search information on Google through voice on smartphones or computers. It recognizes your speech and analyzes phrases to show the results, without using hands for typing. It has completely transformed the way people used to do online searches. 
Google Voice Search in 2017
In 2017, we saw the launch of Google Home – a voice-activated speaker powered by the Google Assistant and also the Google Assistant integration into our TVs. Approximately 400 million devices are integrated with Google assistant, including speakers like Google Home, Android phones, and tablets, iPhones, headphones, TVs, watches and more.
Other giants also jumped into the market with the launch of their new voice assistants such as Amazon's Alexa, Apple's Siri, Google's Assistant, and Microsoft's Cortana are capable to revolutionize our lives in coming years.
How will Google Voice Search impact SEO in 2018?
With the increased use of mobile phones, some major trends will follow this coming year. Among those trends, the top priority that I believe will be a continuous rise of voice search – users will prefer more to depend on vocal search method to get desired search results. This is why companies like Google, Amazon, and Apple are putting efforts on upgrading speech recognition technology to provide satisfying voice search experience to users.
"Comscore is a little more optimistic, saying it thinks 50% of searches will be made by voice by 2020".
With the evolution of Voice recognition technology, According to Google, they are also focusing on search technology by creating a better search engine to provide best search result experience to users. These efforts are intended to make users accommodate and adopt new technologies like voice search.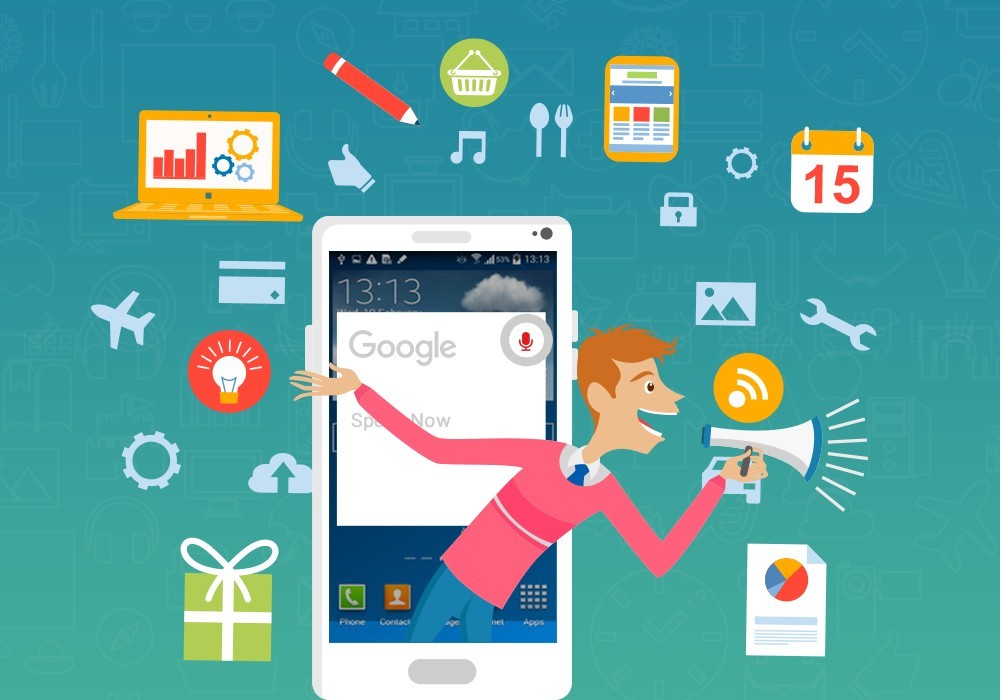 How will you change your SEO strategy to get accurate voice search results?
Long Tail Keywords
When we type in a search query, most people use few keywords to show what they are looking for. For example, I want to see New York Times. I will simply type "New York time" to get the result. But, when you speak verbally you take time to phrase the sentence What time is it in New York? A structured way to speak!
As voice search continues to evolve, both context and a conversational algorithm will be in demand.
Being a marketer, you will need to think from a marketing perspective. It is better is to switch to the long-tail keywords to make your website more optimized for the Google voice search.
The next consideration would be:-
How will you make your website voice search friendly?
Google keeps on updating its search engine algorithm, some of the major updates that Google released were the "Panda," "Penguin," "Pigeon," "Payday," "Pirate," and "Mobile Friendly" upgrades. These algorithm updates always happen. Thus Marketers and SEO practitioners have to crawl around constantly to adopt changes and maintain leading website rank on the list of Google search rankings.
Some of the best ways to boost your website for voice search are:
Think how people speak naturally:
Now, the content has become more human-friendly with the evolution of voice search. You need to think about how a user will speak to search over the internet. Accordingly, content should be optimized for voice search.
If, for example, you need to optimize content for the keyword 'Travel places in New York', you should use long-tail keywords, such as:
Best travel places to visit in New York
List of travel places in New York
One of the best travel place in New York
Keeping this in mind, you should organize your content stuffing these keywords to achieve a higher rank in search results.
Query Starts with a Question
Analyze what people are searching for voice search before optimizing your content.
One of the reports published on Search Engine Watch showed more than 50% of the increase in question phrases and these question phrases are:
● Who
● What
● Where
● When
● How
Among these phrases, 'who is the commonly asked question.
When you decide to optimize content for your website, try to understand your customer's peculiarity – that is, what questions they might be asking. This method helps you get your website a better rank through voice search
Semantics – Always consider a priority
Google algorithm uses 'latent semantic indexing' – a mathematical method to understand the meaning of search queries and determine the relationship between terms and concepts in content.
In a simple term: It helps Google to differentiate between Apple Inc and apple fruit.
Therefore, if you use latent semantic indexing keywords along with question phrases, increases the chances to get your content on top rank through voice search.
Use Schema Metadata
A schema is a well-known markup language used by site owners and webmasters to provide search engines with additional information about the information on their site. It is like data about the data.
Google will be able to understand what your website is about, As a result, it improves visibility.
During a voice search, Google is very expert in retrieving the data such as business location, price, phone number, etc. Needless to say, you should include this information on your website to make it easily available. In simple words, you must use the schema metadata for your website.
Optimize Your Local Listing
People often voice search to find shops/restaurants/businesses near them. For example: if you have a restaurant and people want to have online delivery. Then they will search "pizza delivery restaurants near me" To get your website on the top you need to optimize your website for local listing so that it increases the chances of getting picked first by Google in voice search.
People often use voice search to know things near them, meaning they are doing local searches. By optimizing your local listing, you increase the chances of getting picked up by Google in voice search.
Fill in USPS-approved address (or any other postal agency relevant to your area) in Google My Business Listing.
Include necessary key phrases (normally used by the target audience in voice search)
You need to fill USPS approved address (or any other postal agency applicable to your area) in Google My Business Listing.
Focus on optimizing the 'near me' phrase, If you are running ad campaigns.
Make Your Website Mobile Friendly
It is essential to make your website mobile-friendly as most people conduct voice searches on their mobile devices. It is advisable to carry out Google's Mobile-friendly test to understand where your website stands.
Google Does Not Like Slow Speed
It is understood that people use voice search in urgency, they do not have time to wait for results to load slowly. Therefore, your website should not buffer or take time to load.
How can you improve your site speed?
Take advantage of Google's Page Speed Insights test.
Or check this useful guide to improve the speed of your website.
Suggested Post:
How SMEs are optimizing websites for better voice search.
Conclusion:
With mobile phones getting smarter day by day, we can expect that voice search will dominate in the near future. Follow these best practices in voice search optimization and get your website found in voice search.